Colds and the flu - what to ask your doctor - adult
What to ask your doctor about colds and the flu - adult; Influenza - what to ask your doctor - adult; Upper respiratory infection - what to ask your doctor - adult; URI - what to ask your doctor - adult; H1N1 (Swine) flu - what to ask your doctor - adult
Many different germs, called viruses, cause colds. Symptoms of the common cold include:
Cough
Headache
Nasal congestion
Runny nose
Sneezing
Sore throat
The flu is an infection of the nose, throat, and lungs caused by the influenza virus.
Many flu symptoms are similar to those of a common cold. Flu symptoms most often include fever, muscle aches, and fatigue. Symptoms can also include vomiting and diarrhea. Many of these symptoms are the same as for COVID-19.
Below are some questions you may want to ask your health care provider to help you take care of your cold or flu.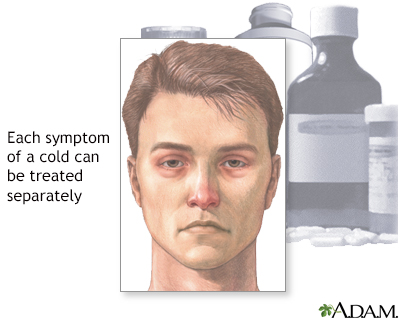 Most people have a general idea that when they start sneezing, their nose is runny, and their throat is scratchy, they're getting a cold. But what do you do about it? The common cold is something very common that people usually get on average three or more times during a year. And it is a virus that's primarily in the nose. The three main symptoms of a cold are sneezing, nasal stuffiness, and runny nose. You may have other symptoms, like having a fever of 100? or 101?, or you may have some tickling or scratchiness in the back of your throat. In fact, that may be the very first symptom, a little scratch in the back of your throat. Then after a couple days the nasal discharge tends to turn a little bit darker, maybe a little greener. Then after about a week, you're all the way better. So, what's the best way to treat a cold? The first thing you need is plenty of rest and fluids. Water, juice, and clear broth can help replace fluids you may lose during a fever. Chicken soup is another great choice, in fact, it can help relieve congestion. In short, chicken soup really is good food. Over-the-counter oral cold and cough medicines may help ease adult symptoms, but they don't treat the virus that caused your cold. In fact, so far there is no cure for the common cold. ALSO, don't give a child under 6 any cold medicines, they won't help your child, and they may have serious side effects. And antibiotics? They won't help a cold, and, if you take them too often, antibiotics can break down your body's ability to benefit from them in the future when you may really need them, such as when you get the flu. In general, remember that getting plenty of rest and fluids is the best way to help you deal with your cold symptoms. Eventually, your cold symptoms usually go away, probably in about a week. If you still feel sick after a week, see your doctor to rule out a sinus infection, allergies, or any other medical problem.
Questions
What are the symptoms of a cold? What are the symptoms of the flu? How can I tell them apart?
Will I have a fever? How high? How long will it last? Can a high fever be dangerous?
Will I have a cough? Sore throat? Runny nose? Headache? Other symptoms? How long will these symptoms last? Will I be tired or achy?
How will I know if I have an ear infection?
How will I know if I have pneumonia?
When should I get tested for COVID-19?
Can I make other people sick? How can I prevent that? What should I do if I have a young child at home? How about somebody who is older?
When will I start to feel better?
What should I eat or drink? How much?
What medicines can I buy to help with my symptoms?
Can I take aspirin or ibuprofen (Advil, Motrin)? How about acetaminophen (Tylenol)? How about cold medicines?
Can my provider prescribe stronger medicines to help improve my symptoms?
Can I take vitamins or herbs to make my cold or flu go away quicker? How do I know if they are safe?
Will antibiotics make my symptoms go away faster?
Are there other medicines that can make the flu go away faster?
How can I keep from getting a cold or the flu?
Should I get a flu shot? What time of year should I get one? Do I need one or two flu shots every year? What are the risks of the flu shot? What are the risks for me if I do not get a flu shot? Does the regular flu shot protect against swine flu?
Is a flu shot safe for me if I am pregnant?
Will a flu shot keep me from getting colds all year long?
Can smoking or being around smokers cause me to get the flu more easily?
Can I take vitamins or herbs to prevent the flu?
They call it the common cold for a reason. Colds are extraordinarily common. Children average 3 to 8 colds a year and adults almost that many. I'm doctor Alan Greene and I want to give you a couple of tips about navigating the cold and flu aisle at the drug store. Many of the offerings that are there will offer relief in several different ways. They may have a decongestant in there to try to reduce nasal congestion. An antihistamine that may help a bit with sleep or may also help with some congestion. They may have a cough suppressant in there to make you cough less. An expectorant to make your cough more productive, so you can cough things out easier and may have something to bring down a temperature or relieve aches and pains, like acetaminophen, or ibuprofen. But if you pick-up more than one of these, it's pretty common for people to double-up on a specific ingredient. So, if you're using more than one, look at the ingredient list. You don't want to see the same thing on both. For instance, if you have the decongestant pseudoephedrine on two different lists, the double-dose is not good for you and doesn't add any extra help. But beyond that, you don't even want to find the same action in two different multisymptom things. So if you have, taking a decongestant, you don't want a decongestant in the other one, whatever kind of decongestant it is. And as reminder for kids under 6, decongestants, antihistamines, and cough suppressants have not been shown to help them any better than placebo and do have some side-effects. So, I don't recommend them at all for kids under 6.
Barrett B, Turner RB. The common cold. In: Goldman L, Schafer AI, eds. Goldman-Cecil Medicine. 26th ed. Philadelphia, PA: Elsevier; 2020:chap 337.
Centers for Disease Control and Prevention website. Key facts about seasonal flu vaccine. www.cdc.gov/flu/prevent/keyfacts.htm. Updated November 18, 2021. Accessed March 31, 2022.
Centers for Disease Control and Prevention website. Flu: what to do if you get sick. www.cdc.gov/flu/treatment/takingcare.htm. Updated August 31, 2021. Accessed March 31, 2022.
Ison MG, Hayden FG. Influenza. In: Goldman L, Schafer AI, eds. Goldman-Cecil Medicine. 26th ed. Philadelphia, PA: Elsevier; 2020:chap 340.
Version Info
Last reviewed on: 10/23/2021
Reviewed by: David C. Dugdale, III, MD, Professor of Medicine, Division of General Medicine, Department of Medicine, University of Washington School of Medicine, Seattle, WA. Also reviewed by David Zieve, MD, MHA, Medical Director, Brenda Conaway, Editorial Director, and the A.D.A.M. Editorial team.