Industrial bronchitis
Industrial bronchitis is swelling (inflammation) of the large airways of the lungs that occurs in some people who work around certain dusts, fumes, smoke, or other substances.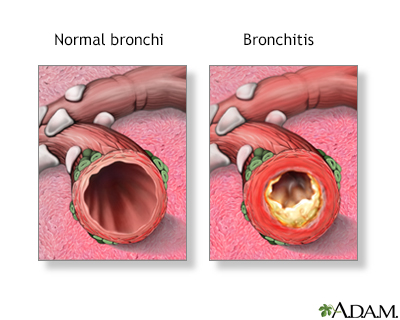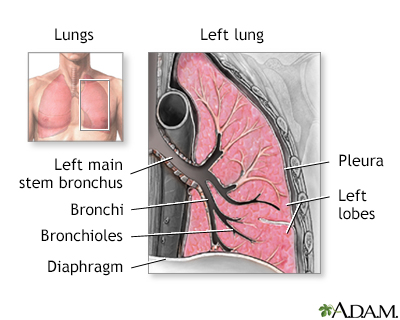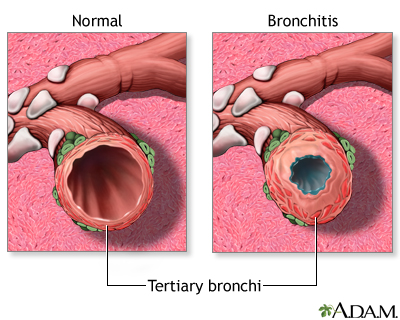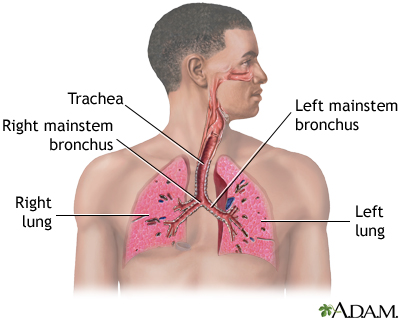 A lot of things can make you cough. Breathing in cigarette smoke, smelling a coworkers flowery perfume, or being sick with an infection can all leave you hacking. One of the infections that causes coughing is called bronchitis. Bronchitis is inflammation in the airways that lead to the lung. If you've got bronchitis, there's a good chance you started out with a respiratory infection like a cold, and it spread to your lungs. Either a virus or bacteria can cause this infection. The cough may clear up within a few days, but if it lingers for at least 3 months it's called chronic bronchitis. Chronic bronchitis is part of a group of lung diseases known as chronic obstructive pulmonary disease, or COPD for short. Smoking is one of the biggest causes of bronchitis and COPD. If you have bronchitis, you'll cough, and cough, and cough. In fact, the cough can stick with you for weeks. When you cough, you may bring up a sticky goo called mucus. If the mucus is yellow-green in color, that makes us think it might be a bacterial infection. Other symptoms of bronchitis include chest pain, wheezing, shortness of breath, and fatigue. To find out if you have bronchitis, your doctor will listen for crackly sounds in your chest when you breathe. You may also need a chest x-ray or other tests to see how well your lungs are working. So, how is bronchitis treated? Antibiotics won't treat bronchitis if a virus caused it, because they only kill bacteria. If you have a bacterial infection, you can take an antibiotic. The best way to get over bronchitis are with rest and time. While your lungs are healing, drink plenty of fluids and perhaps use a humidifier to loosen up mucus. Whatever else you do, don't smoke or be around anyone who is smoking or smells like smoke. The smoke will only make your cough worse. Bronchitis often clears up within a week or so, but the cough can stick around for weeks, or even months later, especially if you have a lung problem. While you're sick, call your doctor if you start to run a high fever, you feel short of breath or have chest pain, or your cough just won't go away. You can help protect yourself against bronchitis by washing your hands often, getting a pneumonia vaccine, and getting a flu vaccine each year to prevent some of the diseases that cause it. Be kind to your lungs by staying far away from cigarettes. If you need help kicking the habit, see your doctor.
Causes
Exposure to dusts, fumes, strong acids, and other chemicals in the air causes this type of bronchitis. Smoking may also contribute.
You may be at risk if you are exposed to dusts that contain:
Asbestos
Coal
Cotton
Flax
Latex
Metals
Silica
Talc
Toluene diisocyanate
Western red cedar
Symptoms
Symptoms may include any of the following:
Cough that brings up mucus (sputum)
Exams and Tests
The health care provider will listen to your lungs using a stethoscope. Wheezing sounds or crackles may be heard.
Tests that may be ordered include:
Pulmonary function tests (to measure breathing capacity and how well the lungs are functioning)
Pulse oximetry or arterial blood gases
Treatment
The goal of treatment is to reduce the irritation.
Getting more air into the workplace or wearing masks to filter out the offending dust particles may help. Some people may need to be taken out of the workplace.
Some cases of industrial bronchitis go away without treatment. Other times, a person may need inhaled anti-inflammatory medicines. If you are at risk or have experienced this problem and you smoke, stop smoking.
Helpful measures include:
Breathing humidified air
Increasing fluid intake
Resting
Outlook (Prognosis)
The outcome may be good as long as you can stop being exposed to the irritant.
Possible Complications
Continued exposure to irritating gases, fumes, or other substances can lead to permanent lung damage.
When to Contact a Medical Professional
Contact your provider if you are regularly exposed to dusts, fumes, strong acids, or other chemicals that can affect the lungs and you develop symptoms of bronchitis.
Prevention
Control dust in industrial settings by wearing face masks and protective clothing, and by treating textiles. Stop smoking if you are at risk.
Get early screening by a doctor if you are exposed to chemicals that can cause this condition.
If you think a chemical you work with is affecting your breathing, ask your employer for a copy of the Material Safety Data Sheet. Bring it with you to your provider.
Lemiere C, Vandenplas O. Occupational allergy and asthma. In: Burks AW, Holgate ST, O'Hehir RE, et al, eds. Middleton's Allergy: Principles and Practice. 9th ed. Philadelphia, PA: Elsevier; 2020:chap 56.
Tarlo SM. Occupational lung disease. In: Goldman L, Schafer AI, eds. Goldman-Cecil Medicine. 26th ed. Philadelphia, PA: Elsevier; 2020:chap 87.
Version Info
Last reviewed on: 11/26/2022
Reviewed by: Denis Hadjiliadis, MD, MHS, Paul F. Harron, Jr. Professor of Medicine, Pulmonary, Allergy, and Critical Care, Perelman School of Medicine, University of Pennsylvania, Philadelphia, PA. Also reviewed by David C. Dugdale, MD, Medical Director, Brenda Conaway, Editorial Director, and the A.D.A.M. Editorial team.