Bronchitis - acute
Acute bronchitis is swelling and inflamed tissue in the main passages that carry air to the lungs. This swelling narrows the airways, which makes it harder to breathe. Other symptoms of bronchitis are a cough and coughing up mucus. Acute means the symptoms have been present only for a short time.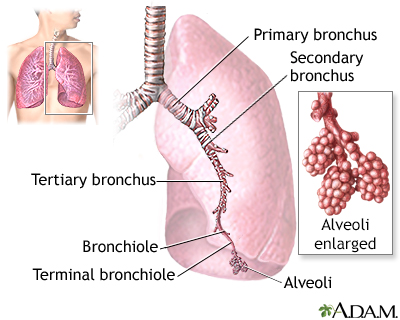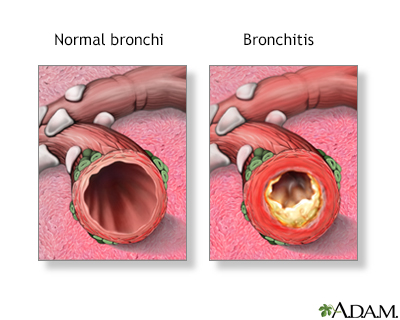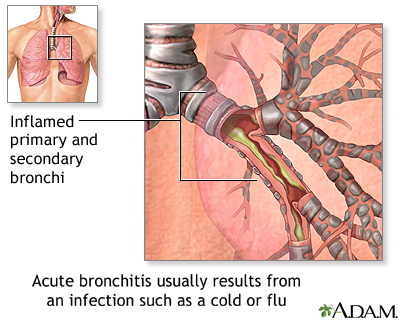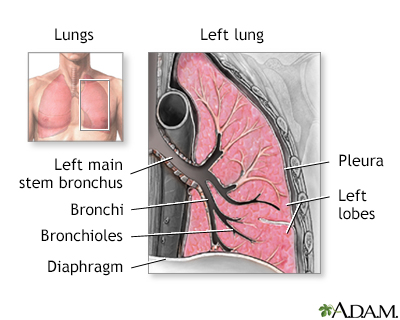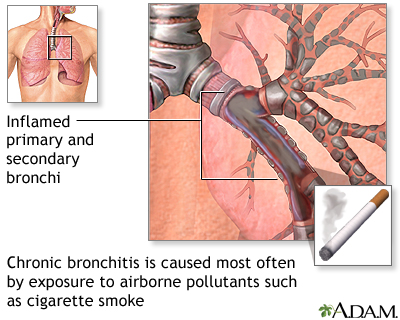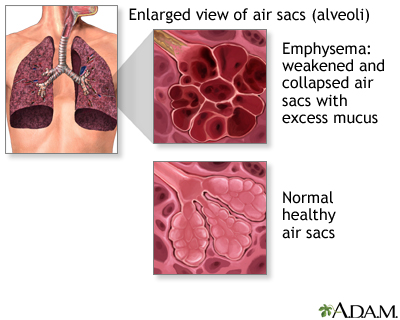 A lot of things can make you cough. Breathing in cigarette smoke, smelling a coworkers flowery perfume, or being sick with an infection can all leave you hacking. One of the infections that causes coughing is called bronchitis. Bronchitis is inflammation in the airways that lead to the lung. If you've got bronchitis, there's a good chance you started out with a respiratory infection like a cold, and it spread to your lungs. Either a virus or bacteria can cause this infection. The cough may clear up within a few days, but if it lingers for at least 3 months it's called chronic bronchitis. Chronic bronchitis is part of a group of lung diseases known as chronic obstructive pulmonary disease, or COPD for short. Smoking is one of the biggest causes of bronchitis and COPD. If you have bronchitis, you'll cough, and cough, and cough. In fact, the cough can stick with you for weeks. When you cough, you may bring up a sticky goo called mucus. If the mucus is yellow-green in color, that makes us think it might be a bacterial infection. Other symptoms of bronchitis include chest pain, wheezing, shortness of breath, and fatigue. To find out if you have bronchitis, your doctor will listen for crackly sounds in your chest when you breathe. You may also need a chest x-ray or other tests to see how well your lungs are working. So, how is bronchitis treated? Antibiotics won't treat bronchitis if a virus caused it, because they only kill bacteria. If you have a bacterial infection, you can take an antibiotic. The best way to get over bronchitis are with rest and time. While your lungs are healing, drink plenty of fluids and perhaps use a humidifier to loosen up mucus. Whatever else you do, don't smoke or be around anyone who is smoking or smells like smoke. The smoke will only make your cough worse. Bronchitis often clears up within a week or so, but the cough can stick around for weeks, or even months later, especially if you have a lung problem. While you're sick, call your doctor if you start to run a high fever, you feel short of breath or have chest pain, or your cough just won't go away. You can help protect yourself against bronchitis by washing your hands often, getting a pneumonia vaccine, and getting a flu vaccine each year to prevent some of the diseases that cause it. Be kind to your lungs by staying far away from cigarettes. If you need help kicking the habit, see your doctor.
Causes
When acute bronchitis occurs, it almost always comes after having a cold or flu-like illness. The bronchitis infection is caused by a virus. At first, it affects your nose, sinuses, and throat. Then it spreads to the airways that lead to your lungs.
Sometimes, bacteria also infect your airways. This is more common in people with COPD.
Chronic bronchitis is a long-term condition. To be diagnosed with chronic bronchitis, you must have a cough with mucus on most days for at least 3 months.
Symptoms
Some symptoms of acute bronchitis are:
Chest discomfort
Cough that produces mucus -- the mucus may be clear or yellow-green
Fever -- usually low-grade
Shortness of breath that gets worse with activity
Wheezing, in people with asthma
Even after acute bronchitis has cleared, you may have a dry, nagging cough that lasts for 1 to 4 weeks.
Sometimes it can be hard to know if you have pneumonia or bronchitis. If you have pneumonia, you are more likely to have a high fever and chills, feel sicker, or feel more short of breath.
Exams and Tests
Your health care provider will listen to the breathing sounds in your lungs with a stethoscope. Your breathing may sound abnormal or rough.
Tests may include:
Chest x-ray, if your provider suspects pneumonia
Pulse oximetry, a painless test that helps determine the amount of oxygen in your blood by using a device placed on the end of your finger
Treatment
Most people DO NOT need antibiotics for acute bronchitis caused by a virus. The infection will almost always go away on its own within 1 week. Doing these things may help you feel better:
Drink plenty of fluids.
Get plenty of rest.
Take aspirin or acetaminophen if you have a fever. DO NOT give aspirin to children.
Breathe moist air by using a humidifier or steaming up the bathroom.
Certain medicines that you can buy without a prescription can help break up or loosen mucus. Look for the word "guaifenesin" on the label. Ask the pharmacist for help finding it.
If your symptoms do not improve or if you are wheezing, your provider may prescribe an inhaler to open your airways.
If your provider thinks you also have bacteria in your airways, they may prescribe antibiotics. This medicine will only get rid of bacteria, not viruses.
Your provider may also prescribe corticosteroid medicine to reduce swelling in your lungs.
If you have the flu and it is caught in the first 48 hours after getting sick, your provider might also prescribe antiviral medicine.
Other tips include:
DO NOT smoke.
Avoid secondhand smoke and air pollution.
Wash your hands (and your children's hands) often to avoid spreading viruses and other germs.
Outlook (Prognosis)
Except for the cough, symptoms usually go away in 7 to 10 days if you do not have a lung disorder. Coughing often lasts for 2 to 3 weeks.
When to Contact a Medical Professional
Contact your provider if you:
Have a cough on most days, or have a cough that keeps returning
Are coughing up blood
Have a high fever or shaking chills
Have a low-grade fever for 3 or more days
Have thick, yellow-green mucus, especially if it has a bad smell
Feel short of breath or have chest pain
Have a chronic illness, like heart or lung disease
Centers for Disease Control and Prevention website. Chest cold (acute bronchitis). www.cdc.gov/antibiotic-use/community/for-patients/common-illnesses/bronchitis.html. Updated July 1, 2021. Accessed April 18, 2022.
Cherry JD. Acute bronchitis. In: Cherry JD, Harrison GJ, Kaplan SL, Steinbach WJ, Hotez PJ, eds. Feigin and Cherry's Textbook Of Pediatric Infectious Diseases. 8th ed. Philadelphia, PA: Elsevier; 2019:chap 19.
Walsh EE. Acute bronchitis. In: Bennett JE, Dolin R, Blaser MJ, eds. Mandell, Douglas and Bennett's Principles and Practice of Infectious Diseases. 9th ed. Philadelphia, PA: Elsevier; 2020:chap 65.
Wenzel RP. Acute bronchitis and tracheitis. In: Goldman L, Schafer AI, eds. Goldman-Cecil Medicine. 26th ed. Philadelphia, PA: Elsevier; 2020:chap 90.
Version Info
Last reviewed on: 1/17/2022
Reviewed by: David C. Dugdale, III, MD, Professor of Medicine, Division of General Medicine, Department of Medicine, University of Washington School of Medicine. Also reviewed by David Zieve, MD, MHA, Medical Director, Brenda Conaway, Editorial Director, and the A.D.A.M. Editorial team.