End-stage kidney disease
Renal failure - end stage; Kidney failure - end stage; ESRD; ESKD
End-stage kidney disease (ESKD) is the last stage of long-term (chronic) kidney disease. This is when your kidneys can no longer support your body's needs.
End-stage kidney disease is also called end-stage renal disease (ESRD).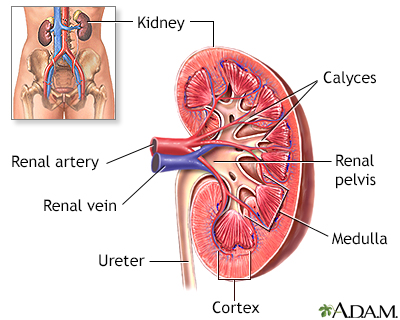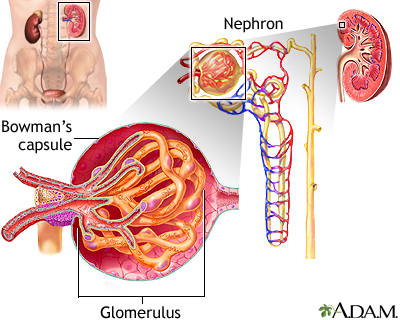 Causes
The kidneys remove waste and excess water from the body. ESRD occurs when the kidneys are no longer able to work at a level needed for day-to-day life.
The most common causes of ESRD in the United States are diabetes and high blood pressure. These conditions can affect your kidneys.
ESRD almost always comes after chronic kidney disease. The kidneys may slowly stop working during a period of 10 to 20 years before end-stage disease results.
Symptoms
Common symptoms may include:
Itching (pruritus) and dry skin
Headache
Weight loss without trying
Loss of appetite
Nausea
Other symptoms may include:
Abnormally dark or light skin
Nail changes
Bone pain
Drowsiness and confusion
Problems concentrating or thinking
Numbness in the hands, feet, or other areas
Muscle twitching or cramps
Breath odor
Easy bruising, nosebleeds, or blood in the stool
Excessive thirst
Frequent hiccups
Problems with sexual function
Menstrual periods stop (amenorrhea)
Sleep problems
Swelling of the feet and hands (edema)
Vomiting, often in the morning
Exams and Tests
Your health care provider will perform a physical exam and order blood tests. Most people with this condition have high blood pressure.
People with ESRD will make much less urine, or their kidneys no longer make urine.
ESRD changes the results of many tests. People receiving dialysis will need these and other tests done often:
This disease may also change the results of the following tests:
Treatment
ESRD may need to be treated with dialysis or kidney transplant. You may need to stay on a special diet or take medicines to help your body work well.
DIALYSIS
Dialysis does some of the job of the kidneys when they stop working well.
Dialysis can:
Remove extra salt, water, and waste products so they do not build up in your body
Keep safe levels of minerals and vitamins in your body
Help control blood pressure
Help the body make red blood cells
Your provider will discuss dialysis with you before you need it. Dialysis removes waste from your blood when your kidneys can no longer do their job.
Usually, you will go on dialysis when you have only 10% to 15% of your kidney function left.
Even people who are waiting for a kidney transplant may need dialysis while waiting.
Two different methods are used to perform dialysis:
During hemodialysis, your blood passes through a tube into an artificial kidney, or filter. This method can be done at home or at a dialysis center.
During peritoneal dialysis, a special solution passes into your belly though a catheter tube. The solution remains in your abdomen for period of time and then is removed. This method can be done at home, at work, or while traveling.
KIDNEY TRANSPLANT
A kidney transplant is surgery to place a healthy kidney into a person with kidney failure. Your doctor will refer you to a transplant center. There, you will be seen and evaluated by the transplant team. They will want to make sure that you are a good candidate for kidney transplant.
SPECIAL DIET
You may need to continue following a special diet for chronic kidney disease. The diet may include:
Eating foods low in protein
Getting enough calories if you are losing weight
Limiting fluids
Limiting salt, potassium, phosphorous, and other electrolytes
OTHER TREATMENT
Other treatment depends on your symptoms, but may include:
Extra calcium and vitamin D. (Always talk to your provider before taking supplements.)
Medicines called phosphate binders, to help prevent phosphorous levels from becoming too high.
Treatment for anemia, such as extra iron in the diet, iron pills or shots, shots of a medicine called erythropoietin, and blood transfusions.
Medicines to control your blood pressure.
Talk to your provider about vaccinations that you may need, including:
Your kidneys are in charge of filtering wastes out of your blood. But, if your kidneys don't work as well as they should, you may need a procedure called dialysis, a process that removes wastes in place of your kidneys. Let's talk about dialysis. Your kidneys have several important jobs. In addition to filtering your blood, they help maintain just the right balance of water, acids, and minerals in your body. They also function as part of the endocrine system producing hormones. If you've had kidney disease for many years, or your kidneys have suddenly failed because of disease or injury, your doctor may recommend that you have dialysis, a treatment that replaces some of what the kidneys do, removing waste and excess fluid from your blood. It is sometimes used as a holding treatment while awaiting a kidney transplant. Here's how dialysis works. First, your doctor will need to create an access to reach your blood vessels. If you need dialysis only for a short period of time, that access will be made using a hollow tube, called a catheter. Usually the catheter is placed into a large vein in your neck, chest, or leg near your groin. If you're having dialysis for a longer period of time, you'll need a more permanent access. To create this access, your doctor will connect one of your arteries to one of your veins. Then whenever you have dialysis, a needle is simply placed into this access area. During each dialysis session, your blood is removed from your body through the needle. It's sent across a special filter, which removes harmful substances from your blood. Then, your clean blood is sent back into your body. Often, you'll visit a special center for dialysis about three times a week. Each session lasts three to four hours. Or, you may be able to do dialysis right at home three times a week or even daily. Home sessions are shorter, about 2 to 3 hours, and they're easier for your body to tolerate. Before you perform dialysis at home, a nurse will teach you how to place the needle, how to clean the machine, and monitor your blood pressure during treatment. It's important when you're having dialysis that you do all of your scheduled sessions. Also, call your doctor right away if you have any problems, like swelling, redness, fever, a drop in blood pressure, or bleeding. These could be signs that you've developed an infection or other complication from your dialysis, and need medical attention.
Outlook (Prognosis)
End-stage kidney disease leads to death if you do not have dialysis or a kidney transplant. Both of these treatments have risks. The outcome is different for each person.
Possible Complications
Health problems that can result from ESRD include:
Bleeding from the stomach or intestines
Bone, joint, and muscle pain
Changes in blood sugar (glucose)
Increased risk of infection
Liver damage or failure
Miscarriages or infertility
Restless legs syndrome
Swelling and edema
Weakening of the bones and fractures related to high phosphorous and low calcium levels
Gaitonde DY, Cook DL, Rivera IM. Chronic kidney disease: detection and evaluation. Am Fam Physician. 2017;96(12):776-783. PMID: 29431364 pubmed.ncbi.nlm.nih.gov/29431364/.
Inker LA, Levey AS. Staging and management of chronic kidney disease. In: Gilbert SJ, Weiner DE, eds. National Kidney Foundation Primer on Kidney Diseases. 7th ed. Philadelphia, PA: Elsevier; 2018:chap 52.
Taal MW. Classification and management of chronic kidney disease. In: Yu ASL, Chertow GM, Luyckx VA, Marsden PA, Skorecki K, Taal MW, eds. Brenner and Rector's The Kidney. 11th ed. Philadelphia, PA: Elsevier; 2020:chap 59.
Yeun JY, Young B, Depner TA, Chin AA. Hemodialysis. In: Yu ASL, Chertow GM, Luyckx VA, Marsden PA, Skorecki K, Taal MW, eds. Brenner and Rector's The Kidney. 11th ed. Philadelphia, PA: Elsevier; 2020:chap 63.
Version Info
Last reviewed on: 1/6/2022
Reviewed by: Walead Latif, MD, Nephrologist and Clinical Associate Professor, Rutgers Medical School, Newark, NJ. Review provided by VeriMed Healthcare Network. Also reviewed by David Zieve, MD, MHA, Medical Director, Brenda Conaway, Editorial Director, and the A.D.A.M. Editorial team.