Hysterectomy - abdominal - discharge
Abdominal hysterectomy - discharge; Supracervical hysterectomy - discharge; Radical hysterectomy - discharge; Removal of the uterus - discharge
You were in the hospital to have surgery to remove your uterus. The fallopian tubes and ovaries may also have been removed. A surgical cut was made in your belly (abdomen) to perform the operation.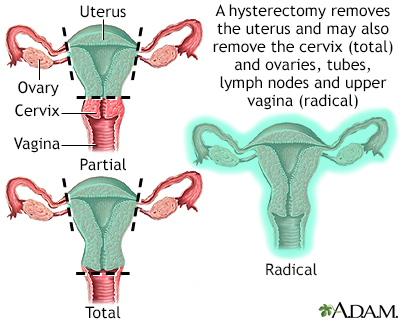 The female reproductive system is a very complex system. And as with any system, occasionally, things go wrong. When treatments and therapies can't fix an issue, sometimes surgery is required. Surgery to remove a woman's uterus or womb, a major component of this system, is called hysterectomy. Let's talk about this procedure. There are many reasons a woman may need a hysterectomy cancer of the uterus, usually endometrial cancer; cancer of the cervix; childbirth complications, such as uncontrolled bleeding; other long-term vaginal bleeding problems; long-term pelvic pain. Other reasons include severe endometriosis, including growths outside the uterus; slipping of the uterus into the vagina and perhaps tumors in the uterus, such as uterine fibroids. During a hysterectomy, your doctor may remove the entire uterus or just part of it. The fallopian tubes, which connect the ovaries to the uterus, and the ovaries themselves may also be removed. There are several different ways to perform a hysterectomy. It may be done through a surgical cut in either the belly or vagina. It may be done using laparoscopy, using a camera and smaller incisions, or it may be performed using robotic surgery. Your doctor will help you decide which type of procedure is best for you. After surgery, you will receive pain medications to relieve discomfort. You may also have a tube, called a catheter, inserted into your bladder for a day or two to pass urine. You will be asked to get up and move around as soon as possible after surgery; this helps prevent blood clots from forming in your legs and speeds up recovery. How long you stay in the hospital depends on the type of hysterectomy. If you have a robot-assisted hysterectomy, you will likely go home the next day. Most women who have a hysterectomy, however, will stay in the hospital for 2 to 3 days, maybe even longer if you have a hysterectomy due to cancer. Recovery may take anywhere from 2 to 6 weeks, depending on the type of hysterectomy you have. A hysterectomy will cause menopause if you also have your ovaries removed. Removal of the ovaries can also lead to a decreased sex drive. Your doctor, then, may recommend estrogen replacement therapy. There is some good news. Removing the problematic organs should keep you from having problems in this area again.
When You're In the Hospital
While you were in the hospital, you had surgery to remove part or all of your uterus. This is called a hysterectomy. The surgeon made a 5- to 7-inch (13- to 18-centimeter) incision (cut) in the lower part of your belly. The cut was made either up and down or across (a bikini cut), just above your pubic hair. You may have also had:
Your fallopian tubes or ovaries removed
More tissue removed if you have cancer, including part of your vagina
Lymph nodes removed
Your appendix removed
Most people spend 2 to 5 days in the hospital after this surgery.
What to Expect at Home
It may take at least 4 to 6 weeks for you to feel completely better after your surgery. The first two weeks are most often the hardest. Most people are recuperating at home during this period and do not try to go out too much. You may get tired easily during this time. You may have less appetite and limited mobility. You may need to take pain medicine regularly.
Most people are able to stop taking pain medicine and increase their activity level after two weeks.
Most people are able to perform more normal activities at this point, after two weeks such as desk work, office work, and light walking. In most cases, it takes 6 to 8 weeks for energy levels to return to normal.
After your wound heals, you will have a 4- to 6-inch (10- to 15-centimeter) scar.
If you had good sexual function before the surgery, you should continue to have good sexual function afterward. If you had problems with severe bleeding before your hysterectomy, sexual function often improves after surgery. If sexual function decreases after your hysterectomy, talk with your health care provider about possible causes and treatments.
Activity
Plan to have someone drive you home from the hospital after your surgery. Do not drive yourself home.
You should be able to do most of your regular activities in 6 to 8 weeks. Before then:
Do not lift anything heavier than a gallon (4 liters) of milk. If you have children, do not lift them.
Short walks are ok. Light housework is ok. Slowly increase how much you do.
Ask your provider when you can go up and down stairs. It will depend on the type of incision you had.
Avoid all heavy activity until you have checked with your provider. This includes strenuous household chores, jogging, weightlifting, and other exercise and activities that make you breathe hard or strain. Do not do sit-ups.
Do not drive a car for 2 to 3 weeks, especially if you are taking narcotic pain medicine. It is OK to ride in a car. Although long trips in cars, trains, or airplanes are not recommended during the first month after your surgery.
Do not have sexual intercourse until you have had a checkup after surgery.
Ask when you will be healed enough to resume normal sexual activity. This takes at least 6 to 12 weeks for most people.
Do not put anything into your vagina for 6 weeks after your surgery. This includes douching and tampons. Do not take a bath or swim. Showering is OK.
To manage your pain:
You will get a prescription for pain medicines to use at home.
If you are taking pain pills 3 or 4 times a day, try taking them at the same times each day for 3 to 4 days. They may work better this way.
Try getting up and moving around if you are having some pain in your belly.
Press a pillow over your incision when you cough or sneeze to ease discomfort and protect your incision.
In the first couple of days, an ice pack may help relieve some of your pain at the site of surgery.
Make sure your home is safe as you are recovering. Having a friend or family member provide groceries, food, and housework for you during the first month is highly recommended.
Wound Care
Change the dressing over your incision once a day, or sooner if it gets dirty or wet.
Your provider will tell you when you do not need to keep your wound covered. Typically, dressings should be removed daily. Most surgeons will want you to leave the wound open to air most of the time after you are discharged from the hospital.
Keep the wound area clean by washing it with mild soap and water. Do not take a bath or submerge the wound under water.
You may remove your wound dressings (bandages) and take showers if sutures (stitches), staples, or glue were used to close your skin. Do not go swimming or soak in a bathtub or hot tub until your provider tells you it is OK.
Steri-strips are often left on incision sites by your surgeon. They should fall off in about a week. If they are still there after 10 days, you can remove them, unless your provider tells you not to.
Other Self-care
Try eating smaller meals than normal and have healthy snacks in between. Eat plenty of fruits and vegetables and drink 8 cups (2 liters) of water a day to keep from getting constipated. Try to make sure and get a daily source of protein to help with healing and energy levels.
If your ovaries were removed, talk with your provider about treatment for hot flashes and other menopause symptoms.
When to Call the Doctor
Contact your provider if:
You have a fever above 100.5°F (38°C).
Your surgical wound is bleeding, red and warm to touch, or has thick, yellow, or green drainage.
Your pain medicine is not helping your pain.
It is hard to breathe or you have chest pain.
You have a cough that does not go away.
You cannot drink or eat.
You have nausea or vomiting.
You are unable to pass gas or have a bowel movement.
You have pain or burning when you urinate, or you are unable to urinate.
You have a discharge from your vagina that has a bad odor.
You have bleeding from your vagina that is heavier than light spotting.
You have a heavy watery discharge from your vagina.
You have swelling or redness or pain in one of your legs.
Baggish MS. Abdominal hysterectomy. In: Baggish MS, Karram MM, eds. Atlas of Pelvic Anatomy and Gynecologic Surgery. 5th ed. Philadelphia, PA: Elsevier; 2021:chap 13.
Gambone JC. Gynecologic procedures: Imaging studies and surgery. In: Hacker NF, Gambone JC, Hobel CJ, eds. Hacker & Moore's Essentials of Obstetrics and Gynecology. 6th ed. Philadelphia, PA: Elsevier; 2016:chap 31.
Prescott LS, Yunker AC, Alvarez R. Gynecologic surgery. In: Townsend CM Jr, Beauchamp RD, Evers BM, Mattox KL, eds. Sabiston Textbook of Surgery. 21st ed. Philadelphia, PA: Elsevier; 2022:chap 71.
Version Info
Last reviewed on: 1/1/2023
Reviewed by: John D. Jacobson, MD, Professor Emeritus, Department of Obstetrics and Gynecology, Loma Linda University School of Medicine, Loma Linda, CA. Also reviewed by David C. Dugdale, MD, Medical Director, Brenda Conaway, Editorial Director, and the A.D.A.M. Editorial team.