Successfully Overcoming Stage 4 Colon Cancer
Rhea Buckner Is Grateful to Be Treated by Daniel M. Labow, MD, who Saved Her Life
Rhea Buckner was 30 years young at the time when her oncologist, Peter Kozuch, MD, diagnosed her with colon cancer, amongst other serious gastrointestinal conditions. She was referred to Daniel M. Labow, MD, Chief of Surgical Oncologyand Hepatopancreatobiliary Surgery at The Mount Sinai Hospital, for a consultation for hyperthermic intraperitneal chemoperfusion (HIPEC) and liver resection. Dr. Kozuch told her that if it were him, Dr. Labow is the surgeon he would want.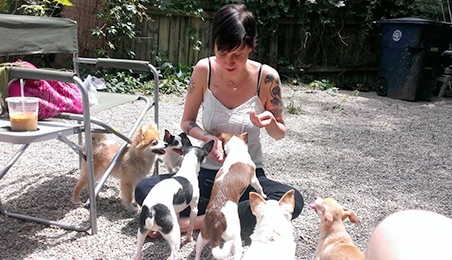 After researching Dr. Labow, HIPEC, and Mount Sinai, Rhea had a very good impression. Rhea learned that Mount Sinai's Surgical Oncology division runs the one of the busiest and most successful HIPEC and liver cancer programs in the nation. She felt very lucky to have access to world-class care, which was literally in her backyard, as Rhea is a New York City resident. "But it was my first meeting with Dr. Labow and his physician assistant Sam, that sealed the deal for me," says Rhea. "They were both so focused and warm, and, for the first time since my stage 4 diagnoses, Dr. Labow gave me hope that I could one day be cancer-free."
Compassionate Care Brings Hope
Rhea was immediately impressed by Dr. Labow's knowledge of her case when discussed during the first consult. Rhea says, "He knew everything – without notes or charts in the room – which allowed us to have such a focused, genuine conversation. He was confident he could help me, and he was thorough and reassuring."
"I knew that the surgeries I needed were big, and I knew that I would have a pretty serious recovery ahead and I might not be cancer free after it all," says Rhea. "I had two choices: continue at chemo for life and buy myself a few more years or go with these surgeries and have a chance at a future. I don't even have gray hair yet – I knew I had to go for the surgeries."
Going into surgery, Rhea knew she was in good hands. "The morning of my HIPEC surgery, both Sam and Dr. Labow were all smiles and held my hand through my tears. I knew I had made the right choice," says Rhea.
Successfully Overcoming Cancer
Dr. Labow performed a total of five reconstructive surgeries on Rhea over the course of the fall and winter of 2013. Since Dr. Labow is highly-skilled and knowledgeable in treating advanced abdominal cancers with HIPEC, the successful outcome resulted in a cancer-free life for Rhea. As she reflects upon her journey, "It was the fight of my life, but, during that time, I came to learn that Dr. Labow is not only the best doctor I have ever met, but he's also one of the greatest people I've ever met," says Rhea. "The team at Mount Sinai has been amazing throughout this whole process – from the nurses, to the anesthesiologists, to the entire surgical oncology team."
It was a long wintery road to recovery, with a few speed bumps, but Rhea is now in good health. She is back at work, traveling, thinking about the future again, and has been cancer-free since November 4, 2013!