Expert Surgeon Dr. Palese Saved My Kidney
I was due for my annual physical in October 2012. Having recently discovered blood in my urine, I thought it was an appointment I should not put off. My internist told me, in no uncertain terms, that I needed to see a urologist.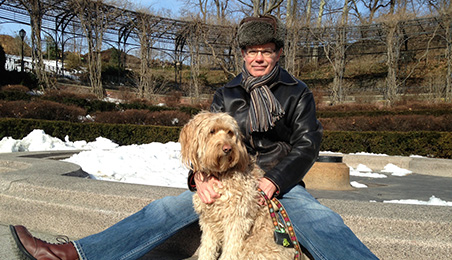 I had been to one urologist in the past (over 10 years ago) and except for one visit, I had no relationship to any particular doctor or practice. Since I live less than 10 blocks from the Mount Sinai Hospital (where I see my cardiologist), I decided to investigate their Urology Department.
The selection process was fairly straight forward. I wanted a doctor familiar with my symptoms and with excellent credentials. Based on his experience and area of concentration, Michael A. Palese, MD, Director of Minimally Invasive Urology at Mount Sinai, met these qualifications. Within two weeks, I was sitting in his office. Dr. Palese, ordered a CT scan, did the usual work-up of blood and urine, and performed a physical examination. The scan revealed a lesion the size of a dime on my right kidney. These findings, as I learned, are usually discovered incidentally.
My Doctor Was My Partner in Selecting the Best Treatment for Me – Robotic Surgery
After monitoring the tumor for a year with MRIs, Dr. Palese offered two options, (1) continue with an active surveillance schedule to monitor the lesion for any growth or (2) surgery, a partial nephrectomy, to remove the lesion and retain the kidney. In all likelihood, the lesion was a malignant tumor and delaying surgery was putting off the inevitable. Besides, the post surgery follow-up treatment was essentially the same as monitoring indefinitely.
Catching a lesion of this size, this early, meant that I was an ideal candidate for the da Vinci robotic kidney surgery, first performed at The Mount Sinai Hospital in 2005 by Dr. Palese. Dr. Palese explained the procedure, the recovery time, and the advantages of this method over open surgery. Once I received clearance from my other doctors, I scheduled the surgery.
After My Kidney Surgery and Two-Day Recovery, I Was Able to Walk Home
From the moment my wife, Elizabeth, and I walked in to register at Mount Sinai, I was struck with the efficiency of the hospital and the professionalism of the staff. After a pre-surgical meeting with the anesthesiologist and Dr. Palese, I was brought in to the operating room. What happened next, I can't say… namely because I was out like a light. However, my next recollection was being awakened in Recovery and tended to by a very kind nurse. In my anesthetic haze, I was elated – no complications, kidney preserved, and the contained mass removed.
A two-night stay at Mount Sinai proved to be one of the more favorable experiences one can hope to have in a hospital. The nurses were caring, attentive, and knowledgeable. Dr. Palese and his team checked in on me periodically, and even the food (when I finally could eat) was not half bad.
"Go in strong" was the advice I received from Cousin George who donated his kidney to his wife suffering from polycystic kidney disease. Evidently, he knew a thing or two about kidney surgery. I took this to heart and was determined to start walking as soon as I was able.
All the pre-surgery exercising paid off as I lapped around the nurses' station, IV caddy in hand. Eventually, it was time to say good-bye, and Elizabeth and I walked back to our apartment, a few blocks away, where Sadie, our dog, welcomed me home.
So Grateful I Partnered with Dr. Palese
It's been nearly three months from the date of my surgery, and, except for some initial tenderness around the affected area, I feel great. I also feel relieved, lucky, and extremely grateful to Dr. Palese, whom I now have a life-long relationship with as my treatment plan consists of follow-up MRIs. The mass was malignant. He is my urologist. And, as I said to him at my last office visit, "If I was a late night talk show host, you'd be my first guest."
Paul T. Casson