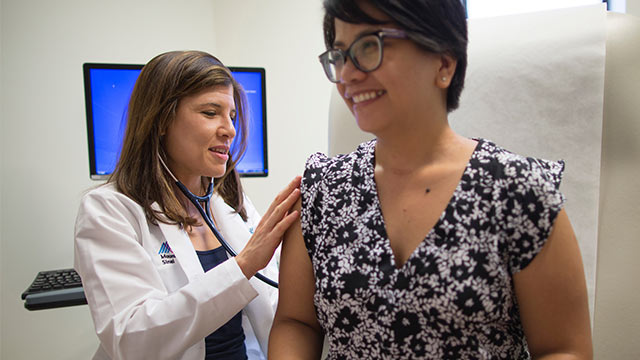 Department of Thoracic Surgery
At Mount Sinai, our thoracic surgeons are internationally recognized for their comprehensive treatment during all stages of lung cancer, mesothelioma, esophageal cancer, and mediastinal tumors, as well as benign diseases, such as excessive sweating (hyperhidrosis). Our Department takes a multidisciplinary approach, tapping insights from multiple experts, and employing all the latest advances and minimally invasive solutions to enhance patients' quality of life.
About the Department of Thoracic Surgery
Established in 1914, Mount Sinai's Department of Thoracic Surgery was one of the first of its kind in the United States. Since then, our award-winning physicians have consistently contributed to the evolution of this field through their pioneering efforts to bring about new technologies and therapies. Our international recognition as a leader in thoracic surgery has drawn patients from across the nation and all over the world.
Today, led by Department Chairman Raja M. Flores, MD, the Steven and Ann Ames Professor in Thoracic Surgery, the Department collaborates in a multidisciplinary approach (across several disciplines and specialties), so patients can benefit from the insights of multiple experts. We partner with Medical Oncology, Pulmonary Medicine, Radiology, Interventional Radiology, Gastroenterology, Neurology, and Ear, Nose and Throat specialists to treat the full spectrum of thoracic (chest) diseases and conditions. This includes:
Lung cancer and pleural diseases
Emphysema
Barrett's esophagus
Esophageal cancer
Mesothelioma
Chest wall tumors
Thymoma (and other thymic tumors)
Mediastinal tumors
Neuroendocrine tumors
GERD
Germ cell tumors
Carcinoid tumors
Swallowing disorders
Hyperhidrosis (excessive sweating)
In addition to having more than 15 years experience treating mesothelioma, Dr. Flores was one of the first physicians worldwide to use robotic surgery to treat both lung and esophageal cancer. Mount Sinai is one of the few hospitals in the nation specializing in the extrapleural pneumonectomy and pleurectomy (decortication) procedures for mesothelioma, the esophagectomy for esophageal cancer, and VATS (video-assisted thoracoscopic surgery) lobectomy surgery for lung cancer. Dr. Flores is also one of the foremost educators of other surgeons about the minimally invasive VATS lobectomy.
Groundbreaking History at Mount Sinai
Department Founder Howard Lilienthal, MD, was one of the earliest advocates of recognizing thoracic surgery as a specialty, paving the way for pioneering efforts in this medical field. Among the first to describe the necessity for early operation of lung tumors, Dr. Lilienthal developed the technique of esophagectomy and went on to perform one of the world's first in 1921 here at Mount Sinai.
In 1952, Kermit E. Osserman, MD, described the "Tensilon" test for myasthenia gravis, which is still used today. He also reviewed a 20-year study in 1971 on how to treat the disease, helping Mount Sinai build one of the two largest myasthenia gravis clinics worldwide today. In 1967, one of the first thymectomy procedures was performed at Mount Sinai and the published report in 1969 was authored by him, Paul A. Kirschner, MD, and Allan E. Kark, MD. Since then, Mount Sinai has become a major referral center for thymectomy, as well as minimally invasive robotic procedures for mesothelioma, lung cancer, and esophageal cancer.
Additionally, Irving J. Selikoff, MD, considered the "father of occupational medicine," was the first to determine the association between mesothelioma and asbestos exposure. His tireless research efforts led to the Selikoff Center for Occupational and Environmental Medicine, a distinguished center of excellence, which advocates health care for the working class and works closely with the World Trade Center Medical Monitoring and Treatment Program. Today, the Department continues its research tradition, participating in several ongoing trials seeking advancements in screenings and therapies for lung cancer, mesothelioma, and esophageal cancer.