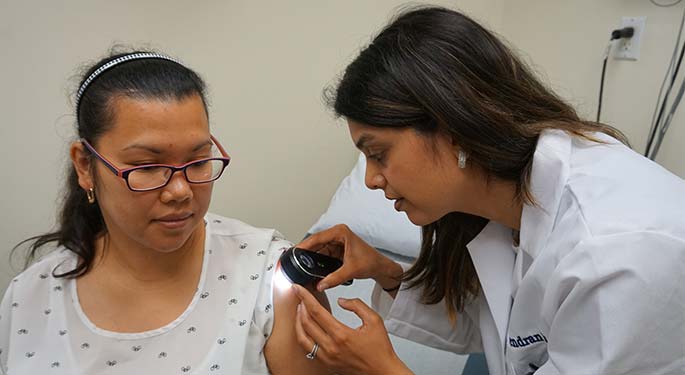 At Mount Sinai St. Luke's Department of Dermatology, we believe everyone deserves to have healthy skin. That's why our extraordinary team of experts, located on Manhattan's Upper West Side, is dedicated to understanding and treating a diverse range of skin conditions in patients of all ages and skin types.
Our full range of diagnostic services and treatments include:
General Dermatology: Acne, moles, rashes (eczema, psoriasis, hives), skin cancer, dry skin, warts, hair and nail conditions
Cosmetics Dermatology: Botox, Juvederm, Chemical Peel
Skin Of Color Center: Pigmentary disorders, scalp/hair disorders, keloids
Environmental Dermatology: Contact Dermatitis, skin allergy (patch) testing
Phototherapy: Psoriasis, pruritus (itch), vitiligo, eczema
Pediatric Dermatology: Pediatric skin diseases
Clinical Trials
Under the direction of Dr. Andrew Alexis, the clinical trials unit has played a key role in the development of new therapies for difficult to manage dermatology conditions. Please contact Dr. Bridget Kaufman for more information about current studies and opportunities to participate in our trials.
We are currently recruiting for clinical trials for the following conditions:
Acne
Psoriasis
Common warts
Central Centrifugal Cicatricial Alopecia (CCCA)
Keloids
Melasma
Atopic Dermatitis (Eczema)
Contact information:
Dr. Bridget Kaufman (Sub-Investigator): 212-523-4511
Ingrid Sanabria (Research Coordinator): 212-523-3812
Our Doctors