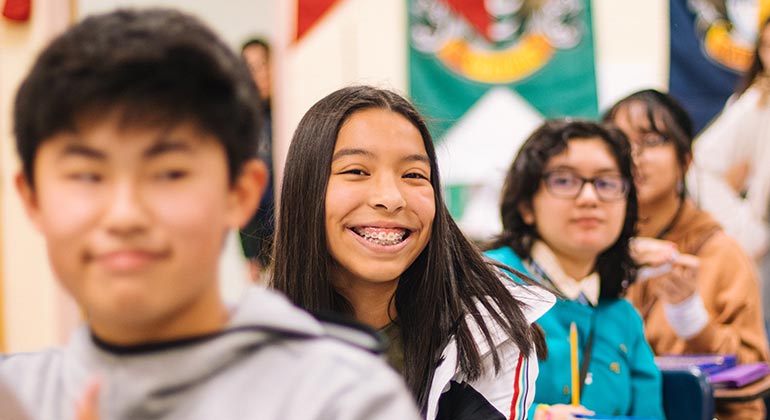 Comprehensive Adolescent Rehabilitation and Education Service
The Comprehensive Adolescent Rehabilitation and Education Service (CARES) provides a wide range of services to address issues interfering with optimal functioning for teens and young adults. Our safe and therapeutic school environment helps New York City public high school students whose previous learning has been limited by emotional and behavioral difficulties. We provide a full range of targeted and integrated services for mental health and substance use, and our accomplished clinicians have expertise in the unique developmental needs of adolescents and young adults.
Youth interested in CARES will first engage in a comprehensive evaluation. Based on their motivation and readiness to make changes in their lives, the most appropriate Level of CARES will be recommended, and an individualized treatment program will be designed. Learn about our core team here, and our application form can be downloaded here.
In addition, CARES has a new offshoot program known as UPRISE (Use Prevention & Recovery Intervention Services & Education). This integrated, multidimensional program offers a full range of targeted mental health and substance use services to students at Judith S. Kaye High School and Coop Tech. Download the brochure here.
CARES offers two tracks depending on your child's needs:
The Adolescent Alternative Day Program (AADP) helps teens who have issues with social skills, anxiety, and mood changes. We offer a more focused, individualized, safe, and respectful school environment than regular high school. We provide education and therapy, and have special expertise with teens who have severe emotional problems and issues with school truancy.
The Comprehensive Addiction Program for Adolescents (CAPA) works with the Addiction Institute of Mount Sinai to serve youth who struggle with substance abuse. We can help those who are in recovery as well as active users interested in treatment. This program is designed for teens who require a great deal of structure, and it lets them continue to live in the community during treatment. CAPA also helps address other issues, such as depression and other mood-related disorders, school issues, and legal problems.
Therapeutic Elements
CARES provides multidisciplinary therapeutic services to students whose emotional and/or behavioral difficulties have interfered with their success at school. The CARES clinical staff works together as a team to create an individualized treatment plan for each student. All services are provided in-person or by video telehealth.
The treatment plan components include the following:
Individual, family, and group therapy
Medication management
Substance abuse treatment
Milieu therapy
Life skills training
Community meetings
Educational Elements
CARES Academy provides a full-time, diploma-granting high school education curriculum through the New York City Department of Education. In addition, certain students will be able to opt for a High School Equivalency (HSE) curriculum based upon their needs and preferences. Following New York State Education Department mandates, the diploma program enables students to earn and accumulate credits as well as prepare for Regents exams. The diploma and HSE educational programs are run by the Department of Education Re-Start Program. Students attend daily academic classes taught by Department of Education teachers. Clinical staff work closely with all education staff each day to ensure that students are attending their classes, working well with teachers and peers and participating to the best of their ability. On occasion, field trips are part of the academic coursework.