Bronchoscopic culture
Bronchoscopic culture is a laboratory exam to check a piece of tissue or fluid from the lungs for infection-causing germs.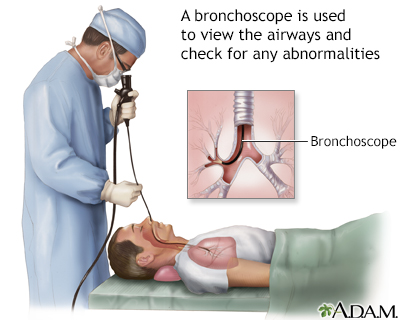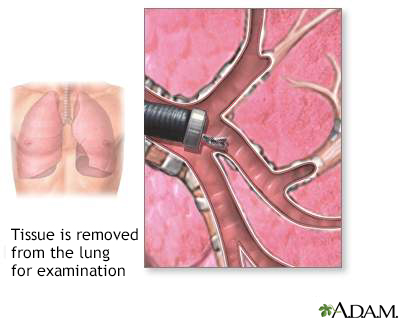 How the Test is Performed
A procedure called bronchoscopy is used to get a sample (biopsy or brush) of lung tissue or fluid.
The sample is sent to a laboratory. There, it is placed in a special dish (culture). It is then watched to see if bacteria or other disease-causing germs grow. Treatment is based on the results of the culture.
If your doctor suspects you have lung disease, or needs to treat your current lung problem, you may need a test called bronchoscopy. A bronchoscope is a device that lets your doctor see the inside of your lungs. The scope, or tube, is passed through your mouth or nose, through your windpipe, then into your lungs. Your doctor may use a rigid or flexible scope. If your doctor uses a rigid scope, you will be asleep and pain free. If you have flexible bronchoscopy, you will be awake. Your doctor will spray a numbing liquid drug in your mouth and throat. Sometimes, tiny brushes, needles, or forceps are passed through the scope. This lets your doctor take a tissue sample from your lungs. But don't worry, it won't hurt! You may have a bronchoscopy to help your doctor diagnose a lung problem. Common reasons for this test are lung growths, lymph node inspection, or other changes that your doctor needs to see. You may have this test if you are coughing up blood or have a possible foreign object in your airway. Infections in the lung and an unexplained cough that's been going on for more than 3 months are other good reasons to get this test. Bronchoscopy can help your doctor diagnose many lung diseases, including infections from bacteria, viruses, fungi, parasites, or tuberculosis. It can also help find lung inflammation from allergic-type reactions and help diagnose lung cancer or other lung diseases. What's more, bronchoscopy can also be used to actually treat lung problems. It can help your doctor remove fluid from your airways, widen a blocked or narrow airway, drain an abscess, or treat cancer. While you have a bronchoscopy, you will lose your gag reflex because of the numbing medicine they use. But don't worry. It will return shortly after the procedure, so don't drink or eat anything until it does. However, there is a significant risk of choking if you swallow anything BEFORE the numbing medicine wears off.
How to Prepare for the Test
Follow your health care provider's instructions on how to prepare for bronchoscopy.
How the Test will Feel
Your provider will tell you what to expect during bronchoscopy.
Why the Test is Performed
A bronchoscopic culture is done to find infection in the lung that cannot be accurately detected by a sputum culture. The procedure may find the following things, such as:
Abnormal secretions
Abnormal lung tissue
Inflammation
Obstructive lesions, such as cancer or foreign bodies
Normal Results
No organisms are seen on the culture.
What Abnormal Results Mean
Abnormal culture results usually indicate a respiratory infection. The infection may be caused by bacteria, viruses, parasites, mycobacteria, or fungi. The results of the culture will help determine the best treatment.
Not all organisms found with bronchoscopic culture need to be treated. Your provider will tell you more about this, after taking into account a lot of information to determine if treatment is needed.
Risks
Your provider can discuss the risks of the bronchoscopy procedure with you.
Beamer S, Jaroszewski DE, Viggiano RW, Smith ML. Optimal processing of diagnostic lung specimens. In: Leslie KO, Wick MR, eds. Practical Pulmonary Pathology: A Diagnostic Approach. 3rd ed. Philadelphia, PA: Elsevier; 2018:chap 3.
Kupeli E, Mehta AC. Diagnostic bronchoscopy: basic techniques. In: Broaddus VC, Ernst JD, King TE, et al, eds. Murray and Nadel's Textbook of Respiratory Medicine. 7th ed. Philadelphia, PA: Elsevier; 2022:chap 26.
Version Info
Last reviewed on: 12/6/2021
Reviewed by: Denis Hadjiliadis, MD, MHS, Paul F. Harron, Jr. Associate Professor of Medicine, Pulmonary, Allergy, and Critical Care, Perelman School of Medicine, University of Pennsylvania, Philadelphia, PA. Also reviewed by David Zieve, MD, MHA, Medical Director, Brenda Conaway, Editorial Director, and the A.D.A.M. Editorial team.