Shoulder arthroscopy
SLAP repair; SLAP lesion; Acromioplasty; Bankart repair; Bankart lesion; Shoulder repair; Shoulder surgery; Rotator cuff repair
Shoulder arthroscopy is surgery that uses a tiny camera called an arthroscope to examine or repair the tissues inside or around your shoulder joint. The arthroscope is inserted through a small cut (incision) in your skin.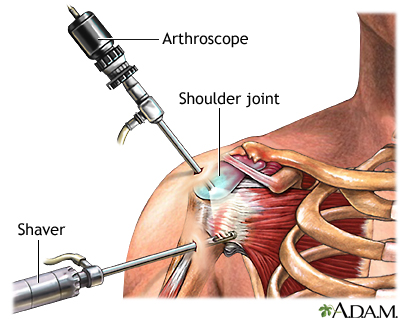 Description
The rotator cuff is a group of muscles and their tendons that form a cuff over the shoulder joint. These muscles and tendons hold the arm in the shoulder joint. This also helps the shoulder move in different directions. The tendons in the rotator cuff can tear when they are overused or injured.
You will likely receive general anesthesia for this surgery. This means you will be asleep and unable to feel pain. Or, you may have regional anesthesia. Your arm and shoulder area will be numbed, as a result you do not feel any pain. If you receive regional anesthesia, you will also be given medicine to make you very sleepy during the operation.
During the procedure, the surgeon:
Inserts the arthroscope into your shoulder through a small incision. The scope is connected to a video monitor in the operating room.
Inspects all the tissues of your shoulder joint and the area above the joint. These tissues include the cartilage, bones, tendons, and ligaments.
Repairs any damaged tissues. To do this, your surgeon makes 1 to 3 more small incisions and inserts other instruments through them. A tear in a muscle, tendon, or cartilage is fixed. Any damaged tissue is removed.
Your surgeon may do one or more of these procedures during your operation.
Rotator cuff repair:
The edges of the tendon are brought together. The tendon is attached to the bone with sutures.
Small rivets (called suture anchors) are often used to help attach the tendon to the bone.
The anchors can be made of metal or plastic. They do not need to be removed after surgery.
Surgery for impingement syndrome:
Damaged or inflamed tissue is cleaned out in the area above the shoulder joint.
A ligament called the coracoacromial ligament may be cut.
The underside of a bone called the acromion may be shaved. A bony growth (spur) on the underside of the acromion often causes impingement syndrome. The spur can cause inflammation and pain in your shoulder.
Surgery for shoulder instability:
If you have a torn labrum, the surgeon will repair it. The labrum is the cartilage that lines the rim of the shoulder joint. 
Ligaments that attach to this area will also be repaired.
The Bankart lesion is a tear on the labrum in the lower part of the shoulder joint.
A SLAP lesion involves the labrum and the ligament on the top part of the shoulder joint.
At the end of the surgery, the incisions will be closed with stitches and covered with a dressing (bandage). Most surgeons take pictures from the video monitor during the procedure to show you what they found and the repairs that were made.
Your surgeon may need to do open surgery if there is a lot of damage. Open surgery means you will have a large incision so that the surgeon can get directly to your bones and tissues.
Feeling pain in your shoulder when you lift your arm over your head may mean you have a have a problem with your rotator cuff. So, what causes rotator cuff problems? The rotator cuff is a group of muscles and tendons that attach to the bones of your shoulder joint. The group allows your shoulder to move and keeps it stable. Pain in your rotator cuff area usually means you have rotator cuff tendinitis, or inflammation of these tendons and inflammation of the bursa, smooth slippery sacs the tendons glide across; or a rotator cuff tear, when one the tendons is torn from overuse or injury. Rotator cuff tendinitis may be due to keeping your arm in the same position for long periods of time, such as doing computer work or hairstyling. Sleeping on the same arm each night can also cause this problem. You can also get tendinitis playing sports that require you to move your arm over your head repeatedly, such as in tennis, baseball especially pitching, swimming, and weight-lifting. Rotator cuff tears may happen if you fall on your arm while it is stretched out, or after a sudden, jerking motion when trying to lift something heavy. Chronic tears occur slowly over time, particularly in people who have chronic tendinitis. At some point, the tendon wears down and starts to tear. If you have tendinitis, you'll have pain when you lift your arm over your head, such as when you brush your hair and reach for objects on shelves. The pain may be mild at first, but over time you may have pain at rest or at night, especially when you lie on your shoulder. The pain of a sudden rotator cuff tear can be intense. Your shoulder may be weak, and you may hear a snapping sound when you move your shoulder. Chronic symptoms include a gradual worsening of pain, weakness, stiffness or loss of motion. Most people with rotator cuff tears have worse pain at night and when they wake up. To treat your rotator cuff problem, your doctor will check your shoulder for tenderness and lift your arm to see in which position you have pain. X-rays may show a bone spur, a bony projection. If your doctor thinks you have a tear, you may have an ultrasound or MRI. Treatment for rotator cuff tendinitis involves resting your shoulder and avoiding the activities that cause you pain. You can also try applying ice packs 20 minutes at a time, 3 or 4 times a day. Medicines like ibuprofen may help reduce swelling and inflammation. Eventually, you should start physical therapy to learn to stretch and strengthen the muscles of your shoulder. Surgery can remove inflamed tissue and part of the bone that lies over the rotator cuff, which may help relieve the pressure on your tendons. Someone with a partial rotator cuff tear can try rest and exercise, if they don't normally put a lot of demand on their shoulder. But if there's a complete tear, or if the symptoms don't improve with therapy, you may need surgery to repair the tendon. But with rest or exercise, symptoms of most shoulder problems often improve or go away, though it may take months.
Why the Procedure Is Performed
Arthroscopy may be recommended for these shoulder problems:
A torn or damaged cartilage ring (labrum) or ligaments
Shoulder instability, in which the shoulder joint is loose and slides around too much or becomes dislocated (slips out of the ball and socket joint)
A torn or damaged biceps tendon
A torn rotator cuff
A bone spur or inflammation around the rotator cuff
Inflammation or damaged lining of the joint, often caused by an illness, such as rheumatoid arthritis
Arthritis of the end of the clavicle (collarbone)
Loose tissue that needs to be removed
Shoulder impingement syndrome, to make more room for the shoulder to move around 
Risks
Risks of anesthesia and surgery in general are:
Allergic reactions to medicines
Breathing problems
Bleeding, blood clots, infection
Risks of shoulder arthroscopy are:
Shoulder stiffness
Failure of the surgery to relieve symptoms
The repair fails to heal
Weakness of the shoulder
Blood vessel or nerve injury
Damage to the cartilage of shoulder (chondrolysis)
Before the Procedure
Tell your health care provider what medicines you are taking. This includes medicines, supplements, or herbs you bought without a prescription.
During the 2 weeks before your surgery:
You may be asked to temporarily stop taking blood thinners. These include aspirin, ibuprofen (Advil, Motrin), naproxen (Naprosyn, Aleve), and other medicines.
Ask your provider which medicines you should still take on the day of your surgery.
If you have diabetes, heart disease, or other medical conditions, your surgeon may ask you to see your doctor who treats you for these conditions.
Tell your provider if you have been drinking a lot of alcohol, more than 1 or 2 drinks a day.
If you smoke, try to stop. Ask your provider for help. Smoking can slow wound and bone healing.
Tell your doctor about any cold, flu, fever, herpes breakout, or other illness you may have before your surgery.
On the day of surgery:
Follow instructions about when to stop eating and drinking.
Take any drugs you're asked to take with a small sip of water.
Follow instructions on when to arrive at the hospital. Be sure to arrive on time.
After the Procedure
Follow any discharge and self-care instructions you are given.
Recovery can take 1 to 6 months. You will probably have to wear a sling for the first week. If you had a lot of repair done, you may have to wear the sling longer.
You may take medicine to control your pain.
When you can return to work or play sports will depend on what your surgery involved. It can range from 1 week to several months.
Physical therapy may help you regain motion and strength in your shoulder. The length of therapy will depend on what was done during your surgery.
Outlook (Prognosis)
Arthroscopy often results in less pain and stiffness, fewer complications, a shorter (if any) hospital stay, and faster recovery than open surgery.
If you had a repair, your body needs time to heal, even after arthroscopic surgery, just as you would need time to recover from open surgery. Because of this, your recovery time may still be long.
Surgery to fix a cartilage tear is usually done to make the shoulder more stable. Many people recover fully, and their shoulder stays stable. But some people may still have shoulder instability after arthroscopic repair.
Using arthroscopy for rotator cuff repairs or tendinitis usually relieves the pain, but you may not regain all of your strength.
DeBerardino TM, Scordino LW. Shoulder arthroscopy. In: Miller MD, Thompson SR, eds. DeLee, Drez, & Miller's Orthopaedic Sports Medicine. 5th ed. Philadelphia, PA: Elsevier; 2020:chap 39.
Phillips BB. Arthroscopy of the upper extremity. In: Azar FM, Beaty JH, Canale ST, eds. Campbell's Operative Orthopaedics. 13th ed. Philadelphia, PA: Elsevier; 2017:chap 52.
Version Info
Version: 2.0
Last reviewed on: 5/27/2019
Reviewed by: Debra G. Wechter, MD, FACS, general surgery practice specializing in breast cancer, Virginia Mason Medical Center, Seattle, WA. Also reviewed by David Zieve, MD, MHA, Medical Director, Brenda Conaway, Editorial Director, and the A.D.A.M. Editorial team.