White matter of the brain
White matter is found in the deeper tissues of the brain (subcortical). It contains nerve fibers (axons), which are extensions of nerve cells (neurons). Many of these nerve fibers are surrounded by a type of sheath or covering called myelin. Myelin gives the white matter its color. It also protects the nerve fibers from injury. Also, it improves the speed and transmission of electrical nerve signals along extensions of the nerve cells called axons.
By comparison, gray matter is tissue found on the surface of the brain (cortical). It contains the cell bodies of neurons, which give gray matter its color.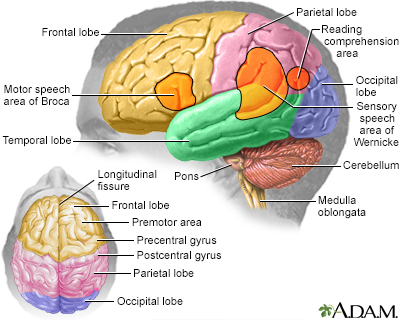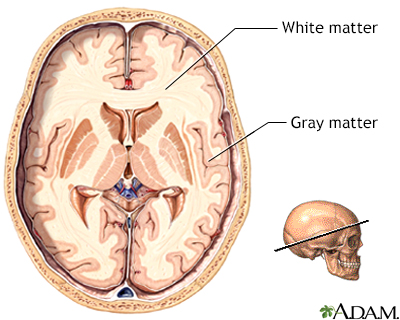 Brat DJ. Normal brain histopathology. In: Perry A, Brat DJ, eds. Practical Surgical Neuropathology: A Diagnostic Approach. 2nd ed. Philadelphia, PA: Elsevier; 2018:chap 2.
Kumar V, Abbas AK, Aster JC. Central nervous system. In: Kumar V, Abbas AK, Aster JC, eds. Robbins Basic Pathology. 10th ed. Philadelphia, PA: Elsevier; 2018:chap 23.
Wen HT, Rhoton AL, Mussi ACM. Surgical anatomy of the brain. In: Winn HR, ed. Youmans and Winn Neurological Surgery. 7th ed. Philadelphia, PA: Elsevier; 2017:chap 2.
Version Info
Last reviewed on: 1/28/2021
Reviewed by: Evelyn O. Berman, MD, Assistant Professor of Neurology and Pediatrics at University of Rochester, Rochester, NY. Review provided by VeriMed Healthcare Network. Also reviewed by David Zieve, MD, MHA, Medical Director, Brenda Conaway, Editorial Director, and the A.D.A.M. Editorial team.