Heart disease and women
CAD - women; Coronary artery disease - women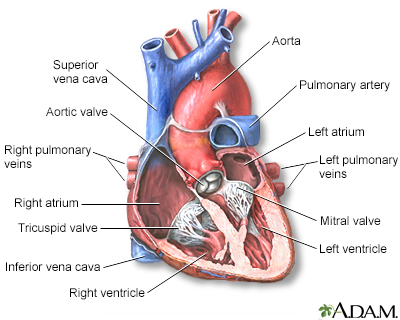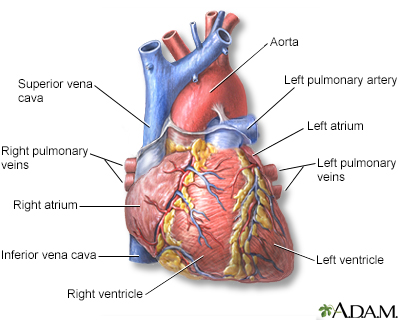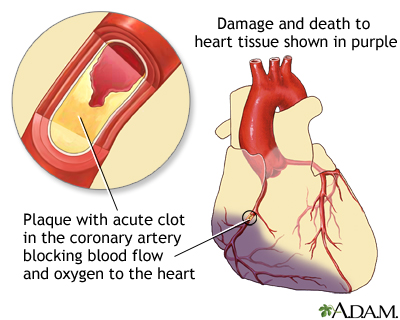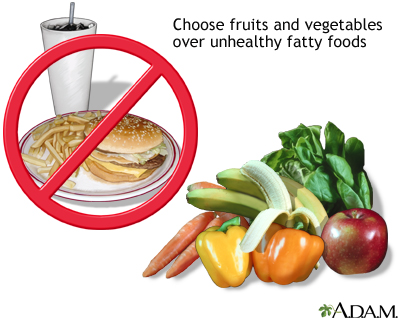 Information
People often do not consider heart disease a woman's disease. Yet cardiovascular disease is the leading killer of women over age 25. It kills nearly twice as many women in the United States as all types of cancer.
Men have a greater risk for heart disease earlier in life than women. Women's risk increases after menopause.
EARLY HEART DISEASE SIGNS
Women may have warning signs that go unnoticed for weeks or even years before a heart attack occurs.
Men most often have the "classic" heart attack signs: tightness in the chest, arm pain, and shortness of breath.
Women's symptoms can resemble those of men.
Women may also report other symptoms, such as nausea, fatigue, indigestion, anxiety, and dizziness.
ACT IN TIME
Recognizing and treating a heart attack right away improves your chance for survival. On average, a person having a heart attack will wait for 2 hours before calling for help.
Know the warning signs and always call 911 or the local emergency number within 5 minutes of when symptoms begin. By acting quickly, you can limit damage to your heart.
MANAGE YOUR RISK FACTORS
A risk factor is something that increases your chance of getting a disease or having a certain health condition. You can change some risk factors for heart disease. Other risk factors you cannot change.
Women should work with their health care provider to address risk factors they can change.
Use lifestyle measures to keep your blood cholesterol levels in the right range. Targets for cholesterol levels vary, depending on your risk factors. Ask your provider which targets are best for you.
Keep your blood pressure in a healthy range. Your ideal blood pressure level will depend on your risk factors. Discuss your target blood pressure with your provider.
Estrogen is no longer used to prevent heart disease in women of any age. Estrogen may increase the risk for heart disease in older women. However, it may still be used for some women to treat hot flashes or other medical problems.
Estrogen use is probably safest for women under age 60.
It should be used for the shortest possible period of time.
Only women who have a low risk for stroke, heart disease, blood clots, or breast cancer should take estrogen.
LIVE A HEALTHY LIFESTYLE
Some of the risk factors for heart disease that you CAN change are:
Do not smoke or use tobacco.
Get plenty of exercise. Women who need to lose weight or maintain their weight should get at least 60 to 90 minutes of moderate-intensity exercise on most days. To maintain your health, get at least 30 minutes of exercise a day, preferably at least 5 days a week.
Maintain a healthy weight. Women should strive for a body mass index (BMI) of 18.5 to 24.9 and a waist smaller than 35 inches (90 cm).
Get checked and treated for depression, if necessary.
Women with high cholesterol or triglyceride levels may benefit from omega-3 fatty acid supplements.
If you drink alcohol, limit yourself to no more than one drink per day. Do not drink just for the purpose of protecting your heart.
Good nutrition is important to your heart health, and it will help control some of your heart disease risk factors.
Eat a diet that is rich in fruits, vegetables, and whole grains.
Choose lean proteins, such as chicken, fish, beans, and legumes.
Eat low-fat dairy products, such as skim milk and low-fat yogurt.
Avoid sodium (salt) and fats found in fried foods, processed foods, and baked goods.
Eat fewer animal products that contain cheese, cream, or eggs.
Read labels, and stay away from "saturated fat" and anything that contains "partially-hydrogenated" or "hydrogenated" fats. These products are most often high in unhealthy fats.
Coronary Artery Disease (CAD) includes diseases of the arteries that supply the heart muscle with blood. It is responsible for more than half of all cardiovascular events in men and women under the age of 75 years. CAD, which is sometimes called coronary heart disease or ischemic heart disease, is most often caused by atherosclerosis. Atherosclerotic plaque forms when cholesterol and other fatty material are deposited within the arterial wall. Plaque deposits narrow the coronary arteries that supply the heart, thereby reducing blood flow to the heart muscle. If plaque ruptures, it can trigger the formation of a blood clot and completely obstructs the flow of blood to the heart. CAD also has many non-atherosclerotic causes, including genetic abnormalities of the coronary vessels, systemic vasculitis, and radiation-induced coronary disease. When coronary arteries are narrowed or blocked, oxygen-rich blood cannot reach the heart muscle, resulting in chest pain, also called angina or myocardial infarction. Over time, CAD may weaken the heart muscle and lead to serious pumping problems and abnormal heart rhythms. Therapeutic approaches for CAD include the use of 3 strategies: First, treatment to reduce the heart's workload Second, improving coronary artery blood flow Third, slowing down or reversing the build-up of atherosclerotic plaques. The heart's workload can be reduced by controlling the BP and using drugs such as beta blockers or calcium-channel blockers that keep the heart from pumping as hard. Coronary blood flow can be improved by surgical procedures such as a percutaneous coronary intervention or coronary artery bypass grafting. A coronary artery thrombus may sometimes be dissolved by drugs, also improving coronary circulation. Modifying the diet, exercising regularly, and appropriate pharmacological therapy can slow down or help reverse atherosclerosis.
When people have chest pain, they're often concerned they're having a heart attack. I'm Dr. Alan Greene and I'd like to talk to you for a moment about the different kinds of chest pain and when it may be an emergency. It turns out, there are lots of different kinds of chest pain. In fact, almost everything in the chest can hurt in one way or another. Some of the causes are really nothing more than a minor inconvenience. Some of them though are quite serious, even life threatening. You can have chest pain sure from the heart, but also from pneumonia. You can have chest pain from asthma. You can have chest pain from a blood clot in the lungs. It can be from nothing more than a strain of some of the muscles between the ribs, or nerves. You can also have chest pain that comes from acid reflux of from a stomach ulcer, gallstones. Many, many things can cause chest pain. You want to call 911 if you are having sudden, crushing chest pain or if your chest pain radiates into the jaw or the left arm. You want to call 911 if your chest pain also causes shortness of breath, or dizziness, nausea, or vomiting. You want to call 911 if you know you have heart disease and you do occasionally have pain but your pain is getting significantly worse than it is ordinarily. Or comes on with less activity than it does otherwise. But whatever the cause of chest pain, unless you're sure what's causing it, it's worth contacting your physician to find out what may be going on. It's not a symptom to ignore.
Excess body fat, particularly the accumulation of body fat around the waist increases the risk for heart disease. Obesity, defined as a body mass index above 30, is a strong predictor of CVD. Excess body weight increases the external work for the heart, resulting in an increase in BP, blood cholesterol, and triglyceride levels. Excess body weight also lowers HDL cholesterol levels and increases the incidence of diabetes. Even a moderate weight reduction can reduce the risk of heart disease.
Fihn SD, Blankenship JC, Alexander KP, et al. 2014 ACC/AHA/AATS/PCNA/SCAI/STS focused update of the guideline for the diagnosis and management of patients with stable ischemic heart disease: a report of the American College of Cardiology/American Heart Association Task Force on Practice Guidelines, and the American Association for Thoracic Surgery, Preventive Cardiovascular Nurses Association, Society for Cardiovascular Angiography and Interventions, and Society of Thoracic Surgeons. Circulation. 2014;130(19):1749-1767. PMID: 25070666 pubmed.ncbi.nlm.nih.gov/25070666/.
Gulati M, Merz CNB. Cardiovascular disease in women. In: Libby P, Bonow RO, Mann DL, Tomaselli GF, Bhatt DL, Solomon SD, eds. Braunwald's Heart Disease: A Textbook of Cardiovascular Medicine. 12th ed. Philadelphia, PA: Elsevier; 2022:chap 91.
Hodis HN, Mack WJ, Henderson VW; ELITE Research Group, et al. Vascular effects of early versus late postmenopausal treatment with estradiol. N Engl J Med. 2016;374(13):1221-1231. PMID: 27028912 pubmed.ncbi.nlm.nih.gov/27028912/.
Meschia JF, Bushnell C; American Heart Association Stroke Council, et al. Guidelines for the primary prevention of stroke: a statement for healthcare professionals from the American Heart Association/American Stroke Association. Stroke. 2014;45(12):3754-3832. PMID: 25355838 pubmed.ncbi.nlm.nih.gov/25355838/.
Mora S, Libby P, Ridker P. Primary prevention of cardiovascular disease. In: Libby P, Bonow RO, Mann DL, Tomaselli GF, Bhatt DL, Solomon SD, eds. Braunwald's Heart Disease: A Textbook of Cardiovascular Medicine. 12th ed. Philadelphia, PA: Elsevier; 2022:chap 25.
Mosca L, Benjamin EJ, Berra K, et al. Effectiveness-based guidelines for the prevention of cardiovascular disease in women--2011 update: A guideline from the American Heart Association. Circulation. 2011;123(11):1243-1262. PMID: 21325087 pubmed.ncbi.nlm.nih.gov/21325087/.
Smith SC Jr, Benjamin EJ, Bonow RO, et al. AHA/ACCF secondary prevention and risk reduction therapy for patients with coronary and other atherosclerotic vascular disease: 2011 update: a guideline from the American Heart Association and American College of Cardiology Foundation endorsed by the World Heart Federation and the Preventive Cardiovascular Nurses Association. J Am Coll Cardiol. 2011;58(23):2432-2446. PMID: 22055990 pubmed.ncbi.nlm.nih.gov/22055990/.
The NAMS Hormone Therapy Position Statement Advisory Panel. The 2017 hormone therapy position statement of The North American Menopause Society. Menopause. 2017;24(7):728-753. PMID: 28650869 pubmed.ncbi.nlm.nih.gov/28650869/.
Version Info
Version: 2.0
Last reviewed on: 10/5/2022
Reviewed by: Thomas S. Metkus, MD, Assistant Professor of Medicine and Surgery, Johns Hopkins University School of Medicine, Baltimore, MD. Also reviewed by David C. Dugdale, MD, Medical Director, Brenda Conaway, Editorial Director, and the A.D.A.M. Editorial team.