Feeding tube - infants
Gavage tube - infants; OG - infants; NG - infants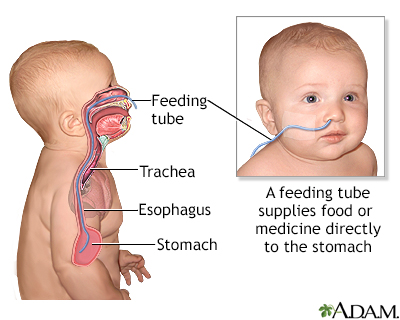 Information
A feeding tube is a small, soft, plastic tube placed through the nose (NG) or mouth (OG) into the stomach. These tubes are used to provide feedings and medicines into the stomach until the baby can take food by mouth.
WHY IS A FEEDING TUBE USED?
Feeding from the breast or bottle requires strength and coordination. Sick or premature babies may not be able to suck or swallow well enough to bottle or breastfeed. Tube feedings allow the baby to get some or all of their feeding into the stomach. This is the most efficient and safest way to provide good nutrition. Oral medicines can also be given through the tube.
HOW IS A FEEDING TUBE PLACED?
A feeding tube is gently placed through the nose or mouth into the stomach. An x-ray can confirm correct placement. In babies with feeding problems, the tip of the tube may be placed past the stomach into the small intestine. This provides slower, continuous feedings.
WHAT ARE THE RISKS OF A FEEDING TUBE?
Feeding tubes are generally very safe and effective. However, problems may occur, even when the tube is placed properly. These include:
Irritation of the nose, mouth, or stomach, causing minor bleeding
Stuffy nose or infection of the nose if the tube is placed through the nose
If the tube is misplaced and not in the proper position, the baby may have problems with:
An abnormally slow heart rate (bradycardia)
Breathing
Spitting up
In rare cases, the feeding tube can puncture the stomach.
George DE, Ogholikhan S. Tubes for enteric access. In: Wyllie R, Hyams JS, Kay M, eds. Pediatric Gastrointestinal and Liver Disease. 6th ed. Philadelphia, PA: Elsevier; 2021:chap 87.
Poindexter BB, Martin CR. Nutrient requirements/nutritional support in premature neonate. In: Martin RJ, Fanaroff AA, Walsh MC, eds. Fanaroff and Martin's Neonatal-Perinatal Medicine. 11th ed. Philadelphia, PA: Elsevier; 2020:chap 41.
Version Info
Version: 2.0
Last reviewed on: 6/7/2022
Reviewed by: Neil K. Kaneshiro, MD, MHA, Clinical Professor of Pediatrics, University of Washington School of Medicine, Seattle, WA. Also reviewed by David C. Dugdale, MD, Medical Director, Brenda Conaway, Editorial Director, and the A.D.A.M. Editorial team.