Endocrine glands
Endocrine glands release (secrete) hormones into the bloodstream.
The endocrine glands include:
Adrenal
Islets of Langerhans in the pancreas
Ovaries
Parathyroid
Pineal
Pituitary
Thyroid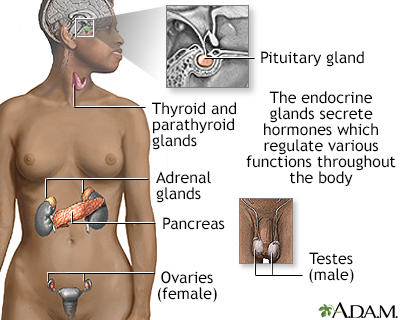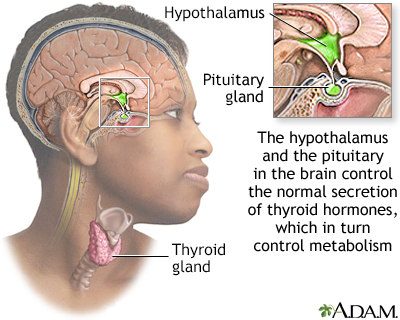 Information
Hypersecretion is when an excess of one or more hormone is secreted from a gland. Hyposecretion is when the amount of hormones that are released is too low.
There are many types of disorders that can result when too much or too little of a hormone is released.
Disorders that may be associated with abnormal hormone product from a particular gland include:
Adrenal:
Pancreas:
Parathyroid:
Tetany (abnormal cramping of muscles)
Renal calculi (kidney stones)
Excessive loss of minerals from bone (osteoporosis)
Pituitary:
Testes and ovaries:
Lack of sex development (unclear genitalia)
Thyroid:
Barrett EJ. Organization of endocrine control. In: Boron WF, Boulpaep EL, eds. Medical Physiology. 3rd ed. Philadelphia, PA: Elsevier; 2017:chap 47.
Melmed S, Auchus RJ, Goldfine AB, et al. Principles of endocrinology. In: Melmed S, Auchus, RJ, Goldfine AB, Koenig RJ, Rosen CJ, eds. Williams Textbook of Endocrinology. 14th ed. Philadelphia, PA: Elsevier; 2020:chap 1.
Strachan MWJ, Newell-Price JDC. Endocrinology. In: Ralston SH, Penman ID, Strachan MWJ, Hobson RP, eds. Davidson's Principles and Practice of Medicine. 23rd ed. Philadelphia, PA: Elsevier; 2018:chap 18.
Version Info
Last reviewed on: 4/24/2021
Reviewed by: David C. Dugdale, III, MD, Professor of Medicine, Division of General Medicine, Department of Medicine, University of Washington School of Medicine. Also reviewed by David Zieve, MD, MHA, Medical Director, Brenda Conaway, Editorial Director, and the A.D.A.M. Editorial team.