Doctor of medicine profession (MD)
MDs may be found within a wide range of medical practice settings, including private practices, group practices, hospitals, health maintenance organizations, teaching facilities, and public health organizations.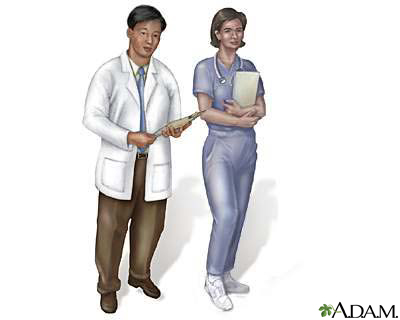 Information
The practice of medicine in the United States dates back to the early 1600s. At the beginning of the 17th century, medical practice in England was divided into three groups: the physicians, the surgeons, and the apothecaries.
Physicians were seen as elite. They most often held a university degree. Surgeons were typically hospital-trained and they did apprenticeships. They often served the dual role of barber-surgeon. Apothecaries also learned their roles (prescribing, making, and selling medicines) through apprenticeships, sometimes in hospitals.
This distinction between medicine, surgery, and pharmacy did not persist in colonial America. When university-prepared MDs from England arrived in America, they were expected to also perform surgery and prepare medicines.
The New Jersey Medical Society, chartered in 1766, was the first organization of medical professionals in the English colonies in America. It was developed to "form a program embracing all the matters of highest concern to the profession: regulation of practice; educational standards for apprentices; fee schedules; and a code of ethics." Later this organization became the Medical Society of New Jersey.
Professional societies began regulating medical practice by examining and licensing practitioners as early as 1760. By the early 1800s, the medical societies were in charge of establishing regulations, standards of practice, and certification of doctors.
A natural next step was for such societies to develop their own training programs for doctors. These society-affiliated programs were called "proprietary" medical colleges.
The first of these proprietary programs was the medical college of the Medical Society of the County of New York, founded March 12, 1807. Proprietary programs began to spring up everywhere. They attracted a large number of students because they eliminated two features of university-affiliated medical schools: a long general education and a long lecture term.
To address the many abuses in medical education, a national convention was held in May 1846. Proposals from that convention included the following:
A standard code of ethics for the profession
The adoption of uniform higher educational standards for MDs, including courses of premedical education
The creation of a national medical association
On May 5, 1847, nearly 200 delegates representing 40 medical societies and 28 colleges from 22 states and the District of Columbia met. They resolved themselves into the first session of the American Medical Association (AMA). Nathaniel Chapman (1780-1853) was elected as the first president of the association. The AMA has become an organization that has a great deal of influence over issues related to health care in the United States.
The AMA set educational standards for MDs, including the following:
A liberal education in the arts and sciences
A certificate of completion in an apprenticeship before entering the medical college
An MD degree that covered 3 years of study, including two 6-month lecture sessions, 3 months devoted to dissection, and a minimum of one 6-month session of hospital attendance
In 1852, the standards were revised to add more requirements:
Medical schools had to provide a 16-week course of instruction that included anatomy, medicine, surgery, midwifery, and chemistry
Graduates had to be at least 21 years of age
Students had to complete a minimum of 3 years of study, 2 years of which were under an acceptable practitioner
Between 1802 and 1876, 62 fairly stable medical schools were established. In 1810, there were 650 students enrolled and 100 graduates from medical schools in the United States. By 1900, these numbers had risen to 25,000 students and 5,200 graduates. Nearly all of these graduates were white males.
Daniel Hale Williams (1856-1931) was one of the first black MDs. After graduating from Northwestern University in 1883, Dr. Williams practiced surgery in Chicago and was later a main force in establishing Provident Hospital, which still serves Chicago's South Side. Previously black physicians found it impossible to obtain privileges to practice medicine in hospitals.
Elizabeth Blackwell (1821-1920), after graduating from Geneva College of Medicine in upstate New York, became the first woman granted an MD degree in the United States.
The Johns Hopkins University School of Medicine opened in 1893. It is cited as being the first medical school in America of "genuine university-type, with adequate endowment, well-equipped laboratories, modern teachers devoted to medical investigation and instruction, and its own hospital in which the training of physicians and healing of sick persons combined to the optimal advantage of both." It is considered the first, and the model for all later research universities. Johns Hopkins Medical School served as a model for the reorganization of medical education. After this, many sub-standard medical schools closed.
Medical schools had become mostly diploma mills, with the exception of a few schools in large cities. Two developments changed that. The first was the "Flexner Report," published in 1910. Abraham Flexner was a leading educator who was asked to study American medical schools. His highly negative report and recommendations for improvement led to the closing of many substandard schools and the creation of standards of excellence for a real medical education.
The other development came from Sir William Osler, a Canadian who was one of the greatest professors of medicine in modern history. He worked at McGill University in Canada, and then at the University of Pennsylvania, before being recruited to be the first physician-in-chief and one of the founders of Johns Hopkins University School of Medicine. There he established the first residency training (after graduation from medical school) and was the first to bring students to the patient's bedside. Before that time, medical students only learned from textbooks until they went out to practice, so they had little practical experience. Osler also wrote the first comprehensive, scientific textbook of medicine and later went to Oxford as Regent professor, where he was knighted. He established patient-oriented care and many ethical and scientific standards.
By 1930, nearly all medical schools required a liberal arts degree for admission and provided a 3- to 4-year graded curriculum in medicine and surgery. Many states also required candidates to complete a 1-year internship in a hospital setting after receiving a degree from a recognized medical school in order to receive a license to practice medicine.
American doctors did not begin to specialize until the middle of the 20th century. People objecting to specialization said that "specialties operated unfairly toward the general practitioner, implying that he is incompetent to properly treat certain classes of diseases." They also said specialization tended "to degrade the general practitioner in the view of the public." However, as medical knowledge and techniques expanded many doctors chose to concentrate on certain specific areas and recognize that their skill set could be more helpful in some situations.
Economics also played an important role, because specialists typically earned higher incomes than the generalist physicians. The debates between specialists and generalists continue and have recently been fueled by issues related to modern health care reform.
SCOPE OF PRACTICE
The practice of medicine includes the diagnosis, treatment, correction, advisement, or prescription for any human disease, ailment, injury, infirmity, deformity, pain, or other condition, physical or mental, real or imaginary.
REGULATION OF THE PROFESSION
Medicine was the first of the professions to require licensing. State laws on medical licensing outlined the "diagnosis" and "treatment" of human conditions in medicine. Any individual who wanted to diagnose or treat as part of the profession but who was not properly credentialed, could be charged with "practicing medicine without a license."
Today, medicine, like many other professions, is regulated at several different levels:
Medical Schools must adhere to the standards of the American Association of Medical Colleges
Licensure is a process that takes place at the state level in accordance with specific state laws
Certification is established through national organizations with consistent national requirements for minimal professional practice standards
Licensure: All states require that applicants for MD licensure be graduates of an approved medical school and complete the United States Medical Licensing Exam (USMLE) Steps 1 to 3. Steps 1 and 2 are completed while in medical school and step 3 is completed after some medical training (usually between 12 to 18 months, depending on the state). People who earned their medical degrees in other countries also must satisfy these requirements before practicing medicine in the United States.
With the introduction of telemedicine, there has been concern as to how to handle state licensure issues when the practice of medicine is being shared between states through telecommunications. Laws and guidelines are being developed. Some states have recently established procedures for recognizing the licenses of physicians practicing in other states in times of emergency, such as after hurricanes or earthquakes.
Certification: MDs who wish to specialize must complete an additional 3 to 9 years of postgraduate work in their specialty area, then pass board certification examinations. Family Medicine is the specialty with the broadest scope of training and practice. Doctors who claim to practice in a specialty should be board-certified in that specific area of practice. However, not all "certifications" come from recognized academic agencies. Most credible certifying agencies are part of the American Board of Medical Specialties. Many hospitals will not permit physicians or surgeons to practice on their staffs if they are not board-certified in an appropriate specialty.
Federation of State Medical Boards website. About FSMB. www.fsmb.org/about-fsmb/. Accessed March 29, 2023.
Goldman L, Schafer AI. Approach to medicine, the patient, and the medical profession: medicine as a learned and humane profession. In: Goldman L, Schafer AI, eds. Goldman-Cecil Medicine. 26th ed. Philadelphia, PA: Elsevier; 2020:chap 1.
Pachter LM. Cultural issues in pediatric care. In: Kliegman RM, St. Geme JW, Blum NJ, Shah SS, Tasker RC, Wilson KM, eds. Nelson Textbook of Pediatrics. 21st ed. Philadelphia, PA: Elsevier; 2020:chap 11.
Version Info
Last reviewed on: 2/28/2023
Reviewed by: Jacob Berman, MD, MPH, Clinical Assistant Professor of Medicine, Division of General Internal Medicine, University of Washington School of Medicine, Seattle, WA. Also reviewed by David C. Dugdale, MD, Medical Director, Brenda Conaway, Editorial Director, and the A.D.A.M. Editorial team.