Consumer rights and responsibilities
Health care consumer rights; Rights of the health care consumer
The Affordable Care Act (ACA) took effect on September 23, 2010. It includes certain rights and protections for consumers. These rights and protections help make health care coverage more fair and easy to understand.
These rights must be provided by insurance plans in the Health Insurance Marketplace as well as most other types of health insurance.
Certain rights may not be provided by some health plans, such as grandfathered health plans. A grandfathered plan is an individual health insurance policy purchased on or before March 23, 2010.
Always check your health plan benefits to be sure what type of coverage you have.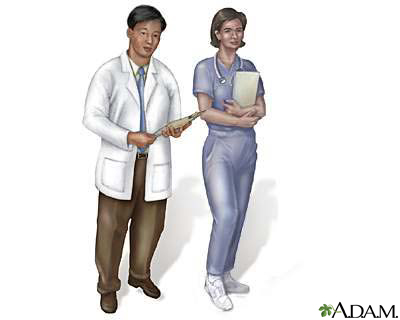 Information
RIGHTS AND PROTECTIONS
Here are ways that the health care law protects consumers.
You must be covered, even if you have a pre-existing condition.
No insurance plan can reject you, charge you more, or refuse to pay for essential health benefits for any condition you had before your coverage started.
Once you're enrolled, the plan can't deny you coverage or raise your rates based only on your health.
Medicaid and the Children's Health Insurance Program (CHIP) also can't refuse to cover you or charge you more because of your pre-existing condition.
You have a right to receive free preventive care.
Health plans must cover certain types of care to adults and children without charging you a copayment or coinsurance.
Preventive care includes blood pressure screening, colorectal cancer screening, immunizations, and other types of preventive care.
This care must be provided by a doctor who participates with your health plan.
You have a right to stay on your parent's health plan if you are under 26 years old.
Generally, you can join a parent's plan and stay on until you turn 26, even if you:
Get married
Have or adopt a child
Start or leave school
Live in or out of your parent's home
Aren't claimed as a tax dependent
Turn down an offer of job-based coverage
Insurance companies can't limit yearly or lifetime coverage of essential benefits.
Under this right, insurance companies can't set a limit on the money spent on essential benefits the entire time you are enrolled in the plan.
Essential health benefits are 10 types of services that health insurance plans must cover. Some plans cover more services, others may vary a bit by state. Check your health plan benefits to see what your plan covers.
Essential health benefits include:
Outpatient care
Emergency services
Hospitalization
Pregnancy, maternity and newborn care
Mental health and substance use disorder services
Prescription drugs
Rehabilitative services and devices
Management of chronic disease
Laboratory services
Preventive care
Disease management
Dental and vision care for children (adult vision and dental care are not included)
You have the right to receive easy-to-understand information about your health benefits.
Insurance companies must provide:
A short Summary of Benefits and Coverage (SBC) written in easy-to-understand language
A glossary of terms used in medical care and health coverage
You can use this information to more easily compare plans.
You are protected from unreasonable insurance rate increases.
These rights are protected through Rate Review and the 80/20 rule.
Rate Review means that an insurance company must publicly explain any rate increase of 10% or more before increasing your premium.
The 80/20 rule requires insurance companies to spend at least 80% of the money they take in from premiums on health care costs and quality improvement. If the company fails to do so, you may get a rebate from the company. This applies to all health insurance plans, even those that are grandfathered
You can't be denied coverage because you made a mistake on your application.
This applies to simple clerical mistakes or leaving off information not needed for coverage. Coverage can be canceled in the case of fraud or unpaid or late premiums.
You have the right to choose a primary care provider (PCP) from the health plan network.
You don't need a referral from your PCP to receive care from an obstetrician/gynecologist. You also don't have to pay more to receive emergency care outside of your plan's network.
You are protected against employer retaliation.
Your employer cannot fire you or retaliate against you:
If you receive a premium tax credit from buying a marketplace health plan
If you report violations against Affordable Care Act reforms
You have the right to appeal a health insurance company decision.
If your health plan denies or ends coverage, you have a right to know why and to appeal that decision. Health plans must tell you how you can appeal their decisions. If a situation is urgent, your plan must deal with it in a timely manner.
ADDITIONAL RIGHTS
Health plans in the Health Insurance Marketplace and most employer health plans must also provide:
Breastfeeding equipment and counseling to pregnant and nursing women
Contraceptive methods and counseling (exceptions are made for religious employers and non-profit religious organizations)
American Cancer Society website. The Patient bill of rights. www.cancer.org/treatment/finding-and-paying-for-treatment/managing-health-insurance/patients-bill-of-rights.html. Updated May 13, 2019. Accessed September 7, 2022.
CMS.gov website. Health insurance market reforms. www.cms.gov/cciio/programs-and-initiatives/health-insurance-market-reforms.  Accessed September 9, 2022.
Healthcare.gov website. Health insurance rights and protections. www.healthcare.gov/health-care-law-protections/rights-and-protections/. Accessed September 7, 2022.
Healthcare.gov website. What marketplace health insurance plans cover. www.healthcare.gov/health-care-law-protections/rights-and-protections/. Accessed September 7, 2022.
Version Info
Last reviewed on: 5/12/2022
Reviewed by: Linda J. Vorvick, MD, Clinical Associate Professor, Department of Family Medicine, UW Medicine, School of Medicine, University of Washington, Seattle, WA. Also reviewed by David Zieve, MD, MHA, Medical Director, Brenda Conaway, Editorial Director, and the A.D.A.M. Editorial team.