Central venous line - infants
CVL - infants; Central catheter - infants - surgically placed
A central venous line is a long, soft, flexible tube that is put into a large vein in the chest.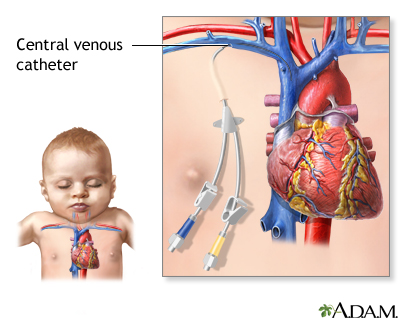 Information
WHY IS A CENTRAL VENOUS LINE USED?
A central venous line is most often put in when a baby cannot get a percutaneous inserted central catheter (PICC) or midline central catheter (MCC). A central venous line can be used to give nutrients or medicines to a baby. It is only put in when babies need IV nutrients or medicines for a long time.
HOW IS A CENTRAL VENOUS LINE PLACED?
The central venous line is put in at the hospital. The health care provider will:
Give the baby pain medicine.
Clean the skin on the chest with a germ-killing solution (antiseptic).
Make a small surgical cut in the chest or groin.
Place a hollow needle into a small vein in the arm or leg.
Put the catheter through the hollow needle into a vein.
Push the catheter in until the tip is close to the heart often using ultrasound guidance.
Take an x-ray to make sure the central venous line is in the right place.
WHAT ARE THE RISKS OF A CENTRAL VENOUS LINE?
Risks include:
There is a small risk for infection. The longer the central venous line is in, the greater the risk.
Blood clots can form in the veins leading to the heart.
The catheters can wear away the blood vessel wall.
IV fluids or medicine can leak into other parts of the body. This is rare, but this can cause serious bleeding, breathing problems, and problems with the heart.
If the baby has any of these problems, the central venous line may be taken out. Talk to your baby's provider about the risks of a central venous line.
Centers for Disease Control and Prevention website. Guidelines for the prevention of intravascular catheter-related infections, 2011. www.cdc.gov/infectioncontrol/guidelines/BSI/index.html. Updated October 2017. Accessed January 25, 2022.
Denne SC. Parenteral nutrition for the high-risk neonate. In: Gleason CA, Juul SE, eds. Avery's Diseases of the Newborn. 10th ed. Philadelphia, PA: Elsevier; 2018:chap 69.
Edwards LR, Malone MP, et al. Pediatric vascular access and centeses. In: Fuhrman BP, Zimmerman JJ, eds. Fuhrman and Zimmerman's Pediatric Critical Care. 6th ed. Philadelphia, PA: Elsevier; 2021:chap 14.
Santillanes G, Claudius I. Pediatric vascular access and blood sampling techniques. In: Roberts J, Custalow CB, Thomsen TW, eds. Roberts and Hedges' Clinical Procedures in Emergency Medicine. 7th ed. Philadelphia, PA: Elsevier; 2019:chap 19.
Version Info
Version: 2.0
Last reviewed on: 11/9/2021
Reviewed by: Kimberly G. Lee, MD, MSc, IBCLC, Clinical Professor of Pediatrics, Division of Neonatology, Medical University of South Carolina, Charleston, SC. Review provided by VeriMed Healthcare Network. Also reviewed by David Zieve, MD, MHA, Medical Director, Brenda Conaway, Editorial Director, and the A.D.A.M. Editorial team.