Breech birth
Pregnancy - breech; Delivery - breech
The best position for your baby inside your uterus at the time of delivery is head down. This position makes it easier and safer for your baby to pass through the birth canal.
In the last weeks of pregnancy, your health care provider will check to see what position your baby is in.
If your baby's position does not feel normal, you may need an ultrasound. If the ultrasound shows your baby is breech, your provider will talk with you about your options for a safe delivery.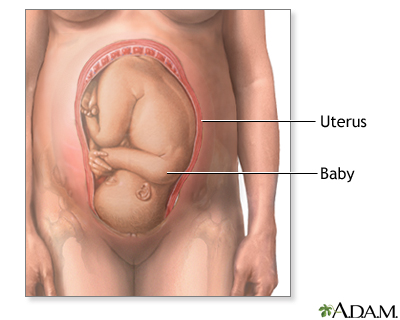 What is Breech?
In breech position, the baby's bottom is down. There are a few types of breech:
Complete breech means the baby is bottom-first, with knees bent.
Frank breech means the baby's legs are stretched up, with feet near the head.
Footling breech means one leg is lowered over the mother's cervix.
You are more likely to have a breech baby if you:
Go into early labor
Have an abnormally shaped uterus, fibroids, or too much amniotic fluid
Have more than one baby in your womb
Have placenta previa (when the placenta is on the lower part of the uterine wall, blocking the cervix)
Turning Your Baby (External Version)
If your baby is not in a head-down position after your 36th week, your provider can explain your choices and their risks to help you decide what steps to take next.
Your provider may offer to try to guide the baby into the right position. This is called external version. It involves pushing on your belly while watching the baby on an ultrasound. The pushing may cause some discomfort.
If your provider tries to change your baby's position, you may be given a medicine that relaxes the muscles of your uterus. You can also expect:
An ultrasound to show your provider where the placenta and baby are located.
Your provider to push on your abdomen to try and turn your baby's position.
Your baby's heartbeat to be monitored.
Success is higher if your provider tries this procedure at about 35 to 37 weeks. At this time, your baby is a little smaller, and there is most often more fluid around the baby. Your baby is also old enough in case there is a problem during the procedure that makes it necessary to deliver the baby promptly. This is rare. External version cannot be done once you are in active labor.
Risks are low for this procedure when a skilled provider does it. Rarely, it may lead to an emergency cesarean birth (C-section) if:
Part of the placenta tears away from the lining of your womb
Your baby's heartbeat drops too low, which can happen if the umbilical cord is tightly wrapped around your baby
If My Baby Doesn't Turn, Will I Have a C-section?
Most babies who remain breech after an attempt at turning them will be delivered by C-section. Your provider will explain the risk of delivering a breech baby vaginally.
Today, the option to deliver a breech baby vaginally is not offered in most cases. The safest way for a breech baby to be born is by C-section.
The danger of breech birth is mostly due to the fact that the largest part of a baby is its head. When the breech baby's pelvis or hips deliver first, the woman's pelvis may not be large enough for the head to be delivered also. This can result in a baby getting stuck in the birth canal, which can cause injury or death.
The umbilical cord may also be damaged or blocked. This can reduce the baby's oxygen supply.
If a C-section is planned, it will most often be scheduled for no earlier than 39 weeks. You will have an ultrasound at the hospital to confirm the position of your baby just before the surgery.
There is also a chance that you will go into labor or your water will break before your planned C-section. If that happens, call your provider right away and go to the hospital. It is important to go in right away if you have a breech baby and your bag of water breaks. This is because there is a higher chance that the cord will come out even before you are in labor. This can be very dangerous for your baby.
Barth WH. Malpresentations. In: Landon MB, Galan HL, Jauniaux ERM, et al, eds. Gabbe's Obstetrics: Normal and Problem Pregnancies. 8th ed. Philadelphia, PA: Elsevier; 2021:chap 17.
Thorp JM, Grantz KL. Clinical aspects of normal and abnormal labor. In: Lockwood CJ, Copel JA, Dugoff L, et al, eds. Creasy and Resnik's Maternal-Fetal Medicine: Principles and Practice. 9th ed. Philadelphia, PA: Elsevier; 2023:chap 40.
Vora S, Dobiesz VA. Emergency childbirth. In: Roberts JR, Custalow CB, Thomsen TW, eds. Roberts and Hedges' Clinical Procedures in Emergency Medicine and Acute Care. 7th ed. Philadelphia, PA: Elsevier; 2019:chap 56.
Version Info
Last reviewed on: 11/21/2022
Reviewed by: LaQuita Martinez, MD, Department of Obstetrics and Gynecology, Emory Johns Creek Hospital, Alpharetta, GA. Also reviewed by David C. Dugdale, MD, Medical Director, Brenda Conaway, Editorial Director, and the A.D.A.M. Editorial team.