Aging spots -- should you be concerned?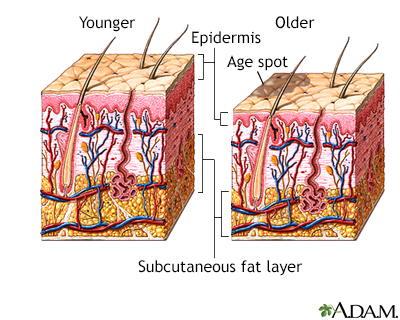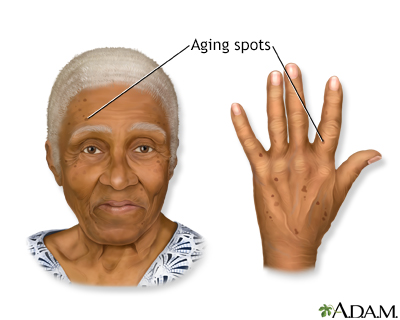 Information
Aging spots, also called liver spots or solar lentigos, are very common. They are most often not a cause for worry. They typically develop in people with fair complexions, but people with darker skin can also get them.
Aging spots are flat and oval and tan, brown, or black marks. They appear on skin that has been the most exposed to sun over the years, such as the backs of hands, tops of feet, face, shoulders, and upper back.
Always let your health care provider know if you have any new or unusual spots, and have them checked. Skin cancers may have many different appearances. Spots or sores related to skin cancers can be:
Small, shiny, or waxy
Scaly and rough
Firm and red
Crusty or bleeding
Skin cancers can also have other features.
James WD, Elston DM, Treat JR, Rosenbach MA, Neuhaus IM. Melanocytic nevi and neoplasms. In: James WD, Elston DM, Treat JR, Rosenbach MA, Neuhaus IM, eds. Andrews' Diseases of the Skin: Clinical Dermatology. 13th ed. Philadelphia, PA: Elsevier; 2020:chap 30.
Patterson JW. Lentigines, nevi, and melanomas. In: Patterson JW, ed. Weedon's Skin Pathology. 5th ed. Philadelphia, PA: Elsevier; 2021:chap 33.
Tobin DJ, Veysey EC, Finlay AY. Aging and the skin. In: Fillit HM, Rockwood K, Young J, eds. Brocklehurst's Textbook of Geriatric Medicine and Gerontology. 8th ed. Philadelphia, PA: Elsevier; 2017:chap 25.
Version Info
Last reviewed on: 4/27/2023
Reviewed by: Linda J. Vorvick, MD, Clinical Professor, Department of Family Medicine, UW Medicine, School of Medicine, University of Washington, Seattle, WA. Also reviewed by David C. Dugdale, MD, Medical Director, Brenda Conaway, Editorial Director, and the A.D.A.M. Editorial team.