Teenage pregnancy
Prenatal care - teenage pregnancy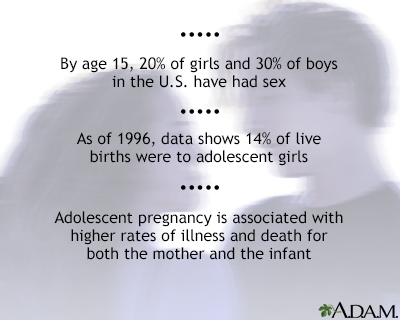 When You Find Out You Are Pregnant
Make an appointment with your health care provider after you find out you are pregnant. Talk with your provider about your options for abortion, adoption, or keeping your baby.
If you decide to continue the pregnancy, it is important to have good prenatal care. Prenatal care will help you stay healthy and ensure you have a healthy baby. Your provider can also provide counseling and refer you to community services to make sure you and your baby have what you need.
If you do not know where to go and feel like you cannot tell your family or a friend that you are pregnant, talk with your school nurse or school counselor. They can help you find prenatal care and other help in your community. Many communities have resources such as Planned Parenthood, which can help you get the care you need.
Your Prenatal Visits
At your first prenatal visit, your provider will:
Ask you many questions, including the date of your last menstrual period. Knowing this will help the provider figure out how far along you are and what your due date is.
Take a blood sample to do some tests.
Do a full pelvic exam.
Do a Pap test and other tests to check for infections and other problems.
Your 1st trimester is the first 3 months of your pregnancy. During this time, you will have a prenatal visit once a month. These visits may be short, but they are still important.
It is fine to bring a friend or family member, your partner, or your labor coach with you.
Stay Healthy During Your Pregnancy
You can do many things to help you and your baby stay as healthy as possible.
Eating a healthy diet will help you get the nutrients both of you need. Your provider can refer you to community resources to help you learn more about healthy eating.
Prenatal vitamins will help prevent some birth defects. You may also need to take a folic acid supplement.
Do not smoke or use alcohol or drugs. These can harm your baby. Ask your provider for help quitting if you need to.
Exercise to help make you stronger for labor and delivery, give you more energy, and may help you sleep better.
Get plenty of sleep. You may need 8 to 9 hours a night, plus rest breaks during the day.
Use a condom if you are still having sex. This will prevent sexually transmitted infections that could hurt you or your baby.
Getting Ready to Be a Parent
Try to stay in school during your pregnancy and after you give birth. Talk with your school counselor if you need help with child care or tutoring.
Your education will give you skills to be a better parent, and it will make you more able to provide for your child financially and emotionally.
Make a plan for how you will pay for the costs of raising your child. You will need a place to live, food, medical care, and other things. Are there resources in your community that can help? Your school counselor may know what resources are available to you.
Is Teenage Pregnancy Riskier?
Yes. Teenage pregnancies are riskier than pregnancies in women who are older. This is partly because a teenager's body is still developing, and partly because many pregnant teens do not get the health care they need during pregnancy.
Risks are:
Going into labor early. This is when the baby is born before 37 weeks. A normal pregnancy lasts about 40 weeks.
Low birth weight. Babies of teens are much more likely to weigh less than babies of mothers who are 20 years or older.
High blood pressure that is caused by the pregnancy.
Low levels of iron in the blood (severe anemia), which can cause extreme tiredness and other problems.
Berger DS, West EH. Nutrition in pregnancy. In: Landon MB, Galan HL, Jauniaux ERM, et al, eds. Gabbe's Obstetrics: Normal and Problem Pregnancies. 8th ed. Philadelphia, PA: Elsevier; 2021:chap 6.
Breuner CC. Adolescent pregnancy. In: Kliegman RM, St. Geme JW, Blum NJ, Shah SS, Tasker RC, Wilson KM, eds. Nelson Textbook of Pediatrics. 21st ed. Philadelphia, PA: Elsevier; 2020:chap 144.
Gregory KD, Ramos DE, Jauniaux ERM. Preconception and prenatal care. In: Landon MB, Galan HL, Jauniaux ERM, et al, eds. Gabbe's Obstetrics: Normal and Problem Pregnancies. 8th ed. Philadelphia, PA: Elsevier; 2021:chap 5.
Version Info
Last reviewed on: 11/21/2022
Reviewed by: LaQuita Martinez, MD, Department of Obstetrics and Gynecology, Emory Johns Creek Hospital, Alpharetta, GA. Also reviewed by David C. Dugdale, MD, Medical Director, Brenda Conaway, Editorial Director, and the A.D.A.M. Editorial team.