Pulmonary hypertension - at home
Pulmonary hypertension - self care; Activity - pulmonary hypertension; Preventing infections - pulmonary hypertension; Oxygen - pulmonary hypertension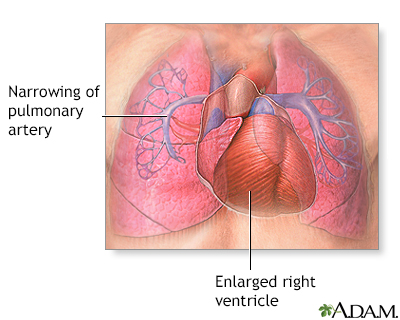 Keep Active
Try walking to build up strength:
Ask the doctor or therapist how far to walk.
Slowly increase how far you walk.
Try not to talk when you walk so you do not get out of breath.
Stop if you have chest pain or feel dizzy.
Ride a stationary bike. Ask your doctor or therapist how long and how hard to ride.
Get stronger even when you are sitting:
Use small weights or rubber tubing to make your arms and shoulders stronger.
Stand up and sit down several times.
Raise your legs straight out in front of you. Hold for a few seconds, then lower them back down.
Self-care
Other tips for self-care include:
Try to eat 5 to 6 small meals a day. It might be easier to breathe when your stomach is not full.
Do not drink a lot of liquid before or while eating your meals.
Ask your doctor what foods to eat to get more energy.
If you smoke, now is the time to quit. Stay away from smokers when you are out. Do not allow smoking in your home.
Stay away from strong odors and fumes.
Ask your doctor or therapist what breathing exercises are good for you.
Take all the medicines that your doctor prescribed for you.
Talk to your doctor if you feel depressed or anxious.
Tell your doctor if you are becoming dizzy or have a lot more swelling in your legs.
Stay Away From Infections
You should:
Get a flu shot every year. Ask your doctor if you should get a pneumonia vaccine.
Wash your hands often. Always wash them after you go to the bathroom and when you are around people who are sick.
Stay away from crowds.
Ask visitors with colds to wear masks, or to visit you after their colds are gone.
Around the Home
Make it easier for yourself at home.
Put items you use often in spots where you do not have to reach or bend over to get them.
Use a cart with wheels to move things around the house.
Use an electric can opener, dishwasher, and other things that will make your chores easier to do.
Use cooking tools (knives, peelers, and pans) that are not heavy.
To save your energy:
Use slow, steady motions when you are doing things.
Sit down if you can when you are cooking, eating, dressing, and bathing.
Get help for harder tasks.
Do not try to do too much in one day.
Keep the phone with you or near you.
Wrap yourself in a towel rather than drying off.
Try to reduce stress in your life.
Going Home with Oxygen
In the hospital, you received oxygen treatment. You may need to use oxygen at home. Do not change how much oxygen is flowing without asking your doctor.
Have a backup supply of oxygen at home or with you when you go out. Keep the phone number of your oxygen supplier with you at all times. Learn how to use oxygen safely at home.
If you check your oxygen with an oximeter at home and your number often drops below 90%, call your doctor.
Make sure you have enough supply of your medicines. Abruptly stopping them can lead to serious illness.
Follow-up
Your hospital health care provider may ask you to make a follow-up visit with:
Your primary care doctor
Your lung doctor (pulmonologist) or your heart doctor (cardiologist)
Someone who can help you stop smoking, if you smoke
When to Call the Doctor
Call your doctor if your breathing is:
Getting harder
Faster than before
Shallow, or you cannot get a deep breath
Also call your doctor if:
You need to lean forward when sitting, to breathe more easily
You feel sleepy or confused
You have a fever
Your fingertips, or the skin around your fingernails, are blue
You feel dizzy, pass out (syncope), or have chest pain
You have increased leg swelling
Lammi MR, Mathai SC. Pulmonary hypertension: general approach. In: Broaddus VC, King TE, Ernst JD, et al, eds. Murray and Nadel's Textbook of Respiratory Medicine. 7th ed. Philadelphia, PA: Elsevier; 2022:chap 83.
McLaughlin VV, Humbert M. Pulmonary hypertension. In: Zipes DP, Libby P, Bonow RO, Mann DL, Tomaselli GF, Braunwald E, eds. Braunwald's Heart Disease: A Textbook of Cardiovascular Medicine. 11th ed. Philadelphia, PA: Elsevier; 2019:chap 85.
Version Info
Last reviewed on: 5/30/2021
Reviewed by: Denis Hadjiliadis, MD, MHS, Paul F. Harron Jr. Associate Professor of Medicine, Pulmonary, Allergy, and Critical Care, Perelman School of Medicine, University of Pennsylvania, Philadelphia, PA. Also reviewed by David Zieve, MD, MHA, Medical Director, Brenda Conaway, Editorial Director, and the A.D.A.M. Editorial team.