High-fiber foods
Dietary fiber - self-care; Constipation - fiber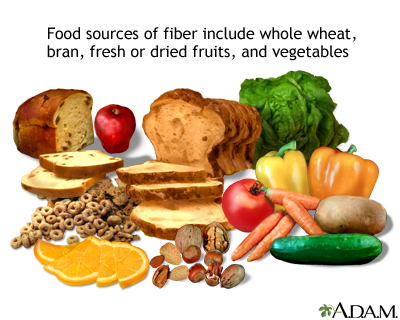 Function
Dietary fiber adds bulk to your diet. Because it makes you feel full faster and for longer, it can help you with weight loss efforts or to maintain a healthy weight. For people with diabetes, fiber can play an important role in achieving and maintaining glycemic (blood sugar) control.
High fiber diets can also help with both constipation and diarrhea. Fiber also may help lower your cholesterol.
What to Expect at Home
Slowly increase the amount of fiber in your diet. If you have bloating or gas, you have probably eaten too much and need to reduce the amount of fiber you eat for a few days. Drink plenty of fluids. When you increase fiber in your diet, you also need to get enough fluids. Not getting enough fluids may make constipation worse instead of better. Ask your health care provider or dietitian how much fluid you should be getting each day.
The daily recommended intake (DRI) of fiber for adults 19 to 50 years old is 38 grams a day for men and 25 grams a day for women. To get more fiber into your diet, eat different types of foods, such as:
Fruits
Vegetables
Whole grains
Read food labels carefully to see how much fiber they have. Fiber is found naturally in many nutritious foods. If your diet is balanced, you likely do not need a fiber supplement. Whole grain products have more fiber than refined grains. Choose foods that have higher amounts of fiber, such as whole-wheat bread versus white bread and brown rice versus white rice. Try to eat foods that are naturally high in fiber. Fiber supplements and foods artificially fortified with fiber often do not deliver the same health benefits and may worsen bloating and gas.
Vegetables, Legumes, and Nuts
Vegetables are a good source of fiber. Eat more:
Lettuce, Swiss chard, raw carrots, and spinach
Tender cooked vegetables, such as asparagus, beets, mushrooms, turnips, and pumpkin
Baked potatoes and sweet potatoes with skin
Broccoli, artichokes, squashes, and string beans
You can also get more fiber by eating:
Legumes, such as lentils, black beans, split peas, kidney beans, lima beans, and chickpeas
Nuts and seeds, such as sunflower seeds, almonds, pistachios, and pecans
Fruits
Fruits are another good source of fiber. Eat more:
Apples and bananas
Peaches and pears
Tangerines, prunes, and berries
Figs and other dried fruits
Kiwis
Grains
Grains are another important source of dietary fiber. Eat more:
Hot cereals, such as oatmeal and farina
Whole-grain breads
Brown rice
Quinoa
Popcorn
High-fiber cereals, such as bran, shredded wheat, and puffed wheat
Whole-wheat pastas
Bran muffins
Dahl WJ, Stewart ML. Position of the Academy of Nutrition and Dietetics: health implications of dietary fiber. J Acad Nutr Diet. 2015;115(11):1861-1870. PMID: 26514720 pubmed.ncbi.nlm.nih.gov/26514720/.
Murray MT. Nutritional medicine. In: Pizzorno JE, Murray MT, eds. Textbook of Natural Medicine. 5th ed. Philadelphia, PA: Elsevier; 2021:chap 44.
Thompson M, Noel MB. Nutrition and family medicine. In: Rakel RE, Rakel DP, eds. Textbook of Family Medicine. 9th ed. Philadelphia, PA: Elsevier; 2016:chap 37.
Version Info
Last reviewed on: 7/30/2022
Reviewed by: Stefania Manetti, RD/N, CDCES, RYT200, My Vita Sana LLC - Nourish and heal through food, San Jose, CA. Review provided by VeriMed Healthcare Network. Also reviewed by David C. Dugdale, MD, Medical Director, Brenda Conaway, Editorial Director, and the A.D.A.M. Editorial team.