Fire safety at home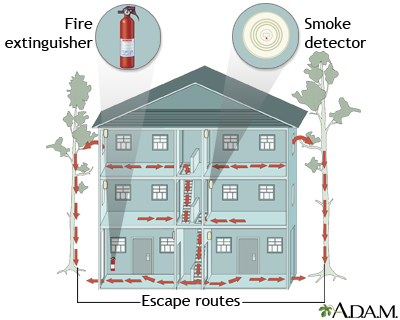 Escaping Fires
Fires can be loud, burn fast, and produce a lot of smoke. It is a good idea for everyone to know how to get out of their home quickly if one occurs.
Set up fire escape routes from every room in your house. It is best to have 2 ways to get out of each room, since one of the ways may be blocked by smoke or fire. Have twice-a-year fire drills to practice escaping.
Teach family members what to do in case of a fire.
Smoke rises during a fire. So the safest place to be when escaping is down low to the ground.
Exiting through a door is best, when possible. Always feel the door starting at the bottom and work upward before opening it. If the door is hot, there may be fire on the other side.
Have a safe spot planned ahead of time for everyone to meet outside after escape.
Never go back inside for anything. Stay outside.
Preventing Fires
To prevent fires:
Do not smoke in bed.
Keep matches and other flammable materials out of reach of children.
Never leave a burning candle or fireplace unattended. Do not stand too close to the fire.
Never put clothes or anything else over a lamp or heater.
Make sure household wiring is up-to-date.
Unplug appliances such as heating pads and electric blankets when they are not in use.
Store flammable materials away from heat sources, water heaters, and open-flame space heaters.
When cooking or grilling, do not leave the stove or grill unattended.
Be sure to close the valve on a propane cylinder tank when it is not in use. Know how to store the tank safely.
Teach children about fires. Explain how they are accidentally started and how to prevent them. Children should understand the following:
Do not touch or get close to radiators or heaters.
Never stand close to the fireplace or wood stove.
Do not touch matches, lighters, or candles. Tell an adult right away if you see any of these items.
Do not cook without asking an adult first.
Never play with electrical cords or stick anything into a socket.
Children's sleepwear should be snug-fitting and specifically labeled as flame-resistant. Using other clothing, including loose-fitting garments, increases the risk for severe burns if these items catch fire.
Do not allow children to handle or play with fireworks. Many places in the United States do not permit lighting fireworks in residential areas. Go to public displays if your family wants to enjoy fireworks.
If oxygen therapy is being used in your home, teach everyone in the family about oxygen safety to prevent fires.
HealthyChildren.org website. Fire safety: protecting your family from a home fire. www.healthychildren.org/English/safety-prevention/all-around/pages/Fire-Safety.aspx. Updated March 24, 2023. Accessed July 19, 2023.
National Fire Protection Association website. Staying safe. www.nfpa.org/Public-Education/Staying-safe. Accessed July 19, 2023.
Ready.gov website. Home fires. www.ready.gov/home-fires. Updated May 23, 2023. Accessed July 19, 2023.
United States Consumer Product Safety Commission website. Fireworks injuries & deaths 2022 report. www.cpsc.gov/safety-education/safety-education-centers/fireworks. Accessed July 19, 2023.
Version Info
Last reviewed on: 7/1/2023
Reviewed by: Charles I. Schwartz, MD, FAAP, Clinical Assistant Professor of Pediatrics, Perelman School of Medicine at the University of Pennsylvania, General Pediatrician at PennCare for Kids, Phoenixville, PA. Also reviewed by David C. Dugdale, MD, Medical Director, Brenda Conaway, Editorial Director, and the A.D.A.M. Editorial team.