Asthma - control drugs
Asthma - inhaled corticosteroids; Asthma - long-acting beta-agonists; Asthma - leukotriene modifiers; Asthma - cromolyn; Bronchial asthma - control drugs; Wheezing - control drugs; Reactive airway disease - control drugs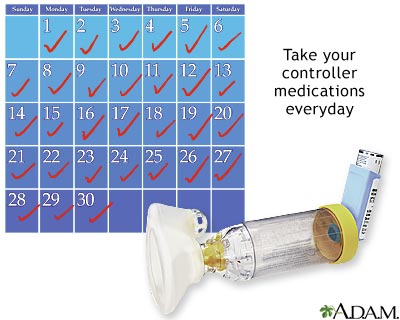 Inhaled Corticosteroids
Inhaled corticosteroids prevent your airways from becoming inflamed in order to help keep your asthma symptoms away.
Inhaled steroids are used with a metered-dose inhaler (MDI) and spacer. Or, they may be used with a dry powder inhaler.
You should use an inhaled steroid every day as directed, even if you do not have symptoms.
After you use it, rinse your mouth with water, gargle, and spit it out.
If your child cannot use an inhaler, your provider will give you a drug to use with a nebulizer. This machine turns liquid medicine into a spray so your child can breathe the medicine in.
If you have a chronic lung disease, like asthma or COPD, a metered-dose inhaler is often your main type of therapy. An inhaler is a small, hand-held device that delivers medicine in the form of a spray that you breathe in. Using an inhaler may seem easy, but many people don't use them the right way. You need to know how to use your inhaler correctly for the medicine to get to your lungs and work effectively. In general, using the inhaler without a spacer requires more coordination in order to ensure that medicine reaches your lungs. So, when possible, it's best to use a spacer. These are instructions for using an inhaler without a spacer. First off, if you have not used the inhaler in a while, you may need to prime it. See the instructions that came with your inhaler for when and how to do this. Take the cap off the mouthpiece, and look inside the mouthpiece to make sure there is nothing in it. Shake the inhaler 10 to 15 times to mix the medicine with the propellant. Hold the inhaler upright. Stand or sit upright. Breathe out all the way to empty your lungs. Place the mouthpiece in your mouth so that it fits just past your teeth and above your tongue. Close your lips around the inhaler so that you form a tight seal. Tilt your head back slightly. As you slowly begin to breathe in through your mouth, press down once on the top of the inhaler. Keep breathing in slowly, as deeply as you can. Take the inhaler out of your mouth. Hold your breath for 5 to 10 seconds. This lets the medicine reach deep into your lungs. Breathe out slowly through your mouth. If you need a second puff, wait about 1 minute before you take your next puff. Put the cap back on the inhaler and make sure it is firmly closed. After using your inhaler, gargle and rinse your mouth with water. Do not swallow the water. This helps reduce side effects from your medicine. To keep your inhaler operating correctly, follow the manufacturer's instructions for when and how often to clean your inhaler. Using your inhaler the right way ensures you get the medicine you need. It's a good idea to bring your inhaler to your medical appointments. That way your health care provider can make sure you are using it correctly.
Long-acting Beta-agonist Inhalers
These medicines relax the muscles of your airways to help keep your asthma symptoms away.
Normally, you use these medicines only when you are using an inhaled steroid drug and you still have symptoms. Do not take these long-acting medicines alone.
Use this medicine every day as directed, even if you do not have symptoms.
Combination Therapy
Your provider may ask you to take both a steroid drug and a long-acting beta-agonist drug.
It may be easier to use an inhaler that has both drugs in them.
Leukotriene Modifiers
These medicines are used to prevent asthma symptoms. They come in tablet or pill form and can be used together with a steroid inhaler.
Cromolyn
Cromolyn is a medicine that may prevent asthma symptoms. It can be used either in an inhaler or a nebulizer, so it may be easy for young children to take.
Drazen JM, Bel EH. Asthma. In: Goldman L, Schafer AI, eds. Goldman-Cecil Medicine. 26th ed. Philadelphia, PA: Elsevier; 2020:chap 81.
National Heart, Lung and Blood Institute. Asthma Management Guidelines: Focused Updates 2020. www.nhlbi.nih.gov/health-topics/asthma-management-guidelines-2020-updates. Updated February 4, 2021. Accessed April 20, 2022.
O'Byrne PM, Satia I. Inhaled Beta 2-agonists. In: Burks AW, Holgate ST, O'Hehir RE, et al, eds. Middleton's Allergy: Principles and Practice. 9th ed. Philadelphia, PA: Elsevier; 2020:chap 93.
Papi A, Brightling C, Pedersen SE, Reddel HK. Asthma. Lancet. 2018;391(10122):783-800. PMID: 29273246 pubmed.ncbi.nlm.nih.gov/29273246/.
Pollart SM, DeGeorge KC, Kolb A. Asthma in children. In: Kellerman RD, Rakel DP, eds. Conn's Current Therapy 2022. Philadelphia, PA: Elsevier; 2022:1267-1274.
Vishwanathan RK, Busse WW. Management of asthma in adolescents and adults. In: Burks AW, Holgate ST, O'Hehir RE, et al, eds. Middleton's Allergy: Principles and Practice. 9th ed. Philadelphia, PA: Elsevier; 2020:chap 52.
Version Info
Last reviewed on: 1/8/2022
Reviewed by: David C. Dugdale, III, MD, Professor of Medicine, Division of General Medicine, Department of Medicine, University of Washington School of Medicine, Seattle, WA. Also reviewed by David Zieve, MD, MHA, Medical Director, Brenda Conaway, Editorial Director, and the A.D.A.M. Editorial team.