Newborn jaundice - what to ask your doctor
Jaundice - what to ask your doctor; What to ask your doctor about newborn jaundice
Newborn jaundice is a common condition. It is caused by high levels of bilirubin (a yellow coloring) in your child's blood. This can make your child's skin and sclera (the whites of their eyes) look yellow. Your child may go home with some jaundice or may develop jaundice after going home.
Below are some questions you may want to ask your health care provider about your child's jaundice.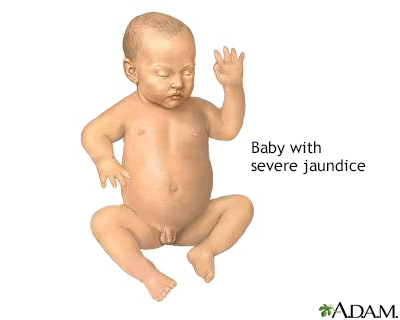 Are your newborn baby's skin or eyes yellow? Is she extremely tired and doesn't want to eat? Your baby may have jaundice. Newborn jaundice happens when your baby has high levels of bilirubin in her blood. This yellow pigment is created in the body during the normal recycling of old red blood cells. The liver helps break bilirubin down so it can be removed from the body in the stool. Before a baby is born, the placenta removes the bilirubin from your baby so it can be processed by your liver. Right after birth, the baby's own liver takes over the job, but it can take time. Most babies have some jaundice. It usually appears between the second and third day after birth. Often babies get a screening test in the first 24 hours of life to predict if they are likely to develop jaundice. Your baby's doctor will also watch for signs of jaundice at the hospital, and during follow-up visits after your baby goes home. If your baby seems to have jaundice, the doctor will test the bilirubin levels in her blood. So, how do you treat newborn jaundice? Jaundice usually goes away on its own, so treatment is usually not necessary. If your baby's bilirubin level is too high or rising too quickly, however, she may need treatment. You'll need to keep the baby well hydrated with breast milk or formula. Feeding up to 12 times a day will encourage frequent bowel movements, which help to remove the bilirubin. If your baby needs treatment in the hospital, she may be placed under special blue lights that help break down bilirubin in the baby's skin. This treatment is called phototherapy. If your baby's bilirubin level isn't rising too quickly, you can also do phototherapy at home with a fiberoptic blanket that contains tiny bright lights. For most babies, it takes about a week or two for jaundice to go away. Very high levels of bilirubin, however, can damage a baby's brain. The good news is that this condition, called kernicterus, is almost always diagnosed long before bilirubin levels become high enough to cause damage, and phototherapy treatment will usually make it go away.
Questions
What causes jaundice in a newborn child?
How common is newborn jaundice?
Will the jaundice harm my child?
What are the treatments for jaundice?
How long does it take for the jaundice to go away?
How can I tell if the jaundice is getting worse?
How often should I feed my child?
What should I do if I am having trouble breastfeeding?
Does my child need blood transfusions for the jaundice?
Does my child need light therapy for the jaundice? Can this be done at home?
How do I arrange to have light therapy at home? Who do I call if I am having problems with the light therapy?
Do I need to use light therapy all day and night? How about when I am holding or feeding my child?
Can the light therapy harm my child?
When do we need to have a follow-up visit with my child's provider?
Kaplan M, Wong RJ, Burgis JC, Sibley E, Stevenson DK. Neonatal jaundice and liver diseases. In: Martin RJ, Fanaroff AA, Walsh MC, eds. Fanaroff and Martin's Neonatal-Perinatal Medicine. 11th ed. Philadelphia, PA: Elsevier; 2020:chap 91.
Kliegman RM, St. Geme JW, Blum NJ, Shah SS, Tasker RC, Wilson KM. Digestive system disorders. In: Kliegman RM, St. Geme JW, Blum NJ, Shah SS, Tasker RC, Wilson KM, eds. Nelson Textbook of Pediatrics. 21st ed. Philadelphia, PA: Elsevier; 2020:chap 123.
Rozance PJ, Wright CJ. The neonate. In: Landon MB, Galan HL, Jauniaux ERM, et al, eds. Gabbe's Obstetrics: Normal and Problem Pregnancies. 8th ed. Philadelphia, PA: Elsevier; 2021:chap 23.
Version Info
Last reviewed on: 1/24/2023
Reviewed by: Neil K. Kaneshiro, MD, MHA, Clinical Professor of Pediatrics, University of Washington School of Medicine, Seattle, WA. Also reviewed by David C. Dugdale, MD, Medical Director, Brenda Conaway, Editorial Director, and the A.D.A.M. Editorial team.