Diabetes type 2 - meal planning
Type 2 diabetes diet; Diet - diabetes - type 2
When you have type 2 diabetes, taking time to plan your meals goes a long way toward controlling your blood sugar and weight.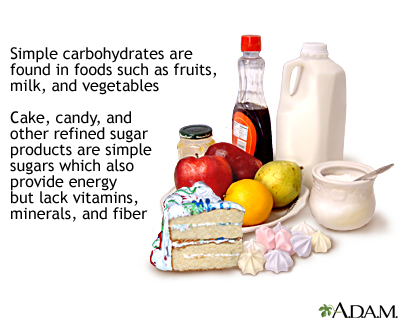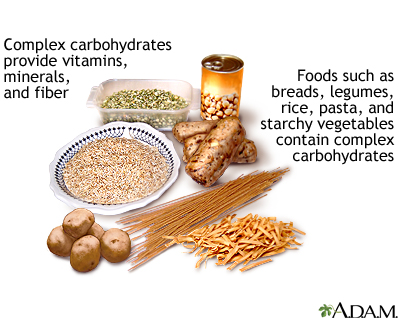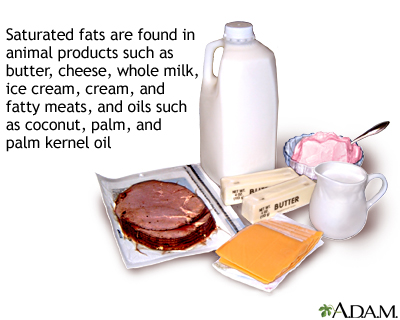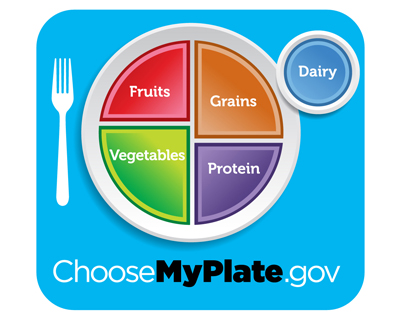 Over the past several years, our collective diets have grown unhealthier, and our waistlines have expanded as a result. Doing so, we're putting ourselves at risk for a number of diseases, including type 2 diabetes. Diabetes is serious stuff, if it's not treated, it can lead to some pretty dangerous complications, including nerve and kidney damage. The good news is you can often avoid type 2 diabetes and its complications. You need sugar, or glucose, to keep your body running. Normally when you eat, your pancreas releases a hormone called insulin, which moves the sugar from food out of your blood and into your cells, where it can either be used for energy, or stored. But if you have type 2 diabetes, this system doesn't work as well as it should, in part because your cells have a harder time responding to insulin. As a result, sugar builds up in your blood. Why is that a problem? Well, that excess sugar can damage organs like your eyes and kidneys, and it can lead to complications like nerve damage and heart disease. Diabetes complications could leave you blind, lead to amputation of your toes or feet, and maybe even kill you. You can help prevent diabetes complications by keeping good control over your blood sugar, but first you need to know that you have type 2 diabetes. Sometimes it can be hard to tell because you may not have any symptoms at first. Being very thirsty, tired, or having to go to the bathroom a lot may be pretty good clues that you might have developed diabetes. Blurry vision might also be a clue. Your doctor can confirm it with a blood test. Once you know that you have diabetes, it's your job to keep it under control. You'll need to check your blood sugar at home and talk to your doctor about how to lower it with diet, exercise, and possibly medicine. To avoid serious complications, you'll need to see not just one doctor, but a team of health care professionals. That includes a podiatrist to check your feet, an ophthalmologist to check your eyes, and a dentist for cleanings and exams. Because type 2 diabetes increases your risk for heart disease, you'll also need to see your primary care doctor regularly to have your blood pressure, cholesterol, and triglycerides checked, and to make sure your kidneys are working as well as they should. Like any other disease, it's better to avoid getting type 2 diabetes then to have to treat it. If you're at risk because you're overweight or over age 45, ask your doctor for a blood sugar test at your next check-up. If you have already developed diabetes, you can help avoid complications by staying on top of your health, checking your blood sugars, eating a healthy diet, exercising, and seeing all of your specialists on schedule. Make your doctor a partner in your care. Call right away if you have any problems, like numbness or tingling in your legs or feet, blurry vision, extreme thirst, weakness, or fatigue.
Function
Your main focus is on keeping your blood sugar (glucose) level in your target range. To help manage your blood sugar, follow a meal plan that has:
Food from all the food groups
Fewer calories
About the same amount of carbohydrates at each meal and snack
Healthy fats
Along with healthy eating, you can help keep your blood sugar in target range by maintaining a healthy weight. People with type 2 diabetes are often overweight or obese. Losing even 10 pounds (4.5 kilograms) can help you manage your diabetes better. Eating healthy foods and staying active (for example, 60 total minutes of walking or other activity per day) can help you meet and maintain your weight loss goal. Activity lets your muscles use sugar from the blood without needing insulin to move the sugar into the muscle cells.
HOW CARBOHYDRATES AFFECT BLOOD SUGAR
Carbohydrates in food give your body energy. You need to eat carbohydrates to maintain your energy. But carbohydrates also raise your blood sugar higher and faster than other kinds of food.
The main kinds of carbohydrates are starches, sugars, and fiber. Learn which foods have carbohydrates. This will help with meal planning so that you can keep your blood sugar in your target range. Not all carbohydrates can be broken down and absorbed by your body. Foods with more non-digestible carbohydrates, or fiber, are less likely to increase your blood sugar out of your goal range. These include foods such as beans and whole grains.
MEAL PLANNING FOR CHILDREN WITH TYPE 2 DIABETES
Meal plans should consider the amount of calories children need to grow. In general, three small meals and three snacks a day can help meet calorie needs. Many children with type 2 diabetes are overweight. The goal should be able to reach a healthy weight by eating healthy foods and getting more activity (150 minutes in a week).
Work with a registered dietitian to design a meal plan for your child. A registered dietitian is an expert in food and nutrition.
The following tips can help your child stay on track:
No food is off-limits. Knowing how different foods affect your child's blood sugar helps you and your child keep blood sugar in target range.
Help your child learn how much food is a healthy amount. This is called portion control.
Have your family gradually switch from drinking soda and other sugary drinks, such as sports drinks and juices, to plain water or low-fat milk.
PLANNING MEALS
Everyone has individual needs. Work with your health care provider, registered dietitian, or diabetes educator to develop a meal plan that works for you.
When shopping, read food labels to make better food choices.
A good way to make sure you get all the nutrients you need during meals is to use the plate method. This is a visual food guide that helps you choose the best types and right amounts of food to eat. It encourages larger portions of non-starchy vegetables (half the plate) and moderate portions of protein (one quarter of the plate) and starch (one quarter of the plate).
EAT A VARIETY OF FOODS
Eating a wide variety of foods helps you stay healthy. Try to include foods from all the food groups at each meal.
VEGETABLES (2½ to 3 cups or 450 to 550 grams a day)
Choose fresh or frozen vegetables without added sauces, fats, or salt. Non-starchy vegetables include dark green and deep yellow vegetables, such as cucumber, spinach, broccoli, romaine lettuce, cabbage, chard, and bell peppers. Starchy vegetables include corn, green peas, lima beans, carrots, yams and taro. Note that potato should be considered a pure starch, like white bread or white rice, instead of a vegetable.
FRUITS (1½ to 2 cups or 240 to 320 grams a day)
Choose fresh, frozen, canned (without added sugar or syrup), or unsweetened dried fruits. Try apples, bananas, berries, cherries, fruit cocktail, grapes, melon, oranges, peaches, pears, papaya, pineapple, and raisins. Drink juices that are 100% fruit with no added sweeteners or syrups.
GRAINS (3 to 4 ounces or 85 to 115 grams a day)
There are 2 types of grains:
Whole grains are unprocessed and have the entire grain kernel. Examples are whole-wheat flour, oatmeal, whole cornmeal, amaranth, barley, brown and wild rice, buckwheat, and quinoa.
Refined grains have been processed (milled) to remove the bran and germ. Examples are white flour, de-germed cornmeal, white bread, and white rice.
Grains have starch, a type of carbohydrate. Carbohydrates raise your blood sugar level. For healthy eating, make sure half of the grains you eat each day are whole grains. Whole grains have lots of fiber. Fiber in the diet keeps your blood sugar level from rising too fast.
PROTEIN FOODS (5 to 6½ ounces or 140 to 184 grams a day)
Protein foods include meat, poultry, seafood, eggs, beans and peas, nuts, seeds, and processed soy foods. Eat fish and poultry more often. Remove the skin from chicken and turkey. Select lean cuts of beef, veal, pork, or wild game. Trim all visible fat from meat. Bake, roast, broil, grill, or boil instead of frying. When frying proteins, use healthy oils such as olive oil.
DAIRY (3 cups or 245 grams a day)
Choose low-fat dairy products. Be aware that milk, yogurt, and other dairy foods have natural sugar, even when they do not contain added sugar. Take this into account when planning meals to stay in your blood sugar target range. Some non-fat dairy products have a lot of added sugar. Be sure to read the label.
OILS/FATS (no more than 7 teaspoons or 35 milliliters a day)
Oils are not considered a food group. But they have nutrients that help your body stay healthy. Oils are different from fats in that oils remain liquid at room temperature. Fats remain solid at room temperature.
Limit your intake of fatty foods, especially those high in saturated fat, such as hamburgers, deep-fried foods, bacon, and butter.
Instead, choose foods that are high in polyunsaturated or monounsaturated fats. These include fish, nuts, and vegetable oils.
Oils can raise your blood sugar, but not as fast as starch. Oils are also high in calories. Try to use no more than the recommended daily limit of 7 teaspoons (35 milliliters).
WHAT ABOUT ALCOHOL AND SWEETS?
If you choose to drink alcohol, limit the amount and have it with a meal. Check with your health care provider about how alcohol will affect your blood sugar and to determine a safe amount for you.
Sweets are high in fat and sugar. Keep portion sizes small.
Here are tips to help avoid eating too many sweets:
Ask for extra spoons and forks and split your dessert with others.
Eat sweets that are sugar-free.
Always ask for the smallest serving size or children's size.
YOUR DIABETES CARE TEAM IS THERE TO HELP YOU
In the beginning, meal planning may be overwhelming. But it will become easier as your knowledge grows about foods and their effects on your blood sugar. If you're having problems with meal planning, talk with your diabetes care team. They are there to help you.
American Diabetes Association Professional Practice Committee. 5. Facilitating Behavior Change and Well-being to Improve Health Outcomes: Standards of Medical Care in Diabetes-2022. Diabetes Care. 2022 Jan 1;45(Suppl 1):S60-S82. PMID: 34964866 pubmed.ncbi.nlm.nih.gov/34964866/.
American Diabetes Association Professional Practice Committee. 3. Prevention or Delay of Type 2 Diabetes and Associated Comorbidities: Standards of Medical Care in Diabetes-2022. Diabetes Care. 2022 Jan 1;45(Suppl 1):S39-S45. PMID: 34964876 pubmed.ncbi.nlm.nih.gov/34964876/.
Evert AB, Dennison M, Gardner CD, et al. Nutrition therapy for adults with diabetes or prediabetes: a consensus report. Diabetes Care. 2019;42(5):731-754. PMID: 31000505 pubmed.ncbi.nlm.nih.gov/31000505/.
Riddle MC, Ahmann AJ. Therapeutics of type 2 diabetes mellitus. In: Melmed S, Auchus RJ, Goldfine AB, Koenig RJ, Rosen CJ, eds. Williams Textbook of Endocrinology. 14th ed. Philadelphia, PA: Elsevier; 2020:chap 35.
Version Info
Last reviewed on: 2/1/2022
Reviewed by: Sandeep K. Dhaliwal, MD, board-certified in Diabetes, Endocrinology, and Metabolism, Springfield, VA. Also reviewed by David Zieve, MD, MHA, Medical Director, Brenda Conaway, Editorial Director, and the A.D.A.M. Editorial team.