Hyperglycemia - infants
High blood sugar - infants; High blood glucose level - infants
Hyperglycemia is abnormally high blood sugar. The medical term for blood sugar is blood glucose.
This article discusses hyperglycemia in infants.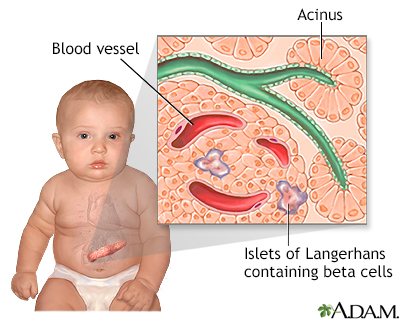 Causes
A healthy baby's body most often has very careful control of blood sugar level. Insulin is the main hormone in the body that regulates blood sugar. Sick babies may have poor insulin function or low amounts. This causes poor control of the blood sugar.
There can be specific causes of ineffective or low insulin. Causes may include infection, liver problems, hormone problems, and some medicines. Rarely, babies may actually have diabetes, and therefore have a low insulin level that results in high blood sugar.
Symptoms
Babies with hyperglycemia often have no symptoms.
Sometimes, babies with high blood sugar will produce large amounts of urine and become dehydrated. High blood sugar may be a sign that the baby has added stress on the body due to problems such as an infection or heart failure.
Exams and Tests
A blood test will be done to check the baby's blood sugar level. This can be done with a heel or finger stick at the bedside or in a health care provider's office or lab.
Outlook (Prognosis)
There are most often no long-term effects from a temporary high blood sugar level unless the baby has diabetes.
Escobar O, Gurtunca N, Viswanathan P, Witchel SF. Pediatric endocrinology. In: Zitelli, BJ, McIntire SC, Nowalk AJ, Garrison J, eds. Zitelli and Davis' Atlas of Pediatric Physical Diagnosis. 8th ed. Philadelphia, PA: Elsevier; 2023:chap 9.
Garg M, Devaskar SU. Disorders of carbohydrate metabolism in the neonate. In: Martin RJ, Fanaroff AA, Walsh MC, eds. Fanaroff and Martin's Neonatal-Perinatal Medicine. 11th ed. Philadelphia, PA: Elsevier; 2020:chap 86.
Kliegman RM, St. Geme JW, Blum NJ, Shah SS, Tasker RC, Wilson KM. Diabetes mellitus. In: Kliegman RM, St. Geme JW, Blum NJ, Shah SS, Tasker RC, Wilson KM, eds. Nelson Textbook of Pediatrics. 21st ed. Philadelphia, PA: Elsevier; 2020:chap 607.
Version Info
Version: 2.0
Last reviewed on: 12/10/2021
Reviewed by: Neil K. Kaneshiro, MD, MHA, Clinical Professor of Pediatrics, University of Washington School of Medicine, Seattle, WA. Also reviewed by David Zieve, MD, MHA, Medical Director, Brenda Conaway, Editorial Director, and the A.D.A.M. Editorial team.