Enlarged adenoids
The adenoids are lymph tissues that sit in your upper airway between your nose and the back of your throat. They are similar to the tonsils.
Enlarged adenoids means this tissue is swollen.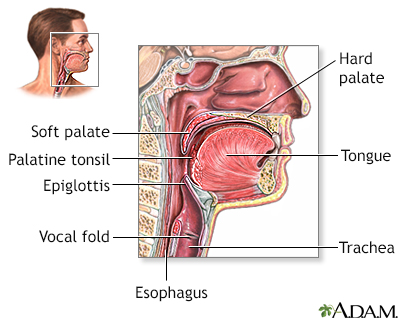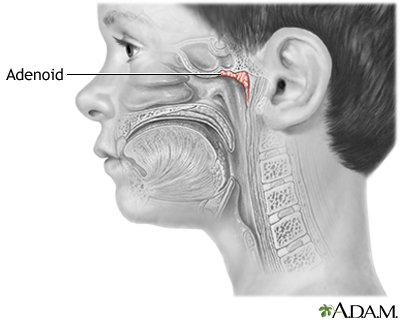 Causes
Enlarged adenoids may be normal. They may grow bigger when the baby grows in the womb. The adenoids help the body prevent or fight infections by trapping bacteria and germs.
Infections can cause the adenoids to become swollen. The adenoids may stay enlarged even when you are not sick.
Symptoms
Children with enlarged adenoids often breathe through the mouth because the nose is blocked. Mouth breathing occurs mostly at night, but may be present during the day.
Mouth breathing may lead to the following symptoms:
Enlarged adenoids may also cause sleep problems. A child may:
Be restless while sleeping
Snore a lot
Have episodes of not breathing during sleep (sleep apnea)
Children with enlarged adenoids may also have more frequent ear infections.
Exams and Tests
The adenoids cannot be seen by looking in the mouth directly. The health care provider can see them by using a special mirror in the mouth or by inserting a flexible tube (called an endoscope) placed through the nose.
Tests may include:
X-ray of the throat or neck
Sleep study if sleep apnea is suspected
Treatment
Many people with enlarged adenoids have few or no symptoms and do not need treatment. Adenoids shrink as a child grows older.
The provider may prescribe antibiotics or nasal steroid sprays if an infection develops.
Surgery to remove the adenoids (adenoidectomy) may be done if the symptoms are severe or persistent.
Now that your child's had a tonsillectomy or adenoidectomy what do you do when you go home? I'm Dr. Alan Greene and I want to give you some tips for going home with a child who's just had surgery. First thing to expect is your child's not going to be feeling great for a week or two, especially that first week they may still have pretty significant throat pain and may feel lower energy. So plan a pretty easy week or maybe 2 weeks after the surgery. When it comes to diet one of the most important things is getting plenty to drink. So you want lots of popsicles, fluids, juices, but avoid real citrusy or acidic juices. This isn't the time for lemonade. You also want foods that are soft going down and not crunchy or spicy. So things like jello can be good, ice cream. I still remember sherbet after my tonsillectomy when I was 4-years-old, it was wonderful. Pasta can be good, mashed potatoes, you want to avoid though toast. Toast is great after a tummy ache perhaps, but it can be really scratchy on the raw throat after a tonsillectomy. Also want to avoid really spicy foods. Now your doctor may have prescribed some medication, perhaps some for pain and perhaps some antibiotics and those should be taken regularly as prescribed. And you want to make sure and call your physician if the pain is severe and is not relieved by the pain medications that were given to you. Or if there is bright red bleeding. A little oozing afterwards is normal, but if there's a lot of bleeding it should be looked into. Or if there's real difficulty swallowing even those mashed foods or any difficulty breathing would be reasons to get back in touch with the doctor.
When to Contact a Medical Professional
Call your provider if your child has trouble breathing through the nose or other symptoms of enlarged adenoids.
Wetmore RF. Tonsils and adenoids. In: Kliegman RM, St. Geme JW, Blum NJ, Shah SS, Tasker RC, Wilson KM, eds. Nelson Textbook of Pediatrics. 21st ed. Philadelphia, PA: Elsevier; 2020:chap 411.
Yellon RF, Chi DH. Otolaryngology. In: Zitelli BJ, McIntire SC, Nowalk AJ, eds. Zitelli and Davis' Atlas of Pediatric Physical Diagnosis. 7th ed. Philadelphia, PA: Elsevier; 2018:chap 24.
Version Info
Last reviewed on: 8/7/2019
Reviewed by: Neil K. Kaneshiro, MD, MHA, Clinical Professor of Pediatrics, University of Washington School of Medicine, Seattle, WA. Also reviewed by David Zieve, MD, MHA, Medical Director, Brenda Conaway, Editorial Director, and the A.D.A.M. Editorial team.