Post surgical pain treatment - adults
Postoperative pain relief
Pain that occurs after surgery is an important concern. Before your surgery, you and your surgeon may have discussed how much pain you should expect and how it will be managed. It is not expected that medicines will take away your pain entirely. Instead, the goal is to decrease the pain enough so you are able to be out of bed and do some of your normal activities.
Several factors determine how much pain you have and how to manage it:
Different types of surgeries and surgical cuts (incisions) cause different types and amounts of pain afterward.
A longer and more invasive surgery, besides causing more pain, can take more out of you. Recovering from these other effects of surgery can make it harder to deal with the pain.
Each person feels and reacts to pain differently.
Controlling your pain is important for your recovery. Good pain control is needed so you can get up and begin to move around. This is important because:
It lowers your risk for blood clots in your legs or lungs, as well as lung and urinary infections.
You will have a shorter hospital stay so that you go home sooner, where you are likely to recover more quickly.
You are less likely to have lingering chronic pain problems.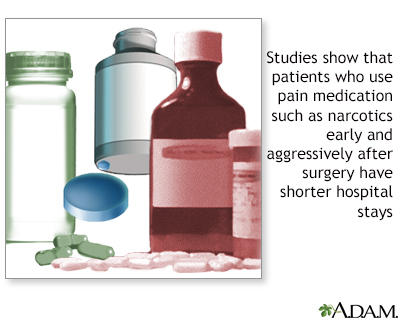 Your Role in Controlling the Pain
There are many types of pain medicines. Depending on the surgery and your overall health, you may receive a single medicine or a combination of medicines.
Studies show that people who use pain medicine after surgery to control pain often use fewer pain medicines than those who try to avoid pain medicine.
Your job is to tell your health care providers when you are having pain and if the medicines you are receiving control your pain.
Patient Controlled Anesthesia (PCA)
Right after surgery, you may receive pain medicines directly into your veins through an intravenous (IV) line. This line runs through a pump. The pump is set to give you a certain amount of pain medicine.
Often, you can push a button to give yourself more pain relief when you need it. This is called patient controlled anesthesia (PCA) because you manage how much extra medicine you receive. It is programmed so you cannot give yourself too much.
Epidural Pain Control
Epidural pain medicines are delivered through a soft tube (catheter). The tube is inserted through your back into the small space just outside the spinal cord. The pain medicine can be given to you continuously or in small doses through the tube.
You may come out of surgery with this catheter already in place. Or, a doctor (anesthesiologist) may insert the catheter into your lower back while you lay on your side in the hospital bed after your surgery.
Risks of epidural blocks are rare but may include:
Drop in blood pressure. Fluids are given through an IV to help keep your blood pressure stable.
Pain Pills or Shots
Narcotic (opioid) pain medicine taken as pills or given as a shot may provide enough pain relief. You may receive this medicine right away after surgery. More often, you receive it when you no longer need epidural or continuous IV medicine.
Ways you receive pills or shots include:
On a regular schedule, where you do not need to ask for them
Only when you ask your nurse for them
Only at certain times, such as when you get up out of bed to walk in the hallway or go to physical therapy
Most pills or shots provide relief for 4 to 6 hours or longer. If the medicines do not manage your pain well enough, ask your surgeon or nurse about:
Receiving a pill or shot more often
Receiving a stronger dose
Changing to a different medicine
Non-Narcotic Pain Medicines
One of the goals of pain control after surgery is to minimize the amount of narcotic pain medicine you need. Narcotics can cause side effects, be misused, or lead to addiction.
Instead of using opioid pain medicine, your surgeon may have you take acetaminophen (Tylenol) or ibuprofen (Advil or Motrin) or a combination of the two, to control pain. By taking the medicine on a schedule, and not waiting until you have pain to take the medicine, you can reduce the amount you take. Also, this will help reduce the amount of narcotic pain medicine or even eliminate its use.
In many cases, these non-opioid painkillers are just as effective as narcotics. They also help you avoid the side effects and risk of its misuse and addiction to opioids.
Benzon HA, Shah RD, Benzon HT. Perioperative nonopioid infusions for postoperative pain management. In: Benzon HT, Raja SN, Liu SS, Fishman SM, Cohen SP, eds. Essentials of Pain Medicine. 4th ed. Philadelphia, PA: Elsevier; 2018:chap 12.
Chou R, Gordon DB, de Leon-Casasola OA, et al. Management of postoperative pain: a clinical practice guideline from the American Pain Society, the American Society of Regional Anesthesia and Pain Medicine, and the American Society of Anesthesiologists' Committee on Regional Anesthesia, Executive Committee, and Administrative Council. J Pain. 2016;17(2):131-157. PMID: 26827847 pubmed.ncbi.nlm.nih.gov/26827847/.
Gabriel RA, Swisher MW, Sztain JF, Furnish TJ, Ilfeld BM, Said ET. State of the art opioid-sparing strategies for post-operative pain in adult surgical patients. Expert Opin Pharmacother. 2019;20(8):949-961. PMID: 30810425 pubmed.ncbi.nlm.nih.gov/30810425/.
Hernandez A, Sherwood ER. Anesthesiology principles, pain management, and conscious sedation. In: Townsend CM Jr, Beauchamp RD, Evers BM, Mattox KL, eds. Sabiston Textbook of Surgery. 21st ed. St Louis, MO: Elsevier; 2022:chap 14.
Version Info
Last reviewed on: 9/9/2023
Reviewed by: Debra G. Wechter, MD, FACS, General Surgery Practice Specializing in Breast Cancer, Virginia Mason Medical Center, Seattle, WA. Also reviewed by David C. Dugdale, MD, Medical Director, Brenda Conaway, Editorial Director, and the A.D.A.M. Editorial team.