Pneumonia in adults - discharge
Bronchopneumonia adults - discharge; Lung infection adults - discharge
You have pneumonia, which is an infection in your lungs. Now that you are going home, follow the health care provider's instructions on taking care of yourself at home. Use the information below as a reminder.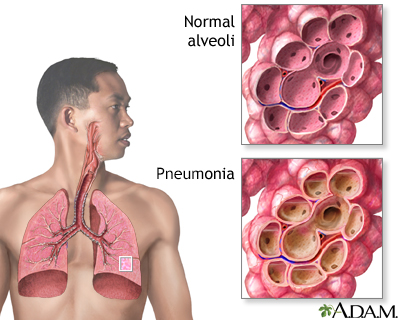 Everyone coughs from time to time. You might pick up a cold, have an allergy, or just get a tickle from something irritating your throat. But if you're really hacking and coughing up yellow or green mucus, and you've also got a fever, chills, and shortness of breath, you may have picked up a more serious infection, called pneumonia. And sometimes pneumonia's symptoms aren't as obvious. Pneumonia is caused by an infection in your lung. Bacteria or viruses like these can sometimes get into your lungs through your nose or mouth and make you sick. You're more likely to get pneumonia if you've got a problem with your immune system that makes it harder to fight off infections. You're also at greater risk if you've got a lung disease like COPD or cystic fibrosis, you've recently had the flu, or you're exposed to cigarette smoke. People who live in nursing homes are also more likely to get pneumonia. With pneumonia, you may cough up greenish or yellow phlegm. You also may run a fever and have the chills. Pneumonia can make it hard to breathe. You may feel like you've run up a flight of stairs when you were just sitting still. Your doctor can tell that you have pneumonia and not just a cold by listening with a stethoscope for crackle sounds in your chest. You may need a chest x-ray or blood tests to know for sure that you have pneumonia. If bacteria caused your pneumonia, your doctor can give you antibiotics, drugs that kill bacteria. Keep taking the antibiotic until you finish the whole prescription so you don't re-infect yourself. To help loosen all of that mucus clogging your lungs, breathe in the warm mist from a humidifier and drink plenty of water. Take it easy too. Don't try to run back to work and infect everyone else. Rest until you feel better. Whatever you do, don't smoke, it will only make your pneumonia worse. If your pneumonia is really severe or you have another serious health problem, your doctor may recommend that you get treated in the hospital. While there, you'll get antibiotics and fluids through a vein. You may also be given oxygen to help you breathe easier. The best way to deal with pneumonia is to avoid getting it in the first place. Older adults, children, and people with serious conditions like diabetes, asthma, cancer, and emphysema should talk to their doctor about getting vaccinated against pneumonia and the illnesses that cause it. Once you get treated, your pneumonia should clear up within a couple of weeks. Your doctor may want to check your lungs to make sure they're clear. Sometimes pneumonia can lead to serious lung complications, so call your doctor right away if your breathing problems get worse, you have chest pain, or you cough up blood.
When You're in the Hospital
In the hospital, your providers helped you breathe better. They also gave you medicine to help your body get rid of the germs that cause pneumonia. They also made sure you got enough liquids and nutrients.
What to Expect at Home
You will still have symptoms of pneumonia after you leave the hospital.
Your cough will slowly get better over 7 to 14 days.
Sleeping and eating may take up to a week to return to normal.
Your energy level may take 2 weeks or more to return to normal.
You will need to take time off work. For a while, you might not be able to do other things that you are used to doing.
Self-care
Breathing warm, moist air helps loosen the sticky mucus that may make you feel like you are choking. Other things that may also help include:
Placing a warm, wet washcloth loosely near your nose and mouth.
Filling a humidifier with warm water and breathing in the warm mist.
Coughing helps clear your airways. Take a couple of deep breaths, 2 to 3 times every hour. Deep breaths help open up your lungs.
While lying down, tap your chest gently a few times a day. This helps bring up mucus from the lungs.
If you smoke, now is the time to quit. Do not allow smoking in your home.
Drink plenty of liquids, as long as your provider says it is OK.
Drink water, juice, or weak tea.
Drink at least 6 to 10 cups (1.5 to 2.5 liters) a day.
Do not drink alcohol.
Get plenty of rest when you go home. If you have trouble sleeping at night, take naps during the day.
Medicines
Your provider may prescribe antibiotics for you. These are medicines that kill the germs that cause pneumonia. Antibiotics help most people with pneumonia get better. Do not miss any doses. Take the medicine until it is gone, even if you start to feel better.
Do not take cough or cold medicines unless your doctor says it is OK. Coughing helps your body get rid of mucus from your lungs.
Your provider will tell you if it is OK to use acetaminophen (Tylenol) or ibuprofen (Advil or Motrin) for fever or pain. If these medicines are OK to use, your provider will tell you how much to take and how often to take them.
Avoid Infections
To prevent pneumonia in the future:
Get a flu (influenza) shot every year.
Ask your provider if you need to get the pneumonia vaccine.
Wash your hands often.
Stay away from crowds.
Ask visitors who have a cold to wear a mask.
Going Home With Oxygen
Your doctor may prescribe oxygen for you to use at home. Oxygen helps you breathe better.
Never change how much oxygen is flowing without asking your doctor.
Always have a back-up supply of oxygen at home or with you when you go out.
Keep the phone number of your oxygen supplier with you at all times.
Learn how to use oxygen safely at home.
Never smoke near an oxygen tank.
When to Call the Doctor
Call your provider if your breathing is:
Getting harder
Faster than before
Shallow and you cannot get a deep breath
Also call your provider if you have any of the following:
Need to lean forward when sitting to breathe more easily
Have chest pain when you take a deep breath
Headaches more often than usual
Feel sleepy or confused
Fever returns
Coughing up dark mucus or blood
Fingertips or the skin around your fingernails is blue
Ellison RT, Donowitz GR. Acute pneumonia. In: Bennett JE, Dolin R, Blaser MJ, eds. Mandell, Douglas, and Bennett's Principles and Practice of Infectious Diseases. 9th ed. Philadelphia, PA: Elsevier; 2020:chap 67.
Mandell LA. Streptococcus pneumoniae infections. In: Goldman L, Schafer AI, eds. Goldman-Cecil Medicine. 26th ed. Philadelphia, PA: Elsevier; 2020:chap 273.
Version Info
Last reviewed on: 3/10/2022
Reviewed by: Jatin M. Vyas, MD, PhD, Associate Professor in Medicine, Harvard Medical School; Associate in Medicine, Division of Infectious Disease, Department of Medicine, Massachusetts General Hospital, Boston, MA. Also reviewed by David Zieve, MD, MHA, Medical Director, Brenda Conaway, Editorial Director, and the A.D.A.M. Editorial team.