Turning 18 Months Into 18 Years
Bill Weinzimmer is a busy man. On a recent Tuesday, after a short appointment with Simon J. Hall, MD, Director, Barbara and Maurice Deane Prostate Center at Mount Sinai, he was going out to lunch. After that, a stop at the library to get the first book on his list of Pulitzer Prize winners from the last 20 years, and, before returning home, a visit to the Metropolitan Museum of Art to see a new exhibit on Matisse. Not bad for someone who is 83-years-young – and, more notable, an advanced prostate cancer survivor. Eighteen years ago, doctors told Bill that he only had 18 months to live. Since then, Bill has traveled a long and challenging road to full remission.
Partnering with Mount Sinai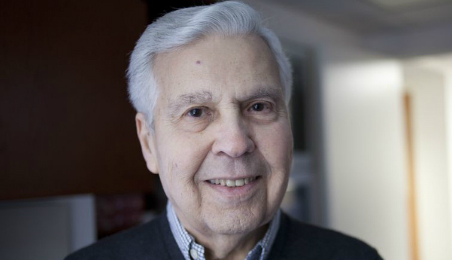 Bill is not the type to take credit for overcoming his advanced prostate cancer. He prefers to hand that over to the team of physicians at The Mount Sinai Hospital who directed his care, including Dr. Hall; Michael J. Droller, MD; and Richard G. Stock, MD. However, that would be telling only part of his story.
Bill did extensive research during each leg of his "journey," as he likes to call his progression from his diagnosis of the most advanced form of prostate cancer to long-term remission. Although Bill had great faith in his medical teams, he was an empowered patient, and preferred to work with physicians who would treat him as a partner in the determination of his treatment.
When Bill was first informed of his advanced disease (Gleason Total Score 9, Grade T-3A) in 1995, the recommendation to go on hormone therapy with Lupron. In addition, Bill made dramatic lifestyle changes: healthy low-fat, high-fiber foods; meditation; and a gym membership. The most important – and most difficult – change for Bill was stress reduction, especially at work.
After a stent with hormone therapy, Bill and his medical team decided to alter his regime to intermittent hormone therapy, when his PSA responded favorably after two years on Lupron and Flutamide.
Determined to Beat Cancer, In Spite of the Challenges
After discovering that his PSA was rising again, Bill underwent a battery of tests, which indicated that the disease was still localized to the prostate, so he moved on to brachytherapy (seed implantation) and IMRT external beam radiation in 2003, eight years after his initial diagnosis.
Unfortunately, radiation and continued hormone therapy did not prevent a steadily rising PSA (as high as 56), as well as the development of lymph node involvement. Dr. Hall told Bill he was no longer responding to hormone therapy and recommended chemotherapy. Bill was totally up to speed on his numbers and very confident in his Mount Sinai medical team, so he agreed to this next phase of treatment. His first infusion was in the Spring of 2004. While Bill experienced severe side effects, including nausea, hair loss, fatigue, and peripheral neuropathy, from his chemo treatments, Bill kept up a cheery demeanor, joking with his dear Marilyn about his "side effect of the week."

Looking back at this difficult time, Bill now admits how he felt discouraged during the second half of his year on chemotherapy. "My tolerance for it was wearing thin," he says. "But Marilyn's insistence to stay the course and her support helped me through the bad times."
With His Cancer Journey Behind Him, There's Nothing Now to Slow Bill's Active Lifestyle
The months of chemotherapy paid off – Bill's PSA went to undetectable, where it has stayed ever since. Bill compares his remission (now eight years) to a combination lock that cannot be opened unless you input all the numbers: "I had great doctors, the unwavering support of Marilyn and my children, and a strong desire to be as proactive and open as possible in my road to recovery." And his busy schedule? Bill recently attended three area US Too Prostate Cancer Support Group meetings within a span of 2 weeks. He is also creating a blog, so he can share his tips on coping with advanced disease with other prostate cancer patients. No, he is not slowing down anytime soon.
For Bill's full story, please visit his website: ISurvivedProstateCancer.org