TGN Patient Finds Relief Through Microvascular Decompression
William Maloney began having symptoms of left-sided TGN; the pain become so debilitating that William turned to Mount Sinai
William Maloney, a 64-year-old real estate consultant, began having symptoms of left-sided trigeminal neuralgia (TGN) in 2008. Initially, the pain was intermittent and was characterized by severe shooting pain affecting the left side of his face, most noticeably on the side of his nose and his upper teeth. Touching or blowing his nose, speaking, brushing his teeth, drinking cold liquids, sometimes just breathing, could trigger intense, sharp, stabbing pain.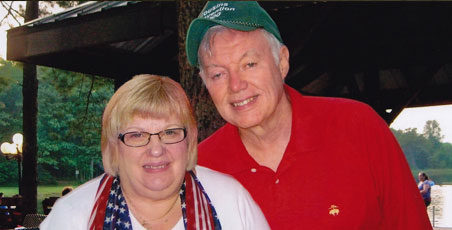 In August 2009, William started taking gabapentin, an anti-seizure medicine often used to treat nerve pain. Initially, he experienced significant relief, but, as is common with trigeminal neuralgia, the pain recurred and he required increasing doses of the medication. By April 2010, the medication no longer controlled the pain, and William developed incapacitating pain every time he spoke — a major handicap in both his personal life and work.
William Turns to Mount Sinai
By May, the pain had become so debilitating that William contacted Joshua Bederson, MD, a Mount Sinai neurosurgeon who performs microvascular decompression (MVD) surgery to treat trigeminal neuralgia. Together, they discussed MVD as well as alternative treatment options, such as percutaneous balloon compression, radiofrequency rhizolysis, glycerol injection, and stereotactic radiosurgery. They also discussed the risks and benefits of the various options.
Although MVD is more invasive than other treatments, it preserves the nerve, unlike the other ablative (nerve damaging) procedures, and offers the best chance of a cure without permanent facial numbness. Surgeons treat the underlying cause of the trigeminal pain by displacing the artery or vein compressing the nerve, then protect the nerve with a Teflon sponge to prevent recurrence.
Compression of the nerve isn't always visible on imaging, but William's MRI showed a large arterial loop compressing his left trigeminal nerve. On June 15, 2010, William underwent MVD.
Surgery Successful
Through a small opening behind the ear, Dr. Bederson exposed the trigeminal nerve at its entrance into the brain stem. Here he found it severely compressed by an abnormal arterial loop and vein. Dr. Bederson moved the blood vessels off the trigeminal nerve and used a small sponge to keep them apart.
Mr. Maloney woke up pain free and was able to control his minimal post-operative pain with acetaminophen. He has remained symptom free ever since and no longer takes gabapentin.
At his post-operative visit he had completely normal facial movement and sensation, and was gradually returning to work. The only complaint was expressed by his wife, who, in making a joke, commented that he was talking more, a lot more, now that it no longer caused pain.
We Can Help
If you have been diagnosed with trigeminal neuralgia or are experiencing symptoms, please call The Mount Sinai Hospital at 212-241-2377 to schedule an appointment.