On the Road Again after Prostate Cancer
Ken S. was always active. A banking professional, Ken enjoyed traveling with his family around the country and the world, and locally by his favorite mode of transportation – a bike. He also considered himself pretty healthy, exercising regularly and watching his diet. But he had a family history of prostate cancer – his grandfather had died of the disease. So Ken committed himself to annual PSA blood work and a digital rectal exam (DRE) as advised by his family doctor. He did not want to be caught off guard. When at the age of 59, his test results indicated a change, he was ready (as one can be) for the diagnosis of cancer.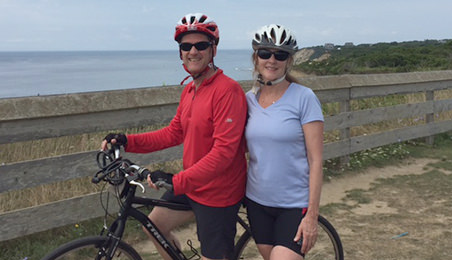 Ken continued to take a proactive path and, following an initial recommendation for treatment from a local urologist, sought a 2nd opinion from the Dana Farber Cancer Institute in Boston. Dana Farber reviewed the test results, discussed treatment options, and recommended surgery. In addition, they recommended a number of leading surgeons in New York and Boston. Dr. Ash Tewari, Chair of the Department of Urology at Mount Sinai Health System was on the New York list. In addition to the recommendation from Dana Farber, Dr. Tewari was favorably mentioned by three others-Ken's local urologist, a professional in the field, and a West Coast urologist. Dr. Tewari was singled out by Dana Farber and these other professionals, according to Ken, for his compassion, knowledge, and innovative techniques. That meant a lot to Ken. Ken got a lot of comfort that Dr. Tewari was recognized as a leader in the field from four independent and knowledgeable sources. He saw Dr. Tewari within 3 weeks of Dana Farber's recommendation. Dr. Tewari agreed: because of Kens' age (young), health (excellent) and family history, he recommended a nerve-sparing, radical prostatectomy to remove Ken's prostate and minimize side effects. Ken was onboard and had his robotic radical prostatectomy in October of 2015.
Ken calls himself a boring patient but is happy he made an "uneventful" recovery. He was up and walking the same day as his surgery and was discharged from the hospital the next day. He spent four weeks at home, walking three times each day to build up strength (although Ken spent four weeks at home, the return to work is highly individual, depending upon job and travel, requirements, one's commute, and ability to work from home).
Dr. Tewari points to Kens' physical health as greatly contributing to his smooth recovery. Ken feels he was in excellent hands and was well taken care of by Dr. Tewari's entire office staff. "The team was competent, responsive, and understanding. And Dr. Tewari was wonderfully personal. He assured me I could text or call him at any time if I had questions."
Nine months post-surgery, Ken is feeling great. He was back to the gym and in the pool within in eight weeks. He took a family trip to Australia and returned to the biking roads near home this past Summer. Side effects were naturally a concern pre-surgery, but he says, "I did not experience any of the usual side effects, I feel as good as I did before surgery. Thanks to Dr. Tewari, the team at Mount Sinai, and the love, support, and prayers of my family and friends, the surgery was successful and the recovery strong. I look forward to continuing on the road back."
Ken has advice for men facing a diagnosis of Prostate Cancer. "Be informed, get more than one opinion on your diagnosis and treatment recommendation, and speak to other men who have been treated." He adds, "Take notes and bring a partner or friend to your office visits to be a second set of ears. I was blessed to have my fantastic wife accompany me on my visits and help me through the process. And importantly, do not wait until a diagnosis of cancer or any illness to get in shape and eat healthy. The road to recovery starts before a diagnosis is made."