Finding the Best Doctor Through a Best Friend
A former 25 year member of the Suffolk Country, New York Police Department, and Stephen Brussell is used to the unexpected. In general, the life of a police officer is full of surprises and he considers himself unflappable, but when he learned he had kidney cancer, found after an elective CAT scan to check a chronic gallbladder problem, he was floored ("I felt like I was hit by a lightning bolt out of left field"). It did not help that he was home alone when he received the news, a widower of 6 years, whose wife Pauline provided both moral support and guidance on health matters.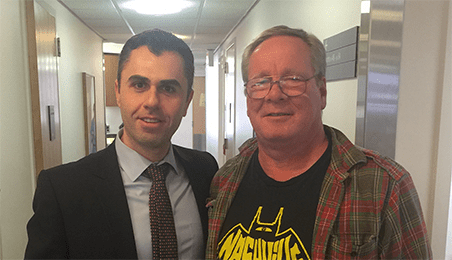 Retired and living in upstate New York, Stephen was referred to a local urologist. His plan was to remove Stephen's entire kidney, but because Stephen was on daily aspirin, his cardiologist would not approve the procedure, fearing a heart attack. Stephen's next stop was an appointment with an interventional radiologist whose recommendation was to freeze the tumor, but after undergoing a second and hour long CAT scan, he was told the procedure would be too risky because of the tumor's location. His next referral was to a surgeon in a larger city who would do the procedure laparoscopically, but Stephen was now feeling his nerves; the phrase "risky procedure" stuck in his head.
Peace of Mind in NYC
Stephen was not without a trusted companion during this trying time. Brian Lowery, a colleague from the force and one of Stephen's closest friends had suggested several times that he should go to a New York City hospital, specifically Mount Sinai. Brian had undergone successful surgery for oral cancer at Mount Sinai and underscored the importance of a surgeon's experience, someone who had done a procedure "fifty times before breakfast." Stephen was admittedly not the biggest fan of Manhattan, given its congestion, both from crowds and cars, but he says, "Brian broke through; I wanted to feel how he did." So, Stephen took the next step and called the Department of Urology at Mount Sinai. From that first "Hello, how can I help you?" Stephen felt he could exhale again; that he was finally in good hands. On the day of his first appointment, Dr. Reza Mehrazin, Assistant Professor of Medicine at the Icahn School of Medicine and a kidney cancer expert, came into the waiting room to meet him. Stephen was amazed. "I did not expect that. And it just got better from there," he says "Dr. Mehrazin was always concerned about my total well-being, 24/7. And not just for me, but for my family as well."
A Challenging Surgery, but Successful
Dr. Mehrazin was no nonsense but optimistic; he told Stephen he would perform the surgery robotically and try and save his kidney, but there was no guarantee; he might have to switch to an open procedure and remove the entire kidney. "Dr. Mehrazin was honest, but always warm and caring, and put my mind totally at ease." Dr. Mehrazin was able to do a robotic assisted laparoscopic partial nephrectomy, only removing the cancerous tissue, while sparing the healthy kidney. Although the surgery was challenging, Stephen only had to spend one night in the hospital. After discharge and before his first two week follow up visit, Dr. Mehrazin called him three times, incredible to Stephen who had never experienced such attention from a medical professional.
Four weeks post surgery, Stephen is cancer free and on the road again –with Brian at his side – heading down to Florida for some well-deserved post surgery rest and relaxation. "It is impossible to thank Dr. Mehrazin for giving me the gift of health, but by telling my story, I hope I persuade others not to give up and go for the best."