Back on His Bike
A neurosurgery patient with a softball sized tumor is table to return to his favorite pastime
Living life to the fullest has never been a question for Lloyd Fruhschien. As an avid cyclist and member of the Yonkers Bike Club, Lloyd has biked countless miles across the New York metropolitan area and has participated in numerous bike tours such as Bike New York, Bloom Metric, and Harlem Valley. These rides require participants to push themselves physically and mentally. While the work is hard, the sights, sounds, and camaraderie built along the way are indescribably breathtaking. For Lloyd, pushing himself to train and complete these tours has left him with the understanding that even if he falls down, he will get right back up and keep going.
A Softball-Sized Tumor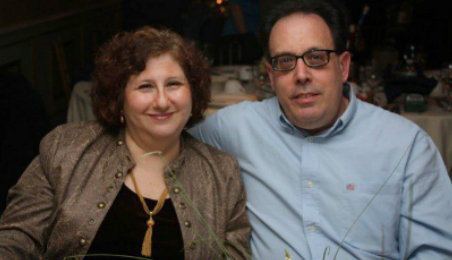 When he was diagnosed with a benign brain tumor the size of a softball, he channeled his focus into finding the best possible care. His journey began on December 14, 2012, when his arm suddenly started to bend backward at work. Lloyd was having a seizure. Immediately, he was rushed to the emergency room (ER), where computed tomography (CT) scans were taken of his brain. Shortly after, the ER doctors informed him that he had a non-cancerous tumor called a meningioma and that it had to be removed immediately. Not knowing anyone at the hospital he was taken to, Lloyd wanted to take some time to research neurosurgeons and procedures before undergoing major surgery.
Choosing Mount Sinai's Neurosurgery Department for His Care
Lloyd set out to find the best neurosurgeon. Thanks to a co-worker, Lloyd was referred to Joshua Bederson, MD, the Chairman of Neurosurgery at The Mount Sinai Medical Center. He found Dr. Bederson to be encouraging and informative: "I liked his demeanor and felt right at ease." After thoroughly discussing Lloyd's condition and treatment options, surgery was scheduled for January 15, 2013.
In order to remove Lloyd's tumor, a large left falcine meningioma, Dr. Bederson performed a frontoparietal craniotomy and stereotactic computer-assisted resection. Through a small incision at the crown of the skull, Dr. Bederson was able to completely remove the tumor with minimally invasive microscopic techniques. Since the success of brain surgery rests upon submillimeter accuracy, sophisticated three-dimensional technology, such as magnetic resonance imaging (MRI) and CT scans, provides exact coordinates of the legion. Once it is located, the lesion is removed by a specialized, sleek instrument or radiotherapy. After eight hours of surgery, Lloyd was entirely tumor-free.
Rehab and Beyond
Lloyd had two weeks of rehabilitation ahead of him after surgery, but, just as he faced many tours with focus and determination, he approached rehab with matched resoluteness. During his first days at the Mount Sinai's Rehabilitation Center, it took three people to hoist Lloyd out of bed and into a wheelchair. However, as he steadily progressed in his physical therapy plan, he gained more independence. Though he first needed help from others, Lloyd was getting around on his own with a walker a week later. Only a few days after that, he traded in the walker for a cane. By the time his two weeks of rehab were up, Lloyd was on his way home, on his own two feet.
Three months after surgery, Lloyd is back on his bike. On April 21, 2013, he served as a photographer for the Yonkers Bike Club's opening day ceremonies. He is involved in spin classes and weight lifting three times a week and embraces the "finer" side of life by attending Broadway shows with his wife. He is slowly building up toward working out five days a week and finds satisfaction in his progress every day. According to Lloyd, what is most important after experiencing a neurological complication is: "Getting back into your daily routine as soon as possible...stay positive, do not feel sorry for yourself and 'push' yourself in the rehab phase of recovery." On April 27, 2013, after a follow up MRI, Lloyd was congratulated with the wonderful news that everything "looked fantastic." Dr. Bederson asked him to schedule a follow-up appointment for the following year. As for his time in Mount Sinai, Lloyd admits "while no one likes staying in the hospital, you guys saved my life."