After Years of Mystery, a Cushing's Patient Finally Gets Answers
Robin knew something wasn't right for many years. She had trouble maintaining her weight despite years of dieting; she also had irregular menstruation – all symptoms that left her puzzled. But doctors at the time didn't seem alarmed.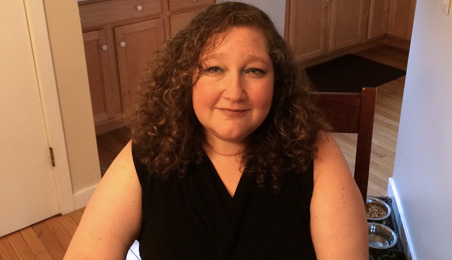 "Some thought I had polycystic ovary syndrome (PCOS), and others told me I should stop overeating," says Robin, 48, a mother of three from Upstate New York.
It wasn't until years later that Robin, a higher education administrator, finally got some long-awaited answers.
An excruciating migraine at one of the events she was hosting for work sent her to the emergency room in 2007. Once there, an MRI confirmed the source of the headache: a pituitary macroadenoma. Additional blood work also revealed elevated levels of adrenocorticotropic hormone (ACTH).
Seeking Treatment at the Pituitary Care and Research Center
With this new information, Robin sought expert advice at Mount Sinai's Pituitary Care and Research Center. "I did a lot of reading and looked for doctors with a portfolio of volume and experience, not just a high scientific success rate. The people at Mount Sinai knew what they were doing," explains Robin.
At her first appointment, Robin met with Eliza B. Geer, MD, and Kalmon Post, MD, a skilled neurosurgeon with decades of experience treating similar tumors. The multidisciplinary care team evaluated Robin's imaging and blood work and diagnosed her with Cushing's disease, a rare condition that is caused by excess levels of the hormone cortisol. Although not all of her symptoms were typical of Cushing's disease, her long history with the condition produced a large pituitary tumor that needed to be removed.
Minimally Invasive Surgery Resolves Cushing's Disease
The care team walked Robin through the treatment process, which included transsphenoidal surgery, a minimally invasive procedure that would be performed to remove the tumor through the nose. She underwent the surgery twice to ensure all parts of the large tumor were removed. Months after the surgery, she also completed radiation therapy.
"After many years of not being able to figure out what was going on, one comprehensive visit was the key to a lifetime of puzzlement," says Robin, who recalls she was treated like gold by the entire staff, from the nurses to the physicians and physical therapists throughout the entire process.
Following a successful treatment, Robin was able to get back to her normal routine very quickly. She lost 50 pounds and discovered untapped energy. She is less anxious and feels overall very healthy.
Ongoing evaluations by Mount Sinai's care team continue to foster her renewed outlook on life: "Life after treatment is very beautiful," she says.