A New Outlook on Life Following Minimally Invasive Pituitary Surgery
As a librarian, 36-year-old Kelly has always relied on her eyes to stay sharp on the job. So when her vision became increasingly blurry, she became concerned.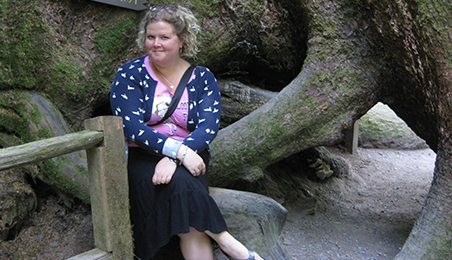 A visit to a local optometrist confirmed Kelly's suspicions. While there, the eye doctor discovered something blocking her optic nerve, which was causing her blurry vision.
"I was referred to an ophthalmologist and eventually to a neurosurgeon, who ordered an MRI and discovered that I had a tumor," says Kelly, who lives in New York City. She was diagnosed with a prolactinoma, a benign pituitary tumor that secretes excess amounts of the hormone prolactin. She was put on a medication called cabergoline, which works at the dopamine receptor, and is the mainstay treatment for this type of pituitary tumor.
Facing Permanent Vision Loss
Although Kelly was on medication therapy for her prolactinoma, things got progressively worse. Her vision continued to deteriorate. "At this point, I couldn't see," she says.
Facing permanent vision loss, Kelly decided not to wait for her initial neurosurgeon to return from vacation, whom she contacted originally. She decided to seek treatment at the Mount Sinai Department of Neurosurgery based on a recommendation from a friend in June 2011.
From Hopeless to Renewed with Neurosurgery Treatment at Mount Sinai
Right away, the Department of Neurosurgery was able to accommodate Kelly. She had an appointment with Joshua Bederson, MD, Chairman of Neurosurgery, within a few days, who confirmed her diagnosis. Despite taking cabergoline, which is designed to reduce high levels of the hormone prolactin, her tumor continued to grow and needed to be removed immediately. As a result, Dr. Bederson scheduled a minimally invasive transsphenoisal surgery for her within two days to avoid permanent vision loss.
"I was terrified of the surgery because I didn't know much about it. But within one week, I went from feeling hopeless to feeling great," said Kelly, whose vision returned to normal following the surgery. The same-day procedure allowed Kelly to return home that day without the use of pain killers.
Although Kelly continues to receive medical therapy through the Pituitary Care and Research Center at Mount Sinai to address irregular periods as a result of the excess prolactin in her system, she is happy to have returned to her normal routine in life.