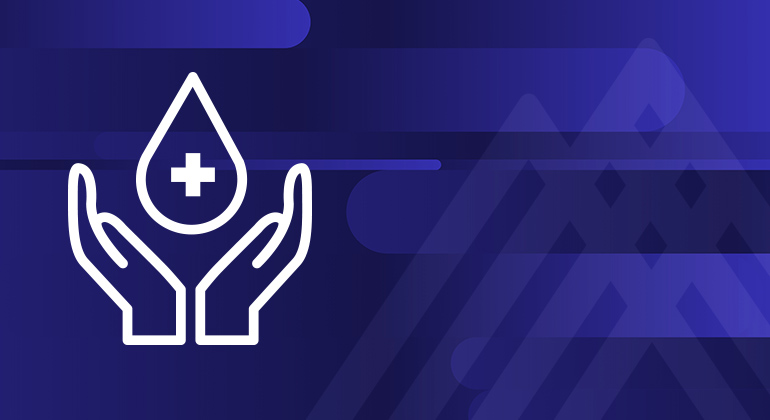 Plasma Collection Center at Mount Sinai Health System
With millions of individuals around the world infected with SARS-CoV-2, the virus that causes COVID-19 disease, there is a critical need to develop a therapeutic for treatment or prevention.
The Mount Sinai Health System, in collaboration with Emergent BioSolutions and ImmunoTek Bio Centers, has established a Plasma Collection Center at The Mount Sinai Hospital to advance the development of such a potential therapeutic. The center will collect plasma rich in SARS-CoV-2 antibodies from individuals who have recovered from COVID-19. The plasma will be purified into hyperimmune globulin, which will be used in clinical research trials at Mount Sinai and elsewhere to test its ability to potentially help prevent and treat COVID-19.
Because we are very grateful for the commitment to plasma donation and appreciate the time commitment donors have made, we are now $50 at every donation and an additional $100 bonus at the time of your second donation.
How to Donate
If you are age 18 to 65, have tested positive for SARS-CoV-2, have fully recovered, and have a high concentration of antibodies, you may be a candidate for plasma donation. If you are interested in helping others by donating your plasma, please complete the prescreening questionnaire.
If you meet the qualifications to donate, a member of the Mount Sinai team will contact you to schedule a donation appointment.
Under the terms of the EAP, and per Federal and State regulations, MSHS can provide convalescent plasma only to patients at MSHS hospitals, including the Mount Sinai Hospital, Mount Sinai West, Mount Sinai Morningside, Mount Sinai Beth Israel, Mount Sinai Queens, Mount Sinai Brooklyn, and Mount Sinai South Nassau. MSHS cannot provide convalescent plasma to other hospitals or patients.
MSHS hospitals also cannot accept patient transfers solely for administration of convalescent plasma nor guarantee that patients transferred to MSHS hospitals for other reasons will receive convalescent plasma. All patients must meet MSHS eligibility requirements and be enrolled in the EAP prior to receiving convalescent plasma at MSHS hospitals.
MSHS cannot facilitate the transfer of convalescent plasma from a specific donor to a specific patient ("directed donation"). Donors referred by MSHS for blood collection at our partner, the New York Blood Center, have all agreed that their donated plasma can be given to any eligible COVID-19 patient enrolled in the MSHS EAP. Potential plasma donors are encouraged to apply to the MSHS Convalescent Plasma Donor Program, or they can donate blood at many other blood collection organizations like the American Red Cross, the New York Blood Center, America's Blood Centers (ABC), Vitalant, and others.
Donor screening and plasma collection will be performed at a plasma collection facility, in compliance with FDA regulations and AABB standards, and according to additional requirements as specified by the blood collection facility. Convalescent plasma transfusions must be carried out according to each hospital's blood bank and nursing policies and protocols. All adverse events and transfusion reactions must be reported in accordance with each hospital's reporting policy.
Non-MSHS hospitals have options to enable convalescent plasma treatment for their patients, including joining the EAP, which has a mechanism for hospitals to obtain convalescent plasma from regulated and licensed blood collection centers such as the American Red Cross, Vitalant, OneBlood, ABC, New York Blood Center and others. Detailed instructions for hospitals to enroll in the EAP are at https://www.uscovidplasma.org.
MSHS encourages non-MSHS hospitals to join the EAP. Other pathways by which hospitals can administer convalescent plasma, while remaining compliant with Federal regulations, can be found on the FDA website.
Convalescent plasma has been studied in many infectious diseases, including hepatitis B, polio, measles, influenza, and Ebola. It has not been demonstrated to be effective in every disease. In those that it has, the patients who have derived demonstrable, statistically significant benefit from convalescent plasma are those transfused early in the course of infection, within approximately 3-5 days of illness onset depending on the disease and the study.
The literature regarding convalescent plasma treatment of respiratory infections like influenza and pneumococcal pneumonia is mainly observational and thus fraught with confounders; even "significant" results need to be understood and interpreted within that context.
The hypothesis best supported by the existing literature is that neutralizing antibodies from donor plasma can help to inhibit viral replication in early stages of the disease; thus, the goal of treatment at MSHS is to administer convalescent plasma containing high titers of specific anti-viral antibodies early in the course of illness, in order to prevent patients from progressing into immunopathologies like ARDS and multi-organ system dysfunction. The literature suggests that once a patient has been ill for too long, and immune-mediated damage is already underway, supportive critical care is the only therapy known to confer a mortality benefit.
From the limited extant literature, the conclusion appears to be that convalescent plasma is as safe as other blood products, but it is not a magic bullet for subacute-to-chronically critically ill patients.
Brief Literature Review
A meta-analysis of studies performed during the 1918 ("Spanish") influenza pandemic1 found a possible decrease risk of death in patients with influenza pneumonia who received influenza-convalescent human blood products; however, studies were few and had many methodological limitations.

Past studies of convalescent serum therapy for pneumococcal pneumonia demonstrated that treatment was most effective if begun within 3 days of onset, and mortality could be reduced to 5% by administration of serum within the first 24 hours of the onset of symptoms, while administration of serum 4 to 5 days after symptoms began produced little clinical benefit.2

A meta-analysis of 32 studies3 examining the use of convalescent plasma for 2003 SARS coronavirus infection or severe influenza revealed consistent evidence for a reduction in mortality, especially when convalescent plasma is administered early after symptom onset. Post hoc meta-analysis showed a statistically significant reduction in the pooled odds of mortality following treatment, compared with placebo or no therapy (odds ratio, 0.25; 95% CI, 0.14-0.45), with the caveat that studies were commonly of low or very low quality, lacked control groups, and/or had moderate or high risk of bias.

Treatment of severe H1N1 infection with hyperimmune immunoglobulin within 5 days of symptom onset was associated with a lower viral load and decreased mortality in a randomized controlled trial.4

An article published in JAMA5 presented a case series of 5 critically ill patients with confirmed SARS-CoV-2 infection who were treated with 2 transfusions of ABO-compatible convalescent plasma. Donors of the plasma were patients who had recovered from SARS-CoV-2 infection, had tested negative for current SARS-Cov-2 or other respiratory virus infection, and were asymptomatic for at least 10 days. Donors had SARS-COV-2 antibody titers greater than 1:1000 and neutralizing antibody titers greater than 1:40. Viral load of the patients who received plasma transfusion improved 1 day after transfusion, and all 5 patients had undetectable viral loads after 12 days. Three of the five patients were discharged home. However, the small cohort size and the absence of a control group limit the conclusions that can be drawn from this cohort.
References
1 Luke T et al. Meta-analysis: convalescent blood products for Spanish influenza pneumonia: a future H5N1 treatment? Ann Intern Med. 2006 Oct 17; 145(8): 599–609.
2 Casadevall A, Scharff MD. Serum therapy revisited: animal models of infection and development of passive antibody therapy. Antimicrobial Agents and Chemotherapy Aug 1994, 38 (8) 1695-1702.
3Jenkins J et al. The Effectiveness of Convalescent Plasma and Hyperimmune Immunoglobulin for the Treatment of Severe Acute Respiratory Infections of Viral Etiology: A Systematic Review and Exploratory Meta-analysis. J Infect Dis. 2015 Jan 1; 211(1): 80–90.
4 Hung I et al. Hyperimmune IV immunoglobulin treatment: a multicenter double-blind randomized controlled trial for patients with severe 2009 influenza A(H1N1) infection. Chest. 2013 Aug; 144(2): 464–473.
5 Shen C et al. Treatment of 5 Critically Ill Patients With COVID-19 With Convalescent Plasma. JAMA. 2020 Mar 27. doi: 10.1001/jama.2020.4783. [Epub ahead of print]
EAP Per-Protocol Inclusion Criteria:
18 years of age or older

Laboratory confirmed COVID-19 by SARS-CoV-2 RT-PCR

Hospitalized in an acute care facility for complications of COVID-19 disease

Severe or life-threatening COVID-19, or judged by the treating provider to be at high risk of progression to severe or life-threatening disease:

Severe disease is defined as:

dyspnea

respiratory frequency ≥ 30/min

blood oxygen saturation ≤ 93%

partial pressure of arterial oxygen to fraction of inspired oxygen (P/F) ratio < 300

lung infiltrates > 50% within 24 to 48 hours

life-threatening disease is defined as:

respiratory failure,

septic shock, and/or

multiple organ dysfunction or failure.

Patient or proxy (legally authorized representative) able to provide informed consent
MSHS Considerations, According to Plasma Supply:
In-stock convalescent plasma, whose donor's ABO blood type is compatible with the recipient's

Requiring supplemental oxygen, excluding extracorporeal membrane oxygenation (ECMO)

Anticipated survival longer than 48 hours at the time of transfusion
Major Contraindications:
Known hypersensitivity to immunoglobulin

Known IgA deficiency

Discuss with Transfusion Medicine on a case-by-case basis
Cautions:
Known history of hypercoagulable state or evidence of current hypercoagulability

End-stage renal disease or acute decompensated heart failure

Discuss with Renal to schedule dialysis before transfusion