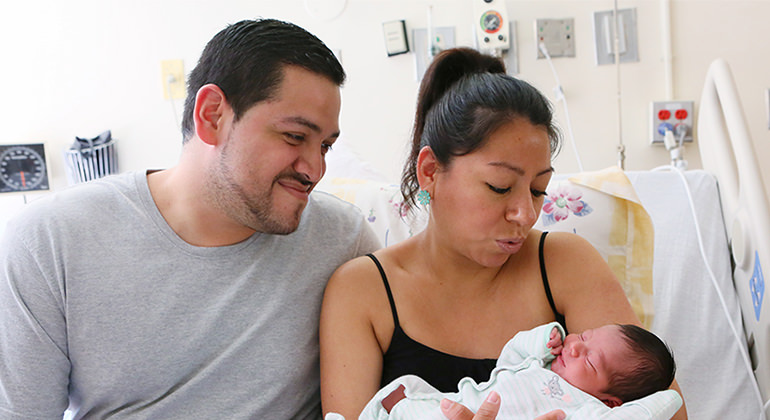 The Mount Sinai Hospital
The Mount Sinai Hospital's obstetrics, gynecology, and reproductive science services team of specialists, nurses, researchers, scientists, and counselors are dedicated to providing comprehensive health care, while also offering emotional support throughout treatment.
Pregnancy and Birth
The Women and Children's Services team at The Mount Sinai Hospital takes an integrated approach to meet the needs of expectant parents and their newborns. Our medical staff is committed to providing exceptional services, including prenatal genetic testing and counseling, childbirth preparation classes, midwife services, and wellness amenities. Our state-of-the-art birthing facilities include the Steven and Alexandra Cohen Center for Labor and Birth and the Jo Carole and Ronald S. Lauder Center for Maternity Care. An alliance with Mount Sinai and Children's Hospital of Philadelphia brings together leading physicians to offer the highest level medical care in the field of children's cardiology and fetal medicine.
Gynecology and Menopausal Medicine
Our expert gynecologic medical team provides a range of services as you progress through the phases of life, from performing routine medical exams to treating menstruation disorders to alleviating menopause issues. We are well equipped to provide dependable, integrated health care.
The Mount Sinai Fibroid Center

Under the leadership of Charles Ascher-Walsh, MD, the Mount Sinai Fibroid Center helps you with complex pelvic flood disorders. We use minimally invasive techniques, including laparoscopic and robotic surgery, to treat fibroids and other disorders related to the pelvic area.
Mount Sinai Endometriosis and Pelvic Pain Center
Led by Suzanne Fenske, MD, the Mount Sinai Endometriosis and Pelvic Pain Center treats pain related to fibroids, pelvic floor disorders, and sexual intercourse.
Physicians at Mount Sinai Endometriosis and Pelvic Pain Center often collaborate with physicians at Mount Sinai Fibroid Center.