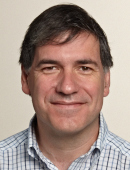 Position

PROFESSOR | Medicine, Endocrinology, Diabetes and Bone Disease
Dr. Garcia-Ocaña's research interest has focused over the years on tissue regeneration, growth factors and intracellular signaling. More specifically, his group is analyzing the therapeutic potential of growth promoting agents to induce pancreatic beta cell regeneration in diabetes. He described for the first time that expression of hepatocyte growth factor (HGF) in vivo in the beta cell markedly increases beta cell proliferation, survival, function and mass in transgenic mice. In addition, he also demonstrated the beneficial effects of HGF on improving islet transplant outcomes. These novel results highlighted the potential of growth factors, and in particular HGF, for beta cell regeneration and replacement therapies in diabetes.
His group has also identified the intracellular signaling pathways involved in the beneficial effects of growth factors in beta cells. They have found that the Akt pathway is required for the anti-apoptotic effects of HGF and that activation of this pathway is enough to improve long-term human islet engraftment and survival in mice without adverse effects. They have also found that protein kinase C (PKC) ζ is a key and novel signaling pathway involved in growth factor-induced beta cell replication. Activation of PKC ζ leads to markedly increased rodent beta cell expansion and more importantly human beta cell replication. In addition, activation of PKC ζ enhances insulin expression and secretion. These findings highlight this pathway as an attractive target for beta cell regeneration.
Recently, he has also centered his interest on the physiological roles of HGF and PKC ζ in the beta cell. Using genetically-modified mouse models, he has shown that the absence of HGF sgnaling in beta cells leads to the development of gestational diabetes. These results open the door to important translational studies in pregnant women with gestational diabetes, an aspect currently being explored by Dr. Garcia-Ocana in collaboration with Dr. Carol Levy. We believe that the knowledge obtained from these studies can lead to the development of future effective therapies to increase beta cell regeneration, to improve beta cell replacement and to expand beta cell mass for diabetes.
Research Topic
Apoptosis/Cell Death, Cell Biology, Cell Cycle, Cell Division, Diabetes, Gene Expressions, Gene Regulation, Gene Therapy, Growth Factors and Receptors, Hormones, Knockout Mice, Molecular Biology, Obesity, Protein Kinases, Receptors, Signal Transduction, Transcription Factors, Transgenic Mice, Transplantation
Multi-Disciplinary Training Area
Biophysics and Systems Pharmacology [BSP]
Education
BS, Universidad Autonoma of Madrid

PhD, Universidad Autonoma of Madrid

PhD Student, Université Paris VII, Dept. of Renal Physiology, Faculté de Medecine Xavier Bichat
Language
English
Garcia-Ocaña A, Takane KK, Syed MA, Philbrick WM, Vasavada RC, Stewart AF. Hepatocyte growth factor overexpression in the islet of transgenic mice increases beta cell proliferation and induces hypoglycemia. The Journal of Biological Chemistry 2000 Jan; 275(2): 1226-1232.
García-Ocaña A, Vasavada RC, Cebrian A, Reddy V, Takane KK, López-Talavera JC, Stewart AF. Transgenic overexpression of hepatocyte growth factor in the beta-cell markedly improves islet function and islet transplant outcomes in mice. Diabetes 2001 Dec; 50: 2752-2762.
Garcia-Ocana A, Takane KK, Reddy VT, Lopez-Talavera JC, Vasavada RC, Stewart AF. Adenovirus-mediated hepatocyte growth factor expression in mouse islets improves pancreatic islet transplant performance and reduces beta cell death. The Journal of Biological Chemistry 2003 Jan; 278(1): 343-351.
Fiaschi-Taesch NM, S, Reddy V, Van Why SK, Philbrick WF, Ortega A, Esbrit P, Orloff JJ, Garcia-Ocaña A. Prevention of acute ischemic renal failure by targeted delivery of growth factors to the proximal tubule in transgenic mice: the efficacy of parathyroid hormone-related protein and hepatocyte growth factor. Journal of the American Society of Nephrology : JASN 2004 Jan; 15(1): 112-125.
Rao P, Roccisana J, Takane KK, Bottino R, Zhao A, Trucco M, García-Ocaña A. Gene transfer of constitutively active Akt markedly improves human islet transplant outcomes in diabetic severe combined immunodeficient mice. 2005 Jun; 54(6): 1664-1657.
Roccisana J, Reddy V, Vasavada RC, Gonzalez-Pertusa JA, Magnuson MA, Garcia-Ocaña A. Targeted inactivation of hepatocyte growth factor receptor c-met in beta-cells leads to defective insulin secretion and GLUT-2 downregulation without alteration of beta-cell mass. Diabetes 2005 Jul; 54(7): 2090-2102.
Alonso LC, Yokoe T, Kim S, O'Donnell CP, Garcia-Ocaña A. Glucose-infusion in mice: a new model of increased beta cell proliferation. Diabetes 2007; 56: 1792-1801.
Vasavada RC, Wang L, Fujinaka Y, Takane KK, Rosa TC, Mellado-Gil JM, Friedman PA, Garcia-Ocaña A. Protein kinase C-zeta activation markedly enhances beta-cell proliferation: an essential role in growth factor mediated beta-cell mitogenesis. Diabetes 2007 Nov; 56(11): 2732-2743.
Perdomo G, Martinez-Brocca MA, Bhatt BA, Brown NF, O'Doherty RM, Garcia-Ocaña A. Hepatocyte Growth Factor is a Novel Stimulator of Glucose Uptake and Metabolism in Skeletal Muscle Cells. The Journal of Biological Chemistry 2008; 283: 13700-13706.
González-Pertusa JA, Dubé J, Rosa TC, Mellado-Gil JM, Perdomo G, Vasavada RC, García-Ocaña A. Novel pro-apoptotic effect of hepatocyte growth factor: Synergy with palmitate to cause beta cell apoptosis. Endocrinology 2010; 151: 1487-1498.
Levitt HE, Cyphert TJ, Pascoe JL, Hollern DA, Abraham N, Lundell RJ, Rosa T, Romano L, Zou B, O'Donnell CP, Garcia-Ocana A, Alonso LC. Glucose stimulates engrafted human beta cell replication in vivo. Diabetologia 2011; 54: 572-582.
Mellado-Gil JM, Rosa TC, Demirci C, Gonzalez-Pertusa JA, Velazquez-Garcia S, Ernst S, Valle S, Vasavada RC, Stewart AF, Alonso LC, Garcia-Ocaña A. Disruption of hepatocyte growth factor/c-Met signaling enhances pancreatic beta-cell death and accelerates the onset of diabetes. Diabetes 2011; 60: 525-536.
Velazquez-Garcia S, Valle S, Rosa TC, Takane KK, Demirci C, Mellado-Gil JM, Ernst S, Scott DK, Vasavada RC, Alonso LC, Garcia-Ocaña A. Activation of Protein Kinase C Zeta (ζ) in Pancreatic ß-Cells In Vivo Improves Glucose Tolerance and Induces ß-Cell Expansion Via mTOR Activation. Diabetes 2011; 60: 2546-2559.
Demirci C, Ernst S, Alvarez-Perez JC, Rosa T, Valle S, Alonso LC, Vasavada RC, García-Ocana A. Loss of HGF/c-Met Signaling in Pancreatic ß-Cells Leads to Incomplete Maternal ß-Cell Adaptation and Gestational Diabetes. Diabetes 2012; 61: 1143-1152.
Kulkarni R, Bernal-Mizrachi E, Garcia-Ocaña A, Stewart AF. Human ß-Cell Proliferation and Intracellular Signaling: Driving in the Dark without a Roadmap. Diabetes 2012; 61: 2205-2213.
García-Ocaña A, Stewart AF. . The Journal of clinical investigation 2014 Aug;: 3698-3700.
Alvarez-Perez JC, Rosa TC, Casinelli GP, Valle SR, Lakshmipathi J, Rosselot C, Rausell-Palamos F, Vasavada RC, García-Ocaña A. Hepatocyte growth factor ameliorates hyperglycemia and corrects ß-cell mass in IRS2 deficient mice. Molecular endocrinology (Baltimore, Md.) 2014 Oct;: 2038-2048.
Ljubicic S, Polak K, Fu A, Wiwczar J, Szlyk B, Chang Y, Alvarez-Perez JC, Bird GH, Walensky LD, Garcia-Ocaña A, Danial NN. Phospho-BAD BH3 Mimicry Protects β Cells and Restores Functional β Cell Mass in Diabetes. Cell reports 2015 Jan;.
Wang P, Fiaschi-Taesch NM, Vasavada RC, Scott DK, García-Ocaña A, Stewart AF. Diabetes mellitus-advances and challenges in human β-cell proliferation. Nature reviews. Endocrinology 2015 Feb;.
Maffei A, Marie Segal A, Alvarez-Perez JC, Garcia-Ocaña A, Harris P. Anti-incretin, anti-proliferative action of dopamine on β-cells. Molecular endocrinology (Baltimore, Md.) 2015 Mar;.
Wang P, Alvarez-Perez JC, Felsenfeld DP, Liu H, Sivendran S, Bender A, Kumar A, Sanchez R, Scott DK, Garcia-Ocaña A, Stewart AF. A high-throughput chemical screen reveals that harmine-mediated inhibition of DYRK1A increases human pancreatic beta cell replication. Nature medicine 2015 Mar;.
Shroff EH, Eberlin LS, Dang VM, Gouw AM, Gabay M, Adam SJ, Bellovin DI, Tran PT, Philbrick WM, Garcia-Ocana A, Casey SC, Li Y, Dang CV, Zare RN, Felsher DW. MYC oncogene overexpression drives renal cell carcinoma in a mouse model through glutamine metabolism. Proceedings of the National Academy of Sciences of the United States of America 2015 May;.
Stewart AF, Hussain MA, García-Ocaña A, Vasavada RC, Bhushan A, Bernal-Mizrachi E, Kulkarni RN. Human β-Cell Proliferation and Intracellular Signaling: Part 3. Diabetes 2015 Jun; 64(6).
Kondegowda NG, Fenutria R, Pollack IR, Orthofer M, Garcia-Ocaña A, Penninger JM, Vasavada RC. Osteoprotegerin and Denosumab Stimulate Human Beta Cell Proliferation through Inhibition of the Receptor Activator of NF-κB Ligand Pathway. Cell metabolism 2015 Jun;.
Sanchez-Encinales V, Cozar-Castellano I, Garcia-Ocaña A, Perdomo G. Targeted delivery of HGF to the skeletal muscle improves glucose homeostasis in diet-induced obese mice. Journal of physiology and biochemistry 2015 Oct;.
Lai YC, Tabima DM, Dube JJ, Hughan KS, Goncharov DA, Vanderpool RR, St Croix CM, Garcia-Ocaña A, Goncharova EA, Tofovic SP, Mora AL, Gladwin MT. SIRT3-AMPK Activation by Nitrite and Metformin Improves Hyperglycemia and Normalizes Pulmonary Hypertension Associated with Heart Failure with Preserved Ejection Fraction (PH-HFpEF). Circulation 2016 Jan;.
Lakshmipathi J, Alvarez-Perez JC, Rosselot C, Casinelli GP, Stamateris RE, Rausell-Palamos F, O'Donnell CP, Vasavada RC, Scott DK, Alonso LC, Garcia-Ocaña A. PKC-ζ is essential for pancreatic beta cell replication during insulin resistance by regulating mTOR and cyclin-D2. Diabetes 2016 Feb;.
Mozar A, Lin H, Williams K, Chin C, Li R, Kondegowda NG, Stewart AF, Garcia-Ocaña A, Vasavada RC. Parathyroid Hormone-Related Peptide (1-36) Enhances Beta Cell Regeneration and Increases Beta Cell Mass in a Mouse Model of Partial Pancreatectomy. PloS one 2016 Jul; 11(7).
Sacaan AI, Thibault S, Hong M, Kondegowda NG, Nichols TC, Li R, Rosselot C, Evering W, Fenutria R, Vitsky A, Brown T, Finkelstein MB, Garcia-Ocaña A, Khan NK, Stewart AF, Vasavada RC. CDK4/6 Inhibition on Glucose and Pancreatic Beta Cell Homeostasis in Young and Aged Rats. Molecular cancer research : MCR 2017 Jul;.
Meriney SD, Tarr TB, Ojala KS, Wu M, Li Y, Lacomis D, Garcia-Ocaña A, Liang M, Valdomir G, Wipf P. Lambert-Eaton myasthenic syndrome: mouse passive-transfer model illuminates disease pathology and facilitates testing therapeutic leads. Annals of the New York Academy of Sciences 2017 Nov;.
Physicians and scientists on the faculty of the Icahn School of Medicine at Mount Sinai often interact with pharmaceutical, device and biotechnology companies to improve patient care, develop new therapies and achieve scientific breakthroughs. In order to promote an ethical and transparent environment for conducting research, providing clinical care and teaching, Mount Sinai requires that salaried faculty inform the School of their relationships with such companies.

Dr.Garcia Ocana did not report having any of the following types of financial relationships with industry during 2017 and/or 2018: consulting, scientific advisory board, industry-sponsored lectures, service on Board of Directors, participation on industry-sponsored committees, equity ownership valued at greater than 5% of a publicly traded company or any value in a privately held company. Please note that this information may differ from information posted on corporate sites due to timing or classification differences.

Mount Sinai's faculty policies relating to faculty collaboration with industry are posted on our website. Patients may wish to ask their physician about the activities they perform for companies.
Physicians who provide services at hospitals and facilities in the Mount Sinai Health System might not participate in the same health plans as those Mount Sinai hospitals and facilities (even if the physicians are employed or contracted by those hospitals or facilities).

Information regarding insurance participation and billing by this physician may be found on this page, and can also be obtained by contacting this provider directly. Because physicians insurance participation can change, the insurance information on this page may not always be up-to-date. Please contact this physician directly to obtain the most up-to-date insurance information.

Insurance and health plan networks that the various Mount Sinai Health System hospitals and facilities participate in can be found on the Mount Sinai Health System website.