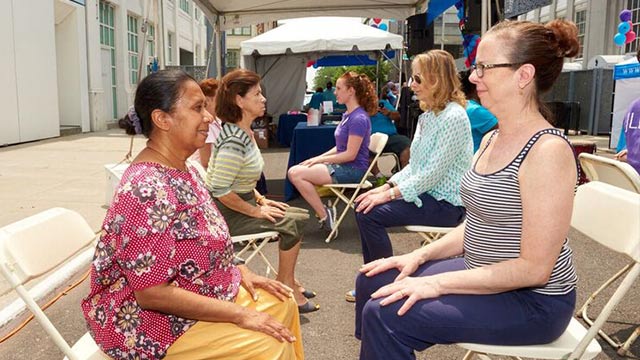 Community Outreach
Our hospital has been a cornerstone of the northwestern Queens community for more than a century. Much has changed in medicine and in the community since then, but our commitment to the health and well-being of our neighbors endures.
We serve the culturally and ethnically diverse communities of Astoria, Long Island City, Sunnyside, Jackson Heights, East Elmhurst, Woodside, Elmhurst, and Corona. With the completion of our new Ambulatory Pavilion adjacent to our hospital, and an increase in the number of physicians, we are able to offer more to a larger segment of the Queens population.
We serve our community by promoting good health. We offer a wide range of events, such as free health screenings, including blood pressure, diabetes, and breast cancer. We provide free classes, informative lectures, and panel discussions on important health issues, and we also have support groups for patients and caregivers. Our solid partnerships with a wide range of community organizations enhance our outreach and ability to meet the needs of our neighbors.
We provide quality inpatient and outpatient health care and also by proactively promoting good health and wellness for all through a number of programs.
Breast Health Program: This program provides annual clinical breast exams, mammograms, and other diagnostic services, including biopsies, Pap tests and pelvic exams, for uninsured and underinsured women 40 years of age and older.
Colorectal Cancer Screening: This program provides free colorectal cancer screening and education to men and women 50 years of age and older who are uninsured or underinsured with limited income.
Stay Well Program: This program provides monthly blood pressure screenings at local senior centers and community events.
We have forged strong partnerships with many community organizations that enable us to offer a wide range of events and programs, including free lectures, workshops, classes, and health screenings.
Community Health Fair: Every June, this fun and informative day-long event provides entertainment and health-related activities for the entire family and offer a wide range of health screenings for glucose, cholesterol, blood pressure, asthma, and osteoporosis.
Community Roundtable: We initiated the Community Roundtable to reach out to community leaders, educators, elected officials, and local residents to address local health care issues and to discuss ways the hospital can best serve the community.
Pastoral Care Reception: This event brings together clergy and leaders from local religious organizations for an exchange of information and dialogue about the health and spiritual needs of the community.
Classes and Workshops: We offer a wide range of free classes, interactive workshops, and lectures on a timely array of health topics.
We have established relationships with the following local community organizations:
Astoria Blue Feather Head Start Program
Astoria Civic Association
Astoria Performing Arts Center
Catholic Charities of Brooklyn and Queens
Queens Community Boards 1 and 2
Goodwill Industries of Greater New York
Greater New York Hospital Association
Hellenic Cultural Center (Greek Orthodox Archdiocese of America)
Hellenic American Neighborhood Action Committee (HANAC)
Kaufman Astoria Studios
LaGuardia Community College
Long Island City YMCA
Long Island City Partnership
National Association for the Advancement of Colored People (NAACP)
New York City Housing Authority-Ravenswood
NYPD 114 Precinct - Community Council
Queens Chamber of Commerce
Queens Borough Public Library
Selfhelp Community Services, Inc., Queensview/North Queensview
SHAREing & CAREing
Sunnyside Community Services, Inc.
United Community Civic Association
Visiting Nurse Service of New York
Our Community Advisory Board includes:
Pat Babor
Juanita Braithwaite
Josefa Castro
Joseph Conley
Arthur Gualtieri, MD
Lucille T. Hartmann
Ahmed Jamil
George Kitsios
Thomas J. Nowierski
Linda Perno
Rose Marie Poveromo
Rudy Sarchese
Gerald J. Walsh