Asthma - quick-relief drugs
Asthma - quick-relief drugs - short-acting beta-agonists; Asthma - quick-relief drugs - bronchodilators; Asthma - quick-relief drugs - oral steroids; Asthma - rescue drugs; Bronchial asthma - quick relief; Reactive airway disease - quick relief; Exercise-induced asthma - quick relief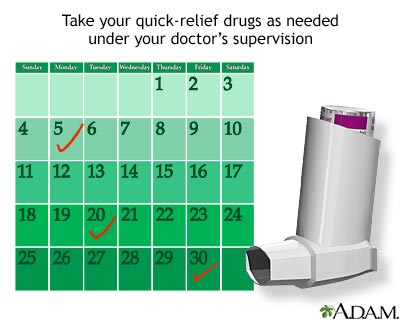 Short-acting Beta-agonists
Short-acting beta-agonists are the most common quick-relief drugs for treating asthma attacks.
They can be used just before exercising to help prevent asthma symptoms caused by exercise. They work by relaxing the muscles of your airways, and this lets you breathe better during an attack.
Tell your doctor if you are using quick-relief medicines twice a week or more to control your asthma symptoms. Your asthma may not be under control, and your doctor may need to change your dose of daily control drugs.
Some quick-relief asthma medicines include:
Albuterol (ProAir HFA, Proventil HFA, Ventolin HFA)
Levalbuterol (Xopenex HFA)
Metaproterenol
Terbutaline
Quick-relief asthma medicines may cause these side effects:
Anxiety.
Tremor (your hand or another part of your body may shake).
Restlessness.
Headache.
Fast and irregular heartbeats. Call your doctor right away if you have this side effect.
Oral Steroids
Your doctor might prescribe oral steroids when you have an asthma attack that is not going away. These are medicines that you take by mouth as pills, capsules, or liquids.
Oral steroids are not quick-relief medicines, but are often given for 7 to 14 days when your symptoms flare-up.
Oral steroids include:
Prednisone
Prednisolone
Methylprednisolone
Durrani SR, Busse WW. Management of asthma in adolescents and adults. In: Adkinson NF Jr, Bochner BS, Burks AW, et al, eds. Middleton's Allergy Principles and Practice. 8th ed. Philadelphia, PA: Elsevier Saunders; 2014:chap 55.
Sveum R, Bergstrom J, Brottman G, et al. Institute for Clinical Systems Improvement. Diagnosis and management of asthma. Updated July 2012. www.icsi.org/_asset/rsjvnd/Asthma-Interactive0712.pdf. Accessed April 11, 2016.
Version Info
Last reviewed on: 2/15/2016
Reviewed by: Neil K. Kaneshiro, MD, MHA, Clinical Assistant Professor of Pediatrics, University of Washington School of Medicine, Seattle, WA. Also reviewed by David Zieve, MD, MHA, Isla Ogilvie, PhD, and the A.D.A.M. Editorial team.