Asthma - control drugs
Asthma - inhaled corticosteroids; Asthma - long-acting beta-agonists; Asthma - leukotriene modifiers; Asthma - cromolyn; Bronchial asthma-control drugs; Wheezing - control drugs; Reactive airway disease - control drugs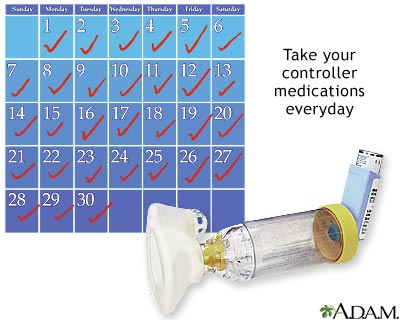 Inhaled Corticosteroids
Inhaled corticosteroids prevent your airways from swelling in order to help keep your asthma symptoms away.
Inhaled steroids are used with a metered dose inhaler (MDI) and spacer. Or they may be used with a dry powder inhaler.
You should use an inhaled steroid every day, even if you do not have symptoms.
After you use it, rinse your mouth with water, gargle, and spit it out.
If your child cannot use an inhaler, your doctor will give you a drug to use with a nebulizer. This machine turns liquid medicine into a spray so your child can breathe the medicine in.
Long-acting Beta-agonist Inhalers
These medicines relax the muscles of your airways to help keep your asthma symptoms away.
Normally, you use these medicines only when you are using an inhaled steroid drug and you still have symptoms. DO NOT take these long-acting medicines alone.
Use this medicine every day, even if you do not have symptoms.
Combination Therapy
Your doctor may ask you to take both a steroid drug and a long-acting beta-agonist drug.
It may be easier to use an inhaler that has both drugs in them.
Leukotriene Modifiers
These medicines are used to prevent asthma symptoms. They come in tablet or pill form and can be used together with a steroid inhaler.
Cromolyn
Cromolyn is a medicine that may prevent asthma symptoms. It can be used in a nebulizer, so it may be easy for young children to take.
Durrani SR, Busse WW. Management of asthma in adolescents and adults. In: Adkinson NF Jr, Bochner BS, Burks AW, et al, eds. Middleton's Allergy Principles and Practice. 8th ed. Philadelphia, PA: Elsevier Saunders; 2014:chap 55.
Sveum R, Bergstrom J, Brottman G, et al. Institute for Clinical Systems Improvement. Diagnosis and management of asthma. Updated July 2012. www.icsi.org/_asset/rsjvnd/Asthma-Interactive0712.pdf. Accessed April 11, 2016.
Version Info
Last reviewed on: 2/15/2016
Reviewed by: Neil K. Kaneshiro, MD, MHA, Clinical Assistant Professor of Pediatrics, University of Washington School of Medicine, Seattle, WA. Also reviewed by David Zieve, MD, MHA, Isla Ogilvie, PhD, and the A.D.A.M. Editorial team.