Success Stories
Nicole
Nicole was 11 years old when her mother took her to the doctor for what she thought was a routine fever. Her pediatrician heard a murmur while listening to her heart and diagnosed her with a leaky mitral valve.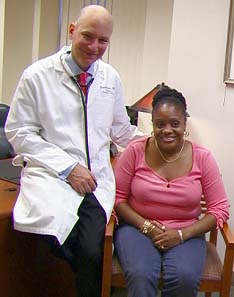 After 23 years of dealing with her mitral regurgitation and shortness of breath, this librarian from New York was referred by her cardiologist at Montefiore Medical Center to Dr. Adams. Talking with Dr. Adams about his pioneering minimally invasive techniques relieved her worries about having a scar on her chest. Her mother flew in from Curacao to be by her side while she underwent the valve repair surgery.
Weeks later, with her incision barely visible, she describes herself as "very satisfied" with the outcome.
Mary

Mary had her mitral valve repaired by Dr. Adams on June 15, 2005.
Five weeks later, she was back doing the things she likes best in life: volunteer work, gardening, hiking, and traveling.