Pediatric Specialists Solve Marinas Mysterious Condition
Marina was 16 years old when abnormally low blood counts sent her to the Mount Sinai Hospital emergency room. A series of tests revealed she had a rare blood disorder and systemic lupus. Marina, now 19, shares her story of the special care and attention she received from the pediatric hematology/oncology specialists and staff at Mount Sinai's Kravis Children's Hospital.
A Mysterious Condition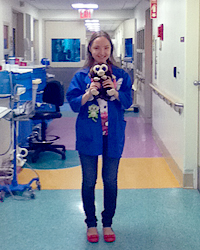 When 16 year old Marina Ovanesyan's pediatrician sent her to the emergency room, she wasn't sure what was going on. She felt fine, but tests revealed she had extremely low blood counts. Marina was admitted for treatment into Mount Sinai's pediatric ER, by Adam Vella, MD, after new blood counts test results were critically low.
"In Mount Sinai's pediatric ER, I was greeted by very friendly staff, including Dr. Vella, and my fear started to decline," Marina says. "Unfortunately, I was told that the new results were in fact lower than before and had to be admitted for emergency treatment. During this three-day admission, I had several tests done ranging from CBCs (complete blood counts) to a bone marrow biopsy."
"A week later, during my follow-up appointment in the pediatric hematology/oncology clinic, the medical team welcomed me as a new patient with open arms, and this is when I started to realize that Mount Sinai was truly a special place where staff really care about their patients."
"Subsequently, I was admitted several times more for pancytopenia due to an unknown cause," Marina says. Pancytopenia is a condition in which the body experiences a reduction of red and white blood cells and platelets.
Mystery Solved
The concerted efforts of Marina's medical team, which included Anne Hurlet-Jensen, MD, identified the source of her condition. They discovered the cause of her low blood counts was a rare blood disorder known as Evans Syndrome combined with a more common, chronic, autoimmune disorder called systemic lupus (SLE).
"Thanks to the hard work of Dr. Hurlet and the others involved in uncovering the mystery behind my pancytopenia, I am here today as an almost healthy 19 year old in remission of Evans Syndrome and near remission of lupus," Marina says. "I am not so sure if that would be the case if it wasn't for the fact that these physicians never gave up."
"The pediatric staff always took the time to address my fears of upcoming procedures or questions. From several admissions in the span of a month, I was able to develop a closer relationship with the pediatric residents. Seeing how much they cared and how much they loved their job brought me to the decision that I would like to become a pediatric specialist."
Marina says that sharing her experience as a patient with other hospitalized patients and seeing the anxiety in their faces replaced by a smile makes her certain that she wants to devote my life to medicine. She is currently a volunteer at Mount Sinai in the geriatrics/adult cardiology unit. Last year Dr. Vella gave her the opportunity to shadow him. She hopes to attend Icahn School of Medicine at Mount Sinai.
"In my opinion, there is nothing better to do with your time than devoting it to patients in the hospital. These patients are often lonely, scared, frustrated, and sad," Marina says. "To show them that you care can really make a difference; even a smile goes a long way. Mount Sinai is a huge part of my life, and that will never change."