One Year Old Makes Remarkable Recovery After Heart Surgery
Each July is a high point in the lives of Luke Curto and his family. It marks another year since Mount Sinai pediatric surgeons repaired life-threatening defects in his heart. It's another year that Luke is an energetic, happy and healthy little boy.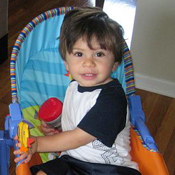 At birth, Luke was diagnosed with Tetralogy of Fallot (TOF). TOF is a series of heart abnormalities that restrict the oxygen flow to a child's body. Physicians at Stony Brook Hospital—who first diagnosed his condition—referred Luke's parents, George and Annemarie, to Mount Sinai Medical Center in Manhattan for surgery.
Meeting the Pediatric Surgery Team
At the time of the Curto's first meeting with the Kravis Children's Hospital Pediatric Cardiology team, Luke had not experienced any blue spells, a common result of the lack of oxygen caused by this condition. At that time, it was decided the surgery could wait until the newborn was 6 months old.
Luke, however, underwent the surgery at 5 months old. During the procedure, Khanh Nguyen, MD, was able to close his ventricular septal defect (a hole between the two lower chambers of the heart) and spare Luke's pulmonary valve. By sparing this valve, Dr. Nguyen eliminated the need for multiple procedures in his life time for valve repair and replacement.
A Warm Thanks
On the first year anniversary of Luke's surgery—Wednesday, July 27, 2011—his father, George Curto, wrote to surgeon Dr. Khanh Nguyen, pediatric cardiologist, Shubhika Srivastava, MBBS, and Nurse Practitioner Paulina Ballaban to thank them again for all the love and care they provided to little Luke during his stay at Mount Sinai.
"Hi Dr. Nguyen, Dr. Srivastava and Paulina,
Today is one year since Dr. Nguyen operated on my son Luke Curto for Tetralogy of Fallot. Luke is doing great and is a healthy and happy little boy full of energy. He is now almost 18 months old, 27-plus pounds and over 33 inches tall. We had an appointment with Dr. Laurie Panesar yesterday and she said his heart looks fantastic! Even his scar looks great.
I would like to thank all of you again for everything you did for Luke and my family and I am attaching a few pictures of how he looks now.
Thank you,
George, Annmarie and Luke Curto