Melanoma Managed through a Clinical Trial
When Mary Ellen Lavin turned to Mount Sinai's Yvonne Saenger, MD, for melanoma treatment, she was happy to receive "successful" and "compassionate" care.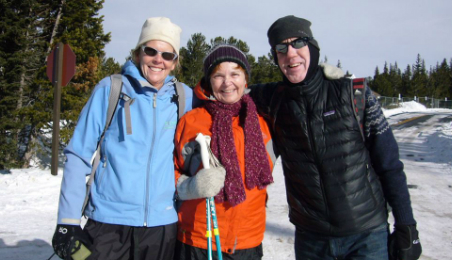 My name is Mary Ellen Lavin. I'm 63 and live in Manhattan and Colorado with my wonderful husband. In the fall of 2009, I was diagnosed with melanoma on the heel of my left foot. After having the tumor surgically removed in the fall of 2009, I developed multiple melanoma lesions on my heel, ankle, and leg.
In 2010, I came to Mt. Sinai's Melanoma Department to begin a Phase III trial with Dr. Yvonne Saenger. It was the best decision I have made in my life. The medication successfully eliminated these lesions and they have not returned in the intervening year since completing the clinical trial in February 2012.
I am especially grateful to The Tisch Cancer Institute and to Mount Sinai for making the clinical trial available and to Dr. Saenger and her research nurse, Deborah Lehrer, for their thoughtful and persistent attention to my care and to so many others at Mt. Sinai Hospital.
It has been my priority over the last three years to seek effective treatment for my melanoma but of equal importance to me is to surround myself with inspirational and compassionate caregivers to support my spirit. I found all this at Mt. Sinai's Melanoma Department and I remain ever so grateful to everyone involved in my care.
Wishing all of us on this journey health and happiness.
-Mary Ellen Lavin