Little William Seamlessly Transferred to PCICU in Hurricane Sandy
A Long Stormy Night, but All is Back Right
At only 22 days old, Little William Donovan is a very blessed baby. He's got two incredible parents and a nurse that treated him as her own child through Hurricane Sandy. After emerging from surgery at NYU Langone Medical Center for hypoplastic left heart syndrome (HLHS) – a rare congenital heart defect where the left ventricle of the heart is underdeveloped and restricts blood flow – his mom Jennie and father Jeremy were by his side for several days. Realizing the hurricane was on its way, they left the hospital around 2:30 pm Monday, but saw on the news after 10:30 pm that patients were being transferred out of NYU due to a power outage caused by severe flooding.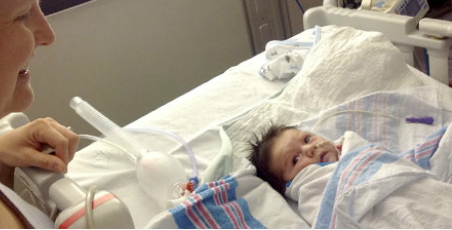 "I was with my 14-month-old daughter Caroline, so my husband walked over to NYU at 11 pm, but was told to wait outside due to the evacuation," Jennie explained. "He was out in the cold for nearly two hours, when a doctor came running down 15 flights to get him. They both dashed up the 15 flights on foot, but when they arrived, they had just missed the babies being evacuated down to the first floor."
"On his way back down the stairwell, the first nurse Jeremy saw was the one who had William in her arms. He recognized her from regularly rounding William's little bed and said, 'Would that happen to be William in your arms? I'm his father!' She turned on the stairs and said, 'Yes! Follow me!'"
En Route to Mount Sinai's Pediatric Cardiac Intensive Care Unit
The two descended the rest of the stairs and embarked into the ambulance together en route to The Mount Sinai Hospital's Pediatric Cardiac Intensive Care Unit (PCICU).
"Hurricane Sandy brought out the best in everyone," remarked Ira Parness, MD, Chief of the Division of Pediatric Cardiology. "We prepared by discharging any patients we could safely, in order to make room for evacuated patients from NYU. Fortunately, we then had some empty beds, and NYU's staff came with the babies, so our team was informed of each patient's status and care. Newborns are fragile, so it's important to get them to a medical center that can care for them and continuously monitor their vitals."
"There was not one glitch with William's care," Jennie gushed, noting that the collaboration between NYU and Mount Sinai was seamless. "When he arrived, everything was ready to go. In fact, it went so smoothly, William slept through the entire ordeal. He woke up early this morning at 3:30 am, just in time to eat!"
The situation could have been graver. "It just so happened that he had his ventilator removed last week and his last PICC lines removed yesterday. It would have been a big problem having to move him at that stage, but fortunately, one day later made a significant difference."
When William is old enough to hear and understand his story, he's going to be very grateful for his strong-willed parents, a nurse who cradled him in the deluge, and an entire cardiac team doting on him. Meanwhile, his mom is the one who continuously expressed gratitude amidst the worst storm on record. "Mount Sinai has been excellent. The entire care experience was fabulous, fabulous, fabulous, which is the most important thing."